A Father and Son Eating Yogurt and Being Sad
Tales from the yogurt shop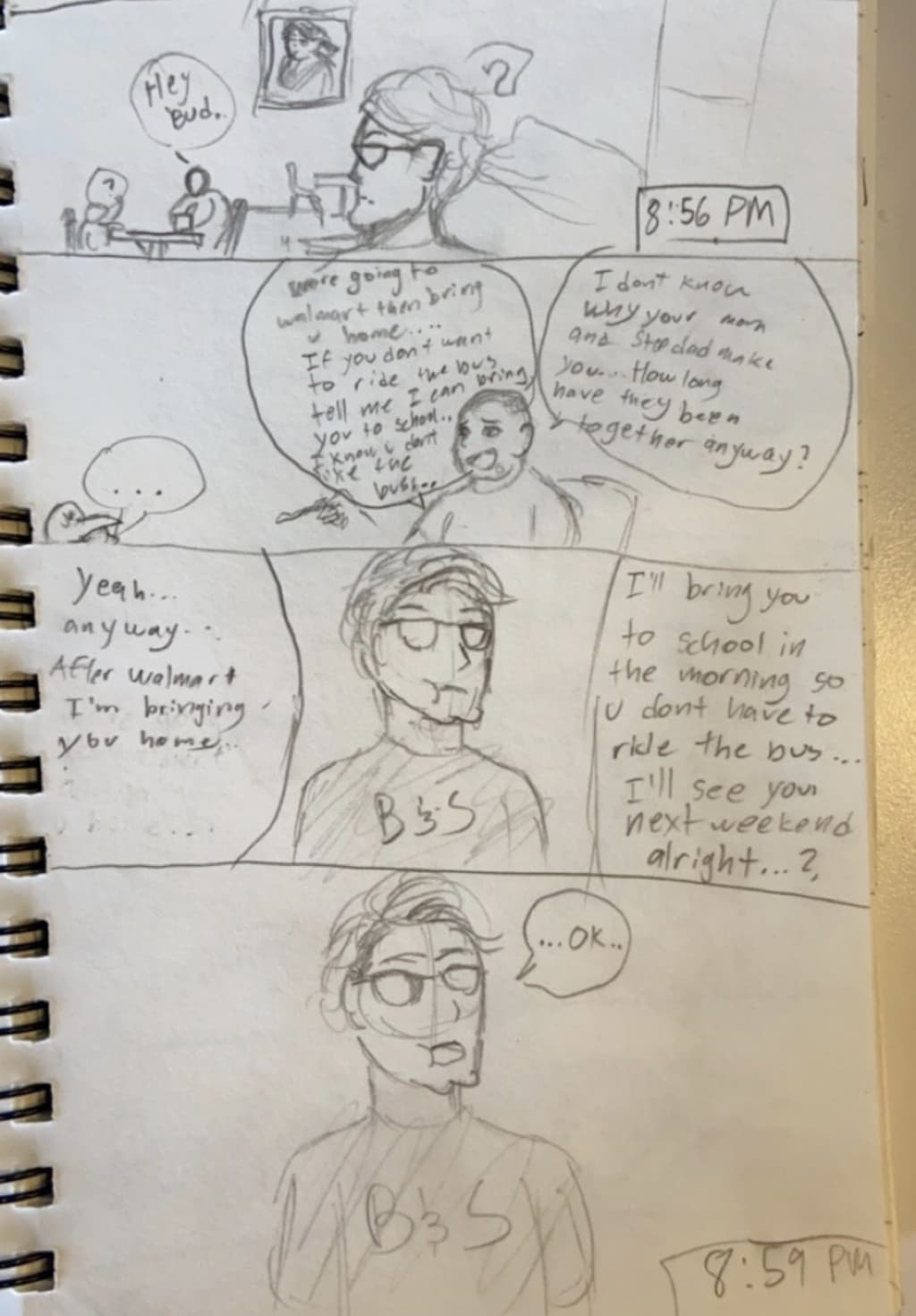 I've worked at a frozen yogurt shop/coffee shop for over 3 years now. Yes that's right, a yogurt AND coffee shop, we sell both. It's a quiet job that has given me a chance to interact with a large variety of everyday people, and witness numerous encounters between those people that I believe can give us all a glimpse into what life is truly about. These are those stories.
A Father and Son Eating Yogurt and Being Sad
It's Wednesday, Waffle Cone Wednesday. We make our cones by hand, and usually charge $2.99 plus tax for both the cone and however much yogurt you can fit inside of it. But on Wednesday, we charge $1.99, a real steal. It's getting late, close to closing time, around 9:30, we close at 10:00. In walks a middle aged father and his very young son, probably around 35 and 7 respectively. The Father can only be described with one word, round. He walks with a slight tilt in his back, making his large gut expand outward more than it already does, and his son looks and walks the same way. It's like watching a man walk next to a clone of himself who is identical in every way except height. I'm not making fun of or judging their weight, I'm not walking around with the most healthy body either, I just need my readers to understand that these two are almost exactly the same in shape, look, walk, everything.
The father purchases 2 cones, one for his son and one for himself, and grabs some small cups available for sampling the different flavors. At the store where I work, the frozen yogurt machines are out in the lobby for the customers to fix their yogurt themselves. After filling up the cones with as much frozen yogurt as possible, they sit down in 2 of the 21 bright white chairs that fill the store lobby, next to the numerous bright white tables and bright white bar that make up the rest of the space. They begin eating their yogurt and cones, and the father starts talking.
"Hey son, before I bring you home I gotta stop by the grocery store first. Will you go to the grocery store with me?"
His son nods.
"Okay, cool. I'll drop you off at your moms afterwards okay?"
His son nods.
"Is Steve staying with ya'll again tonight?"
His son shrugs.
"Hmm, well probably. He's always over there. How long has your mom been dating him now anyway?"
His son holds up 3 fingers.
"Three months. Wow. Okay..."
His son nods.
"By the way, don't get on that bus next time. In the morning if your mom is gonna make you ride the bus, call me and I'll come get you and bring you to school, I'm not gonna make you do that. I know kids can be mean on the bus."
His son looks sad, and nods.
"Yeah I'm not gonna do that to you, don't let them make you do that... Anyway I gotta go to the store, you gonna go to the store with me?"
His son nods.
"Okay, thank you. Next week I'll take you somewhere fun, I promise."
They sit in silence for another 10 minutes, slowly eating away at the yogurt in front of them. When they are finished, they stand up and walk out of the door, leaving behind empty seats once filled by sadness. As I watch them go, an uneasy feeling overcomes me. I wish I knew more about their story, who that man is, why he and the mother of his child aren't together anymore, etc. But I'll never know, I simply was granted a glimpse into the messy complex life of a father who is obviously in pain and the only relief he feels is when he is in the company of his son, who he seems to care for very much. As someone who has often struggled with my relationship with my own father, I only hope this father-son duo grew a little bit closer while eating some frozen yogurt that I made.
Thank you for reading my first Tales from the yogurt shop. I have many stories to share, and I hope this is a fine place to do so.