8 days lemosho route
8 days lemosho route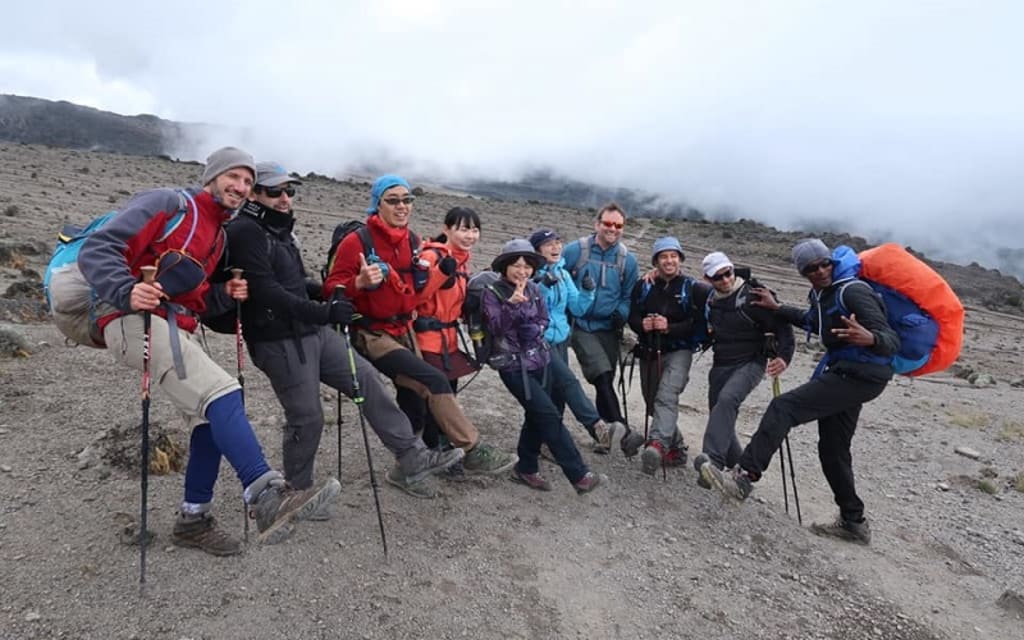 8 days lemosho route
Mount Kilimanjaro
Mount Kilimanjaro is the world's tallest free-standing mountain. People come from all over the world to climb Kilimanjaro, expecting to stand triumphantly at Uhuru Point, which is 19,341 feet high. Mount Kilimanjaro, crowned in ice, is a stunning sight to see. This, however, will not be the case for long. Because of global warming, glaciers are melting at an alarming rate and will be gone in 50 years.
Mount Kilimanjaro was climbed by an estimated 50,000 tourists in 2013. Every year, the number continues to rise. Climbing Kilimanjaro does not require technical expertise or mountaineering equipment such as ice axes, crampons, harnesses, and ropes, which makes it so appealing to adventurers. Kilimanjaro is only accessible by foot. You can climb Mount Kilimanjaro if you can put one foot in front of the other and are in good shape.
The Tanzania National Park Authority is in charge of Mount Kilimanjaro. To ensure safety, cleanliness, and flow, the authority maintains the principal paths on Mount Kilimanjaro. In addition, park officials monitor activities on the mountain to ensure that every climber on a Kilimanjaro tour is accompanied by a registered guide. You are not permitted to climb Kilimanjaro alone.
Lemosho Route Description
The path is accessible by a long drive from Moshi or Arusha to Londorossi Gate. This could take up to four hours. Londorossi Gate is located near the mountain's western base.
Lemosho begins in a lush and rich rainforest. It is the first ecological zone you will come across on Kilimanjaro (we will trek through four). The path ascends and crosses the Shira Plateau, which was once Kilimanjaro's third summit before collapsing. Then we head north to Moir Hut, which serves as an excellent acclimatization day due to the small treks available in the neighboring Lent Hills.
Then we ascend high up and past Lava Tower before plunging into Barranco Valley, one of the most beautiful sections of the path. We scale the daunting Barranco Wall before looping around the southern circuit to Karanga and high camp at Barafu Hut.
The summit attempt is made from Barafu in the early morning hours, often during the full moon. This is the coldest and windiest part of your journey. However, most of your excess clothing can be removed once the sun rises. The descent follows the Mweka route after the summit.
Overview
Because the woodlands around the Lemosho Glades are home to buffalo, elephant, and other species, the path is one of the few where parties can be followed by an armed ranger on the first day.
Lemosho has one of the greatest success rates at 8 days. The extra days allow your body to acclimate, lessening the impacts of altitude sickness and allowing you to recuperate before trying the summit.
Best Time to Climb Kilimanjaro
Tanzania does not experience the four seasons that most people are accustomed to. Tanzania, on the other hand, has wet and dry seasons. Rain can fall steadily every day during the rainy season, making your time on the mountain challenging. As a result, the dry season is the greatest time to climb Kilimanjaro. January, February, July, August, September, and October are among them. March, April, May, June, November, and December are wet months.
Mount Kilimanjaro creates its own weather and it can be very unpredictable. It is possible to encounter a blizzard, torrential rains, or brutal winds during any season. Anyone who climbs Kilimanjaro should be outfitted properly. That means being ready for all potential conditions on your trip.
Lastly, you don't conquer a mountain. She allows your passage, if she is feeling nice. People who are not adequately prepared pay the price very quickly.
Reader insights
Be the first to share your insights about this piece.
Add your insights