5 Tips to Getting Back Into a Routine
Back to School After the Holidays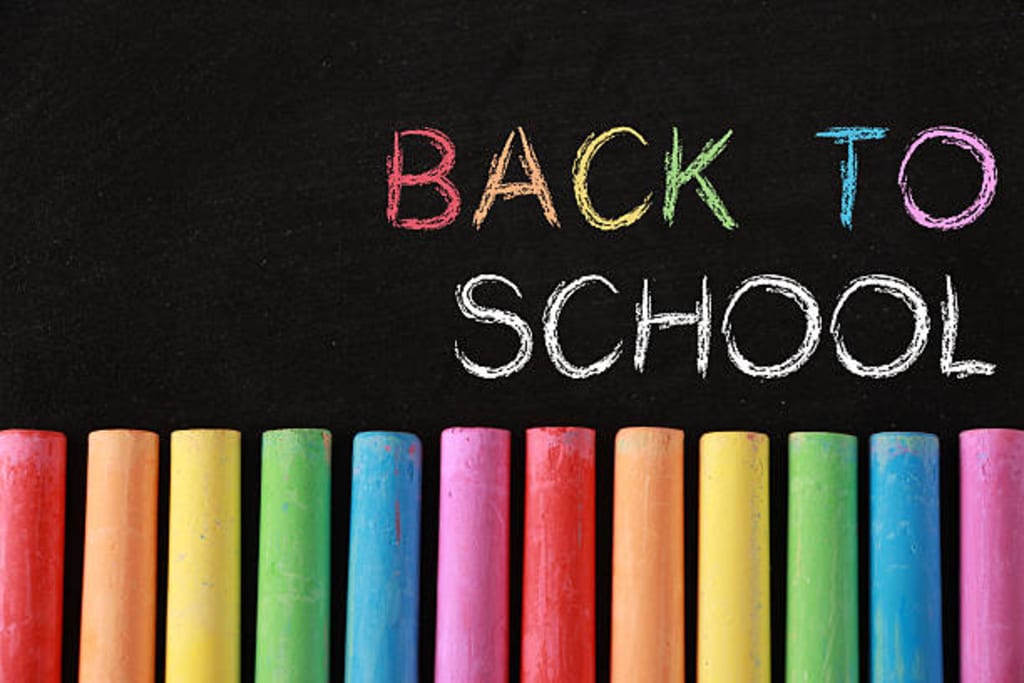 It's that time again. The holiday break is over and your kids have to make their way back to school. Secretly, you're ecstatic about this transition because you've had them in your face for the last two to four weeks. But that doesn't mean it will be a smooth transition.
There is a reluctance to embrace routine, sometimes, when you're a child. This is especially hard to do after spending any length of time without an imposed routine. There will be questions like:
Why do I have to go to bed so early now?
Why can't I eat chocolate before bed?
Why do I have to get up so early?
Why do I need to do my homework?
Why do I have to go to school anyway?
And I'm sure the questions will be more varied and extreme than that, but you get where I'm going. After a set period of time where the rules are lax and family has been around to spoil them, it is hard to shoehorn them back into a structure, but it is necessary.
So, if you're struggling to find routine on that first day back to school, here are some tips to help you make the rest of the week a bit easier.
1. Bedtime means bedtime.
The first thing to disappear over the holidays is a consistent bedtime. This could be due to travel or family or just all of the excitement of the season, but it is the first thing that you need to strike home firmly, once the holidays are over.
Whatever your bedtime was before the holiday craziness, reimpose it. And stick to it. Your children will be reluctant to go to bed no matter what time it is, so be sure to pick the time that will allocate them the appropriate amount of sleep.
Be firm about bedtime. For the first few nights, your child may stay awake and play in their bedrooms, but after a few early school mornings, they will be more than happy to go straight to bed at the time you've given them.
No transition happens immediately. So be a little patient. Be consistent. And you will see the rewards in no time.
2. Story-time is good.
Whether story-time was part of your routine before the holidays or not, it is always a good thing to add to your nighttime routine. If your kids are young enough to have a bedtime set for them, then they are young enough to have story-time with you.
This can consist of you reading to them, taking turns reading, or them reading strictly to you. Although it can take an hour or half-hour of your nightly routine, story-time has many benefits for you and your children.
Story-time is a chance to bond with your children. It is a chance to have some calm, screen-free entertainment with them. Regular reading increases literacy and comprehension, which will help your children in the long run. And, best of all, story-time gives them that extra half hour or hour to wind down completely.
There are very few downsides to storytime with your child. You will enjoy it as much as they do, although there might be some resistance at first, depending on your child's like of reading.
Stick to it. It's worth it in the end. A love for reading is a gift that will last your children a lifetime.
3. Bath time is necessary.
This might seem like a no-brainer, but the truth is that bath time is just another routine that can fall to the wayside over the holidays. If you have small children, it is likely that you bathed them every day in order to cope with the mess of kids just being kids. But school-age children tend to have a more fluid bath/shower schedule.
Perhaps it is every other night. Perhaps it is every three nights. Whatever your routine is, it can sometimes get lost in the hectic nature of the holidays. So forget about what you may or may not of done over the holidays and focus on reinstating the routine now.
If you can't remember when the last time your child had a bath, it's usually a good indicator that they need one now. And if you bathed them last night in preparation for back to school, then focus on starting your routine back up from that point.
It is easy to get lost and overwhelmed. It is easy to think that things will never go back to normal, especially when you have balls of energy running around your house and you are exhausted. But take a deep breath and remember that you made this all work before the holidays and you can make it work again. I promise.
4. Dinner is early.
Dinner time is yet another thing that exists on a sliding schedule during the holidays. Some days it is at five PM and other days it is not until 8 PM. But your children will want to eat all the time, and you were likely feeding them on a rather irregular schedule while on holidays.
So, try to reinstate a firm dinner time. This doesn't have to be for you, but simply to ensure that your children eat early enough to let things begin to digest before bedtime. Sending your child to bed with a full stomach is a good thing, but sending them to bed right after eating will often result in them waking up with a tummy ache or having difficulty sleeping.
It's all about balance. If you don't want to be cooking two meals, then set a dinner time that works for your family as a whole and try to keep it consistent. With extra-curriculars, playdates, and work schedules, this can be hard, but try your best to find a time that works for almost everyone.
Dinner is an important meal for everyone in your home. Ensure that everyone eats, even if it can't be at the same time, and ensure that you set that structure and routine in place for your young children.
People joke that dinner is always at five PM for some families, but it's not a bad thing. Giving children something to count on helps carve out a routine, helps with time management, and will help everyone plan their day. So do your best to make dinner time stick. You will benefit from it.
5. Homework is done.
Homework—the evil word that is associated with going back to school. Now, not every child will have homework. This will largely be dependent on their age. But it is important to ensure that homework gets done for the children that have it.
This may mean having them sit down at the table after school and spending an hour working on it. You can incentivise them with some healthy snacks that will hold them over until dinner time.
No child wants to be stuck doing homework, but if you make it a routine to spend at least an hour a day right after school on it, then they have less time to transition into play mode. If they know that, as soon as they get home from school they have to do homework, they will be less likely to run back out the door to play with their friends.
This type of structure will allow you, as a parent, to be able to help with homework, should the need arise. It will also allow you to ensure that homework is being completed. There is nothing worse than going to a parent-teacher conference and finding out that your child never does their homework.
Structure and routine will help your child grow into a competent adult. This doesn't mean removing the fun from their lives, it simply means that you stick to certain firm timelines. On the flip side, be sure you, as a parent, are willing to be flexible.
Life is chaos and your routine will fall to the wayside every now and then. That is perfectly fine, as long as you don't let it completely disappear. We all benefit from routine. It makes life easier. It makes life more predictable.
So, as you go into the second part of the school year, remember that a routine will make your life easier and it will make your children's lives easier.
So take a deep breath and do your best to find that structure and routine that you left behind.
children
I have been a creative writer for over 10 years, an academic for 7 years, and a blogger for 3 years. Writing is my passion and it's what I love.
Follow me on Instagram @samreid2992
Find me on Twitter @SgReid211
Receive stories by Samantha Reid in

your feed