10 Tips for Staying Sane with a Baby
Before you have a baby you have all kinds of illusions about what it will be like. You and your sweet, happy baby will have peaceful times together, she'll sleep through the night, she'll gurgle and coo at you from her seat or playpen and all will be right in the world.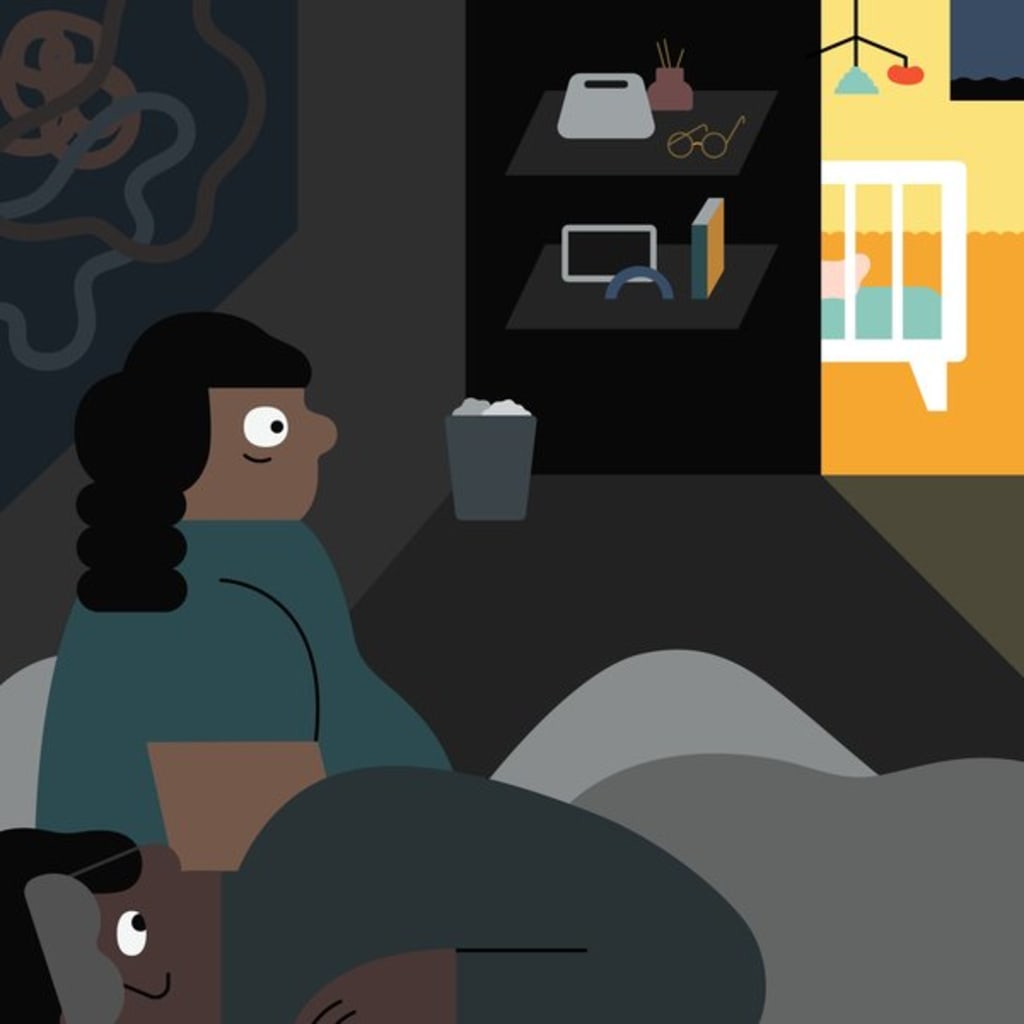 Before you have a baby you have all kinds of illusions about what it will be like. You and your sweet, happy baby will have peaceful times together, she'll sleep through the night, she'll gurgle and coo at you from her seat or playpen and all will be right in the world. Then reality came. Sure you love her and can't imagine life without her, but you seem to have completely disappeared. You sometimes cannot figure out what makes her cry, Losing yourself does not make you a better mom, and losing your sanity certainly doesn't. Here are 10 tips for staying sane, even with a new baby.
1. Take the Pressure Off
Trying to be superwoman only leads to a stressed-out life. The only person who cares whether you can do and be everything is you. The people in your life care much more about spending time with you. The house doesn't have to be spotless, the dinner doesn't have to be gourmet, you don't need to bounce a quarter on the bedsheets and most of your clothing never has to be ironed. Set your priorities. Figure out what's most important to you and what can be let go.
2. Sleep Whenever You Can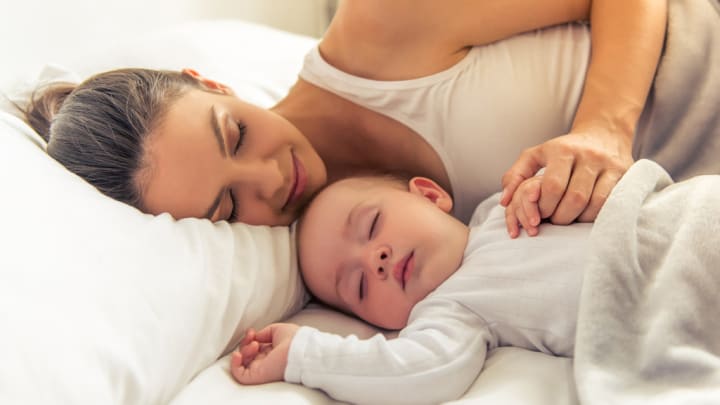 Sleep is the most precious commodity when you have a baby. Few babies sleep through the night, and if you're like many new mothers you try to get everything else done while baby sleeps, forgetting that you also need sleep. But lack of sleep affects your mood, your patience, your health, your safety, your logic and the way you deal with everyday irritations. If you're one of the lucky few whose baby sleeps well, then go ahead and get caught up on things as soon as your baby shuts her eyes. If you're in the other 90-odd percent, take that opportunity to grab some shut-eye yourself.
3. Get Regular Exercise
Get a sitter a few times per week, join a gym with a sitting service or take your baby with you in a stroller or carrier. Do whatever works for you. But regular exercise (especially if it's outside) is shown in studies to be as effective as antidepressants at combating depression, it helps you to be more calm in the rest of your life, improves your health and as a bonus helps you get rid of your baby weight, which is bound to make you feel better.
4. Take Time for Yourself
This means real you time, not time to finish the laundry or dust and vacuum. The reason they build breaks into workdays is that breaks are necessary for mental health and productivity. That's over a measly eight-hour shift. Being a mom is 24 hours a day, seven days a week. You need a break too. Have a bubble bath, go to the spa, go for a walk by yourself in the woods, veg out in front of the TV—whatever it takes to recharge your batteries. Optimally, you will do this every day. Try. If that's impossible, then once per week as an absolute minimum. Your partner is the best person to give you this time. This helps strengthen his bond with his child as well. If you are single or if there's another reason that can't work, then enlist the help of family or friends, or form a network with other mothers where you all help each other out.
5. Spend Time With Other Adults

You will be spending the majority of the next few years with babies and children. It's easy to lose who you are during those years, and then suddenly look in the mirror somewhere down the road and wonder what on earth happened to you. Becoming a mother changes you in profound ways, but it does not negate you as an adult human being, and one of the easiest ways to keep "you" in your life is to be who you always were. Get together regularly with friends, and without children. Better yet? Make a rule that you can't talk about your kids, or make a time limit: For half an hour you can talk about your kids but then after that it's all current events, celebrities, whatever you spoke about before you had kids.
6. Shower, Get Dressed, Brush Your Hair and Maybe Even Use Makeup
No, you don't have to wear makeup to be home with your baby. The point here is to feel like a member of society. If you stay in your pajamas all day and don't groom yourself as you normally would, you effectively remove yourself from society. You will also soon feel frumpier than you ever thought possible. One day a few years down the road you'll look in the mirror and wonder what on earth happened.
7. Get Help

There is no shame in needing help, so get as much help as your finances allow. If you can afford a housecleaner, wonderful. A babysitter one afternoon per week so you can go grocery shopping? That helps. If you really can't afford to hire any help, then accept any help you are offered by friends and family. If they're offering, it really means they want to help you. Allow them to give you that gift, and accept it both gracefully and gratefully.
8. Have Dates With Your Partner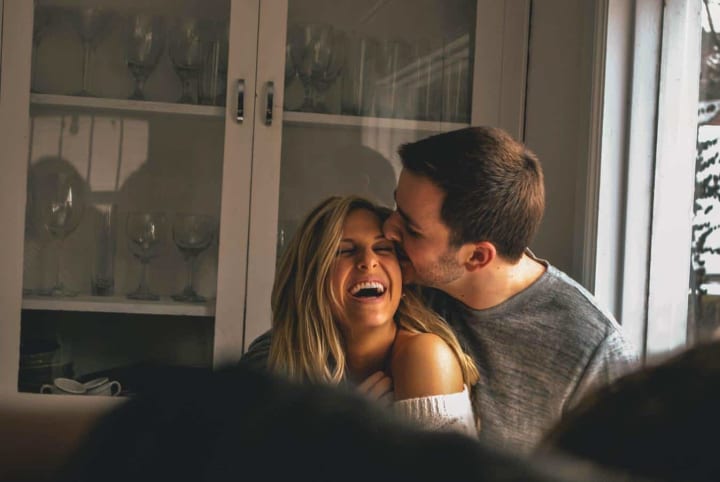 There is no greater gift you can give your child than happily married parents. It's very easy to get caught up in daily life with a baby and forget that you had another relationship that came first and that also needs nurturing. The habits you and your husband develop now will continue throughout your child's growing years, and for too many people that means no romance, possibly even no conversation that doesn't involve kids and mortgages, and sex that's quick, passionless and maybe even resented. You had passion and love for each other, and regular date nights will help to keep those feelings alive.
9. Seek Professional Help If Necessary
Some new mothers just feel overwhelmed, but some are suffering from post-partum depression. If you suspect you might be, then seek help as soon as possible. There is no need to feel ashamed or to go through that unnecessary pain.
10. Remember This: Time is Fleeting
Some days it might feel like a lifetime has passed since you got enough sleep, but the stages of a baby's life come and go in a flash. Drink in everything about your baby every day, because whatever she's doing right now will soon be gone. Enjoy every moment.
Having a baby is a miraculous time. You looked forward to it so much, but had no idea how profoundly it would change you and your life. Reclaim your sanity and yourself and get greater enjoyment of this life you created by following the advice here.
About Author: Doris Hall
Doris Hall is a certified reaction paper writer in DoMyWriting service and public speaker on radio. She has worked as a college career advisor and a teacher. She became interested in healthy eating when her teenaged friends were still eating sugary cereals for breakfast and French fries for lunch. She studied science, hounded her medically trained family members for information, read everything she could and took numerous health and fitness courses, earning her personal training certificate.
Staying at home each & every day to be there with your children as they learn and grow sounds absolutely amazing in hindsight, right? Absolutely! Who wouldn't think that it's just living the dream?! But what the world fails to disclose is the truth behind being a stay at home mom..

11/18/2020 So, grandma (81 this year) has been up my ass about keeping a journal of everything that is going on right now so here goes. Amelia is 9 and in 4th grade, Raynen is 5 and is in kindergarten and Rj is 3 and is home with me. We live in fort lee right now and my husband, Bobby (30 this year) has just had his 3rd spine surgery and now awaiting the promotion board (he is in the army) and finding out when we will be moving. I am 26 credits away from my BA in history. The coronavirus pandemic has been a pain in the ass and the 2020 presidential election was a complete dumpster fire. Yay 2020 and the best part was carol baskin and the memes from that world.

It was early October, and it was finally time for my long-awaited moose hunt. I had waited ever since I was a little girl for this opportunity, and it was finally here. So, my father, the one that looks after me, and I packed up our stuff and left our city in Alaska. We were heading to a place called Bethel, AK. After a six-hour long drive, we made it to our hunting unit. It did not feel like home to us but it was warm and cozy, like my bed at home.

As your parents age, you're probably spending more and more time caring for them. Even if they're still in good health, you may need to help them live a healthy lifestyle. Your parents may need help with everything from their health insurance to their diet. To avoid caregiver stress, taking care of yourself is also essential.

Staying home, reducing stress, and taking care of ourselves, both mind and body are more important than ever. That's why from beauty and personal care to everyday essentials and home cleaning – we've got you covered. "Avon"

Growing up, I loved the Wizard of Oz. There was something magical and timeless about the Yellow Brick Road and the passion of Dorothy to find her way home, Scarecrow to find his brain, Tin Man to find his heart, and the Lion to find his courage. All to find out that the man behind the curtain was just a man, whose hope and wisdom fulfilled all desires by encouraging everyone by exploring their own virtues.