10 Apps for New Moms That Will Make Your Life Easier
Transitioning into motherhood? You're going to want to download these apps for new moms.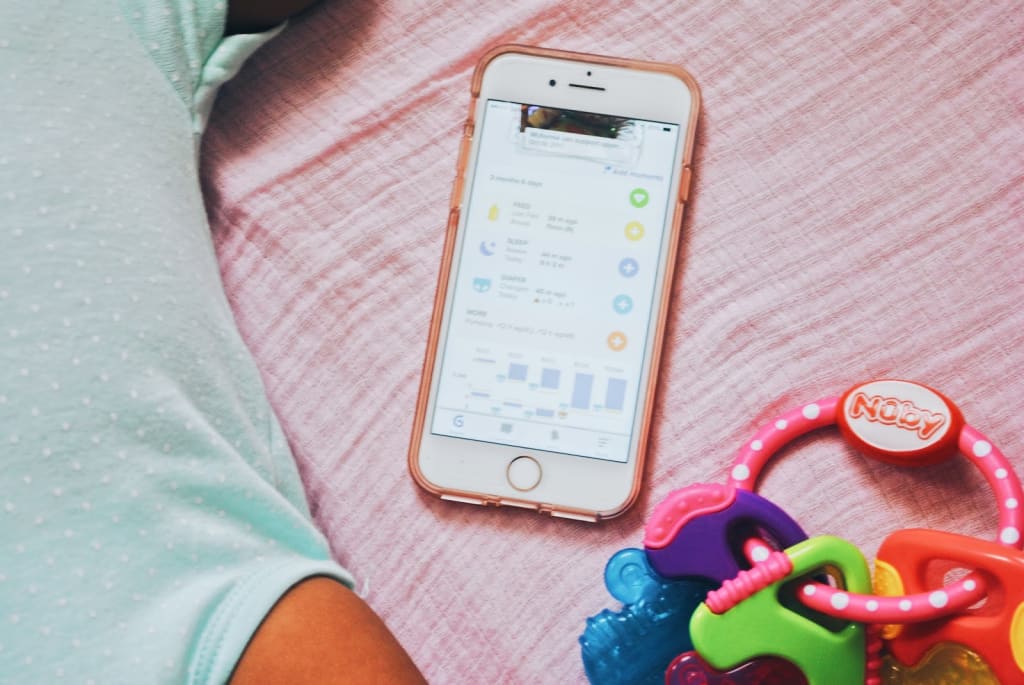 New moms, thankfully, have a world of resources available to them. From books to podcasts to television shows and apps for new moms, take your pick! It's important that mothers have these outlets, there are a lot of changes when you become a mama after all.
Today, we're going to focus on the apps that will help you transition into motherhood. And though nothing will make this process effortless, these apps will help take some of the load off your back and result in peaceful parenting. So what are you waiting for? Prepare your thumbs to hit that download button.
We track nearly everything nowadays, don't we? Well, with something as new to you as breastfeeding, a tracker can certainly come in handy. Just add it to your cluster of trackers; what's one more?
As one of the best apps for new moms, the concept is simple. This will help you track your nursing progress as well as growth, diaper changes, and more. You can even use this app to log doctor's visits, add photos, videos, and sound, and track all of their milestones. Use this great app to store all of your most precious information and moments.
Keeping WedMD Baby on your phone as an app might sound a little silly, but once you become a new mother, you'll understand how much you use the website. So you might as well download the app. As one of the best apps for new moms, WebMD has helped over 1.7 million parents using their app. Use this to track your baby's development, get advice from physicians, and discover the best resources to properly raise your newborn.
Plus, they also provide diaper trackers, sleep trackers, breastfeeding trackers, and much more. And let your husband know that they also have a Just For Dads section for them to enjoy as well.
Another tracker, but this is yet another great tool for new mothers. Made specifically with new moms in mind, this is meant to ease your first months of having a baby, even if it's just a little.
Log each of your newborn's care with this tracker. It will allow you to track every detail of your daily information, from sleep to activities to symptoms, temperature, medication, and feeding. If you're a mom who wants to remember every detail, this is the app for you. But the best part is that Baby Tracker by Total Baby allows mothers to calm their babies down, even after endless crying.
CareZone isn't all about the baby for once. Instead, this is one of the best apps for new moms because it helps you take care of you while you're transitioning. This allows you to keep track of everything that you need to get done in order to keep up with your own needs, aside from your newborn's.
Basically, this is a great app to use if you are taking any medications, if you need constant reminders, or if you just want to be more organized with your self-care. If it feels like needing all of these reminders and having all these things to is sort of like going to baby school, I promise you're not the only one who feels that way.
New mothers can always use a little extra help when it comes to putting their newborns to sleep. And with an app as easy to use as Johnson's Bedtime, it's worth a shot. Johnson's, a trustworthy baby brand, recognizes how difficult it might be to get your infant into a good sleeping schedule. And that's why they have created the first free baby sleep expert app.
The app includes three-step nighttime routines with instructional videos, access to a panel of Johnson's sleep analysts, lullabies, ambient sounds and music, a sleep training guide, and a sleep log. What more could you need?
This isn't among the apps for new moms that are designed specifically for brand new mothers but it should be! Charmin's SitOrSquat app is a restroom finder. If your baby has an accident, if you have an accident, or you just need someplace to clean up, this app will always come in handy.
With over 100,000 bathrooms logged into their database, there will always be an option somewhat close by. This app can be helpful for really anyone. You never know when you'll need a restroom, and fast. So it can never hurt to have this downloaded on your phone.
Food delivery is crucial after becoming a new mother. Slaving over the stove is not really in the works for most sleep-deprived mothers. If it is, all power to you. But for those nights that everything seems to go wrong, Grubhub is there for you.
This app allows you to order food delivery anywhere you are. With a huge selection of local restaurants, you can order delivery or pickup from full menus. Plus, you can use their Express Reorder to receive meals fast. Or, preorder your meal up to four days in advance.
Next among the best apps for new moms is one called Tinybeans Family Photo Album. This is an app that was built by parents, for parents. Their goal is to help parents capture memories of their growing baby and share them with their family and friends instantly. Tinybeans makes it easy to record your child's milestones with their simple platform.
All you need to do is upload your pictures, add your own personal touch with text, stickers, or filters, and share them with whoever you'd like. Reminisce about your growing baby with your loved ones with ease. You'll never miss a thing again!
Talkspace Online Therapy isn't your typical new mother app because it can be used by anyone. However, we think it can be one of the most beneficial on the market. Talkspace is an online therapy app that gives its patients a new way to deal with stress, illness, anxiety, and depression.
We suggest this app to new mothers because it can never hurt to reach out for help, even if it's just to talk. New mothers can always benefit from some extra self-care, especially those who are not transitioning into motherhood as easily as they thought they would. Talkspace provides online licensed therapists at your fingertips 24 hours a day. You never know when you might need to talk to someone, and Talkspace is there to help.
To complete the best apps for new moms, we have one last sleep aid suggestion. When it comes to newborns, the real struggle lies in getting them to sleep. So downloading more than one sleep aid can never hurt. One day one app might work like a charm, and then the next day it could make them even more restless.
White Noise Baby has some of the best options for ambient sounds to put your baby to sleep. From an air conditioner to a train ride to a fan or simply blue, gray, or pink noise. They also provide classical music tracks. For example, your baby might love Frédéric Chopin, or Beethoven's "Für Elise." Whichever it might be, as long as you're asleep, mama is happy.

Staying at home each & every day to be there with your children as they learn and grow sounds absolutely amazing in hindsight, right? Absolutely! Who wouldn't think that it's just living the dream?! But what the world fails to disclose is the truth behind being a stay at home mom..

11/18/2020 So, grandma (81 this year) has been up my ass about keeping a journal of everything that is going on right now so here goes. Amelia is 9 and in 4th grade, Raynen is 5 and is in kindergarten and Rj is 3 and is home with me. We live in fort lee right now and my husband, Bobby (30 this year) has just had his 3rd spine surgery and now awaiting the promotion board (he is in the army) and finding out when we will be moving. I am 26 credits away from my BA in history. The coronavirus pandemic has been a pain in the ass and the 2020 presidential election was a complete dumpster fire. Yay 2020 and the best part was carol baskin and the memes from that world.

It was early October, and it was finally time for my long-awaited moose hunt. I had waited ever since I was a little girl for this opportunity, and it was finally here. So, my father, the one that looks after me, and I packed up our stuff and left our city in Alaska. We were heading to a place called Bethel, AK. After a six-hour long drive, we made it to our hunting unit. It did not feel like home to us but it was warm and cozy, like my bed at home.

As your parents age, you're probably spending more and more time caring for them. Even if they're still in good health, you may need to help them live a healthy lifestyle. Your parents may need help with everything from their health insurance to their diet. To avoid caregiver stress, taking care of yourself is also essential.

Staying home, reducing stress, and taking care of ourselves, both mind and body are more important than ever. That's why from beauty and personal care to everyday essentials and home cleaning – we've got you covered. "Avon"

Growing up, I loved the Wizard of Oz. There was something magical and timeless about the Yellow Brick Road and the passion of Dorothy to find her way home, Scarecrow to find his brain, Tin Man to find his heart, and the Lion to find his courage. All to find out that the man behind the curtain was just a man, whose hope and wisdom fulfilled all desires by encouraging everyone by exploring their own virtues.