Warriors (Again)
The 2012 Legacy Lives On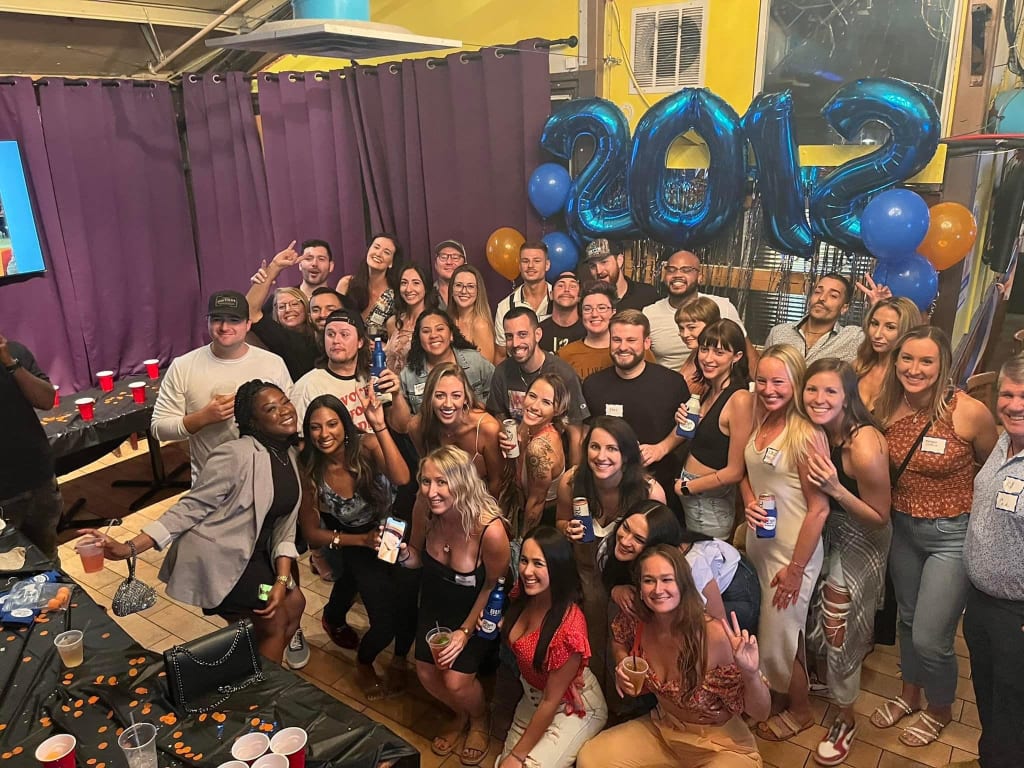 Photo Courtesy of Marissa Dianna
For the teachers who saw the potential in us that we couldn't see in ourselves, for the families that had our backs, and for the friends that kept us going. Lastly, for my former classmates and fellow Warriors. This is one is for you. -With Love, Sonya
"You've got to be joking!"
The agitation was palpable in my husband's voice.
Twenty-eight dollars for parking felt like much too steep a price, even in Downtown St. Pete, and I could tell he was ready to punch the parking meter.
The evening was about to fall around us, the sky still light, but already the buzz from the Friday night crowd was beginning to build around Ferg's Sports Bar and Grill.
I glanced over my shoulder at what I could only guess was the party room at the top of two flights of stairs. Orange and Blue balloons marked the entrance to what was either going to be an awkward reunion or an epic one amongst the Osceola Fundamental High School Alumni. Still, as I took one last look at the Facebook Invitation on the screen of my phone, I hoped for the best.
There was a time in my past when a swarm of butterflies, not unlike the one I sported today, had created a hurricane-level disruption in the pit of my gut. Back then, instead of smelling like sweat and perfume, I smelled of new clothes, hope, and trepidation. It wasn't a parking meter I was standing in front of either, rather, a stop sign, with a yellow school bus with flashing lights in front of me, ready to transport me to my first day of high school and the rest of my future ahead.
Life was simpler then, neatly laid out in forty-five-minute segments, each titled something like "Algebra," "English," or "Civics." A paper schedule marked the day ahead, and the biggest decision to make each day went no further than where to sit at lunchtime.
My usual spot was outside of the Cafeteria at the blue picnic tables that stretched across the courtyard.
Wondering if my high school experience was anything like that of my classmates, I decided to reach out to as many of them as I could.
Most of these conversations took place over the phone, but being the visual person I am (and writer of fiction), I decided that it might be more interesting to talk about these conversations as if they took place at that oh-so-coveted lunch spot.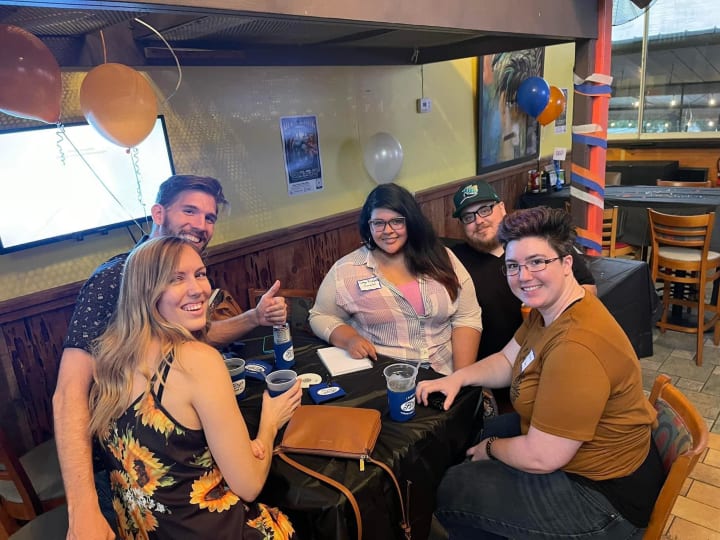 Enter in former classmate and high school thespian-turned-Creative Director, Cory Phelps, former teen athlete turned News Video Editor, Norma Haas, always fun-loving friend turned Maintenance Technician, RJ Anderson, and Real Estate advisor, Tucker Kemp.
"What's it feel like to know you're about to go to your ten-year high school reunion?" I asked.
Cory was the first to speak up.
"It's kinda like waking up," he said, his smiling eyes a little more tired than I remembered, but with as much brightness as before. "One day we're graduating, but now it's ten years later and everyone is the same but so different." He chuckled. "It feels like the snap of a finger."
I agreed, looking past his shoulder and toward the portable classrooms in the distance, remembering Mrs. T's first period Honors English class where Cory Phelps and I first met.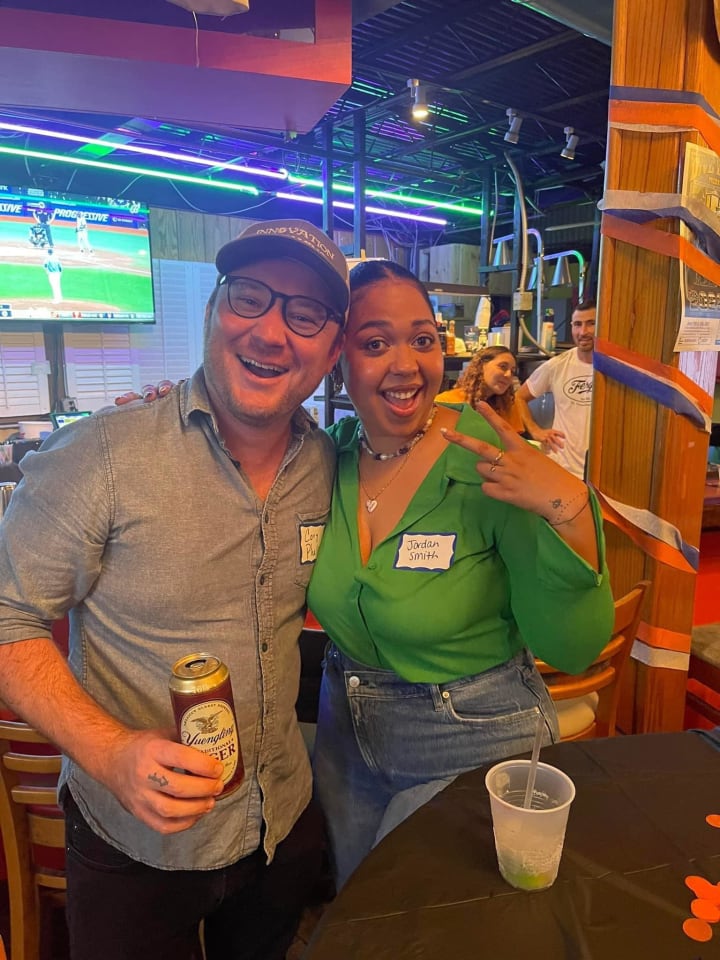 We were each assigned a reading part from Shakespeare's Romeo and Juliet and had made it to the "holy palmer's kiss" when I awkwardly looked up at Cory expecting him to roll his eyes but was caught totally by surprise when, with a funny look, he made a comical "MUAH!" sound. Today, Cory was none other than the Creative Director of his own company, Destination Theatre.
No surprise there.
"I remember being a teen and really wanting to do theatre so badly," he said. "I used to say, 'I'm going to be an actor.' I've done some of that, but now if I could say anything to my past self it would be, "use this art to help people."
Norma nodded her head, her once brunette locks now a cropped lilac 'do on top of her head, her face as lovely as ever.
"I would tell my former self to look for new experiences and not be afraid to try new things."
I smiled at her comment, remembering Cosa Brown's sweet sixteen, where a group of us girls, gave condo repairmen some extra work after sailing through the room, onto the beds, trying to get the funniest poses for the camera.
Norma flashed her bright smile at me as if reading my mind. She said, "my favorite part of high school was the random craziness I'd get into with friends," she thought for a moment. "Like breaking into the teacher's lounge with Cosa to steal our daily Pepsi," she laughed. "Their soda machine was the only one that had them."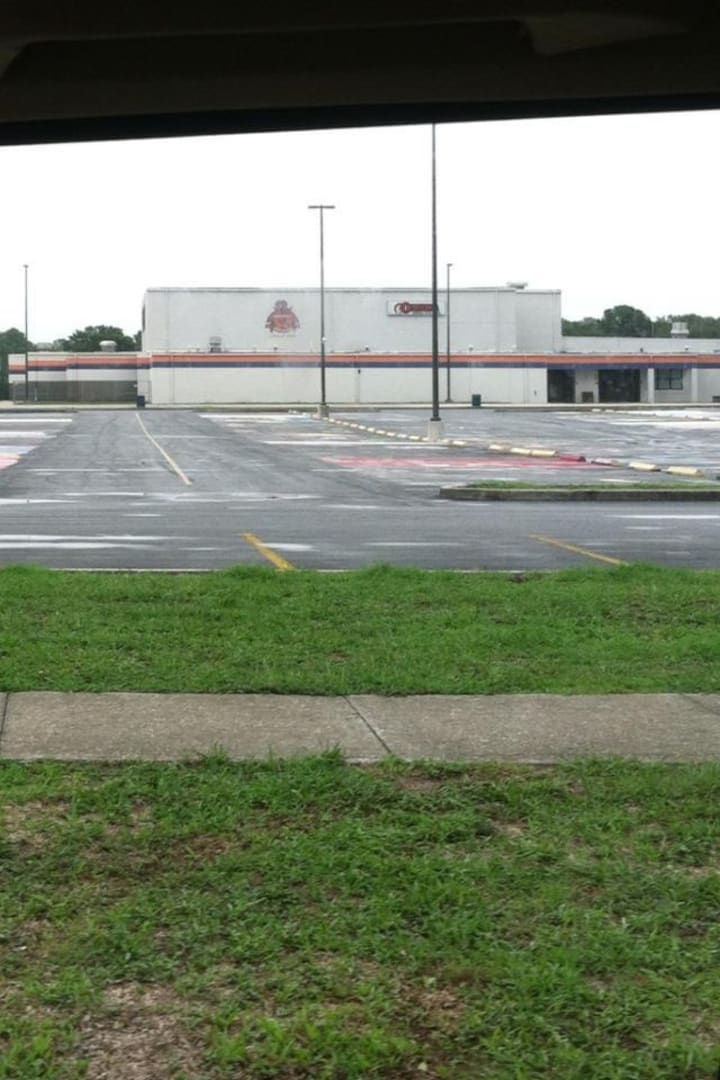 RJ started to laugh too. "Do you remember that one morning when we all did the senior prank at the parking lot?" he shook his head, his blue eyes standing out against the backdrop of the sky.
"We all got to school at 5am and blocked off all the parking lots including the one for Drivers Ed and the Bus Circle. We sat there for over an hour, blasting music, throw frisbees, and playing games like cornhole.
His days of shenanigans behind him, RJ is now a dedicated father.
Tucker Kemp spoke up next.
"I remember getting asked to leave school early after flooding the halls during senior day!"
Images of muddy teenagers running through the halls, flashed through my mind as we all burst into laughter. After a moment, Tucker spoke up again.
"I was never anxious to get out of high school," he said. "I pretty much recognized that it was good. I always said,
"You're going to miss this."
He smiled a little sadly, his once shoulder-length hair now shorter, and styled to fit his professional environment.
"Overall, there are a lot of similarities between high school and the real world. Things like learning to work with other people and playing nice…" he paused. "Living through the good, the bad, and the ugly."
RJ nodded. "You're in a learning stage," he said.
"You're ending high school and now you're starting life. And if you struggle in school and you don't graduate, it's not the end of the world. Everything that happens is for a reason."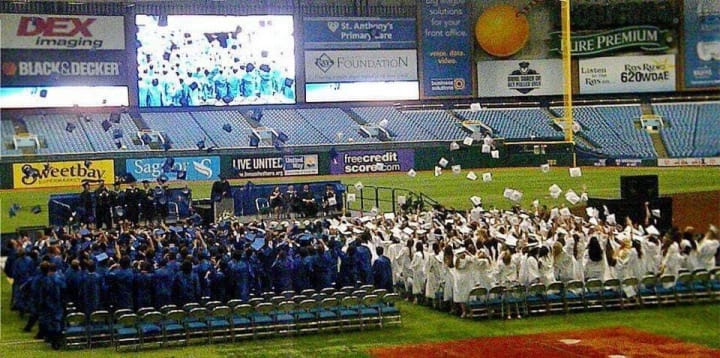 The high school experience meant different things to different people. To a future Airforce Academy Graduate, it might have meant the friendships he made as part of the Robotics Team. To a traveling enthusiast, it might have meant Guitar Class, and serious senioritis, and to a high school football player, it may have meant the orange and blue on his jersey, and the field on a Friday night.
It was now a different Friday night, one, not in Largo, where Osceola High was located, but in downtown St. Pete.
I stood at the top of the stairs of Ferg's Sports Bar and Grill, hand in hand with my husband who, for the past ten minutes since we parked, had been speaking encouragingly in my ear, trying to soothe my nerves.
Taking one final breath, I reached for the handle of the screen door, ready to face the people (and memories) waiting on the other side.
Just 0.3 mi from where the Reunion was taking place, tall and proud, stood Tropicana Field, home of the Tampa Bay Rays, and the place where we went from being OHS Class of 2012 Seniors to being Alumni.
Between drinks and games of beer-pong, former classmates exchanged hugs and stories, a slideshow of memories playing in the background as the day started coming to an end.
I smiled as I looked around, proud to be a part of the best graduating class to ever walk the halls of Osceola. Maybe to other graduates, that wasn't true, but it was to us.
In that room, where only a handful of us was gathered, I could still hear the sounds of a football game and the drumline in the distance.
Outside, the sky cleared, glowing with an unmistakable, and most familiar palette of orange and blue as, for one more night, after ten long years, we got to be Warriors again.
About the Creator
D.S. is an Award-Winning Poet and Author of the Bestselling Young Adult Christian Novel, DREAMER.
Follow her on Instagram, TikTok, and Facebook or visit her website: www.dsfwriter.com
Reader insights
Be the first to share your insights about this piece.
Add your insights