Virtual Teaching
Are There Any Real Benefits?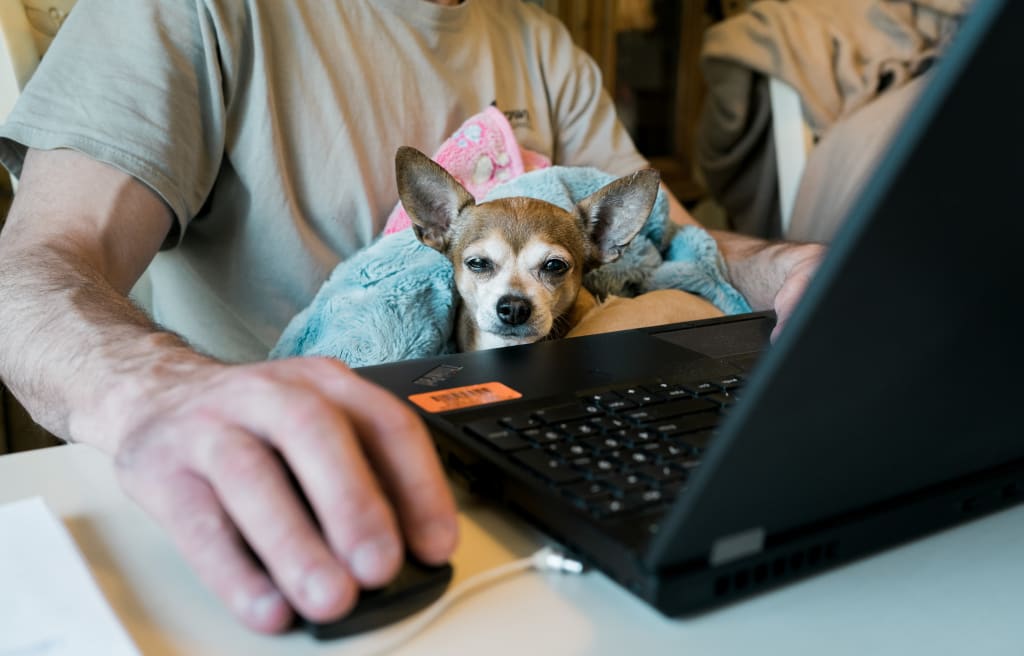 Working from home takes on new meaning.
In the middle of March, teachers went home as if it were a regular day of work and never returned. They were informed that schools were closed due to Covid-19 and were asked to teach from home. Many of them did not have their curriculums with them and did not have their lesson plan book. Of course, they remembered what they did that last day of teaching but how do we move forward.
Now the whole world of teaching changes one day at a time. Teachers are learning to use Google Classroom, how to join in on Zoom meetings, and how to create lessons using PowerPoint or Google Slides. Some teachers were fluent in these technologies while others had to start from scratch and with limited time. Teachers are relying on YouTube videos and friends to help them get started. Principals expected their work to be up and running over the next week. They expected teachers to contact parents and students and advise them about the new teaching requirements. On top of that, teachers are expected to still attend faculty meetings. All this while watching the news and watching the death toll rise from Covid-19.
In this new world of teaching, students are expected to pick up where they left off. Many of these students did not have any computers at home so they had to arrange to "borrow" one from the school district. Some school districts are even planning to give out breakfast and lunch to students and families in need. Now administrators are on the front lines working 10 to 12-hour days as well. All while thinking that this is a nightmare that they will wake up from. Sleepless nights worrying about the virus, students, parents and themselves becomes a new way of life for those in education.
Many teachers are doing all of this while homeschooling their own children. That increase their day to sometimes 16 hours, and that does not include time for themselves or their loved ones. Teachers are navigating their own stream of issues for work, for their students and parents and now have to work along with a different school situation to make sure their own children continue learning.
Many students who have waited so long for this year to come are also brimming with disappointment. No high school graduations or proms. No college graduation ceremonies. Celebrations were planned and canceled. School districts are making every effort to remember their graduating students with virtual ceremonies, banners and lawn signs. Many families are having virtual celebrations. A zoom happy hour has become the new normal for teachers, friends and families. What will it be like when we go back to normal? What will normal look like?
Governments are already planning for a possible virtual teaching situation to start the next school year. Yes, teachers will be more prepared for this kind of teaching but this is not what they signed up for. Teachers love their students, reading to them, teaching them, and planning fun activities with their anticipated smiles. How will teachers feel if they have to continue doing virtual teaching? How many of them will choose other careers?
We have now entered a world where the "new normal" is wearing a mask, standing 6 feet apart and drowning our hands with sanitizer. How will life go back to normal? Are we afraid to go back to normal?
Teachers, administrators and government officials are all making plans for possibly continuing this new way of teaching. Some even feel that this will be more productive for students in the long run. How can non-socialization be the proper way to learn and grow up in society? Children need play time with other children, they need teachers to love them and nurture them, and they need their peers at school to help them develop into mature, responsible adults that can survive living in a community of people.
There are too many questions and just not enough answers to all these questions posed by continued virtual learning. If society follows the social distancing rules, hopefully, by the fall we will be ready to enter into a school environment that children are used to and so much deserve. Virtual learning has gotten us through this crisis but cannot be a way of life for our children.