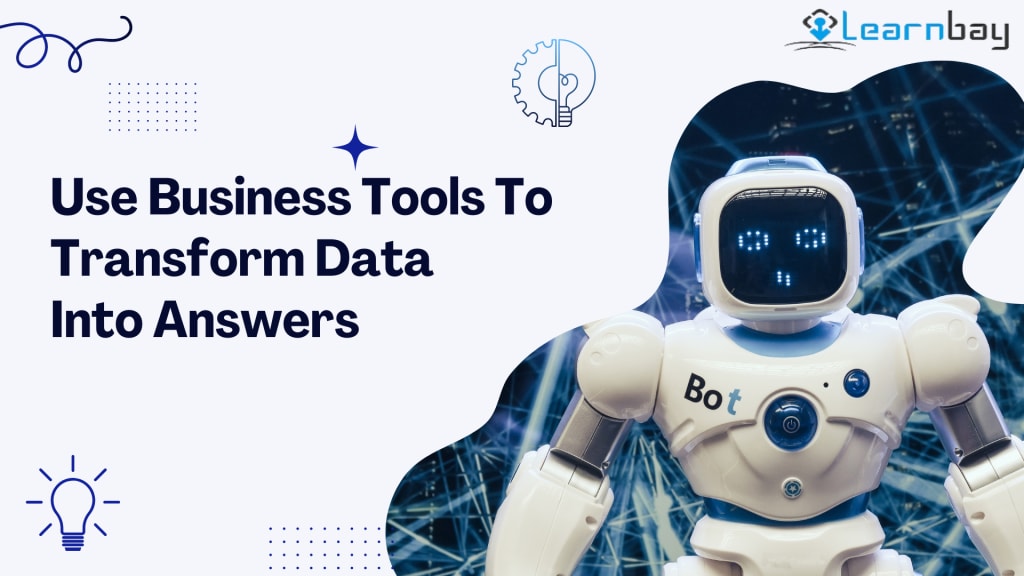 Business Analysts cannot do their duties without the necessary business analytics tools because of their significant and extensive role in spotting business trends and suggesting the best business strategy to address them.
One reason is that there is typically too much data for hand analysis. Second, the processing is frequently required before analysis because the data is frequently unstructured and raw. Finally, once BAs have determined the business requirements that must be met, they must put their findings into formats that facilitate successful cooperation and are simple to grasp. Some software tools are essential to the business analysis process for all of these and many more reasons.
Although several of these programmes do share similar functions, each one is ideally suited to a particular set of activities. These tasks can also be fairly varied, as was already mentioned. Because of this, business analysis tools can be divided into three main groups:
Associated Tools for Requirements
When working with a lot of data, handling all of the needs of a data analyst/ business analyst's job might be challenging. These technologies aid in that and enable the data analysis to go as planned. These tools make it feasible to get information from reliable sources and filter those frequently vast amounts of information according to a variety of criteria, all while keeping competing requirements under control.
Equipment for Modeling
A Data analyst or BA needs a tool to display their findings in an easy-to-understand manner after they have been collected. Every employee in a company won't have the same analytical abilities as the BA. Thus they'll require a mediator to explain the findings to them. These tools provide diagrams and contextualized representations of the data to encourage greater understanding and reduce the likelihood of misunderstanding.
Collaboration Tools
As previously mentioned, business analysts serve as a bridge between various organizational areas. They, therefore, require efficient modes of collaboration. Additionally, BAs must put forth original ideas supported by facts, and procedures like brainstorming rely on cooperation.
Businesses must be able to make quick, educated decisions in today's highly competitive climate. Keyword-based search is one example of a conventional business strategy that is fast becoming obsolete. You can't make confident business decisions using Drive and Excel files. Investing in powerful business analytics software is necessary to influence corporate decisions and respond quickly.
Tableau – One such BI tool that has attracted interest from businesses worldwide is Tableau. It makes discovering data without technical knowledge easier thanks to its self-service feature. According to Gartner, tableau software is one of the most dependable and enterprise-ready programmes, which helps business users find important data whenever they need it. With its drag-and-drop functionality and other fantastic features, this programme is a highly sought-after tool for satisfying the organization's various needs. To master Tableau, you can check out a data analytics course in Bangalore, and become a certified data analyst or business analyst.
Reduce the amount of time spent researching
The time spent on a typical data search method can now be cut down. Get the findings faster, in a matter of minutes. You may easily deconstruct any information silos and learn more about the organization. This software enables speedy data searching without any effort, regardless of whether you work in a warehouse, sales, procurement, planning, production, finance, customer care, or any other area. Finding data is much simpler than using the old Excel sheets or Drive method.
Allow for ad-hoc analyses
Do your business users need information on recent sales, sales from last year, or anything else? The intelligence that is incorporated into this software can be used. Run ad hoc analysis immediately and draw the conclusion. Simple software can eliminate hours of tedious manual work and facilitate agile analysis.
Discover informational tidbits that are hidden.
The data's hidden treasures come to the surface. Utilize intelligent BI software to stay flexible and react quickly to business demands. Find out facts whenever and wherever you choose.
Recognize the rationale for the data.
Help you get the knowledge you need at the precise moment you want it by providing clear-cut insights. Utilize sophisticated business analytics software to comprehend the reasons behind any sales development or virtually anything.
Detect business danger more quickly
With high-level intelligence, minimizing any company risk is now simple. A corporate risk can be easily assessed before it materializes. Act soon before it becomes real. Thanks to BI tools, your company can discover corporate risk much more quickly.
Real-time risk assessment and opportunity recognition are critical in today's highly competitive corporate world. To respond to dynamic changes and remain proactive, your team must stay ahead. You can only do this by spending money on powerful software like Tableau to make practical business decisions. Therefore, partnering with the top Tableau software in India is the wise choice if you want to invest in Tableau.
Hope this article gave an insight of The tools and software to use for business analysis. If you're a data analyst enthusiast looking to improve your skills, an IBM-accredited data science course in Bangalore is the right option for you. Join the training course led by experienced instructors and become a data analyst in just 6 months.
Reader insights
Be the first to share your insights about this piece.
Add your insights