Understanding The Benefits of Shop Drawing Services For Projects
Shop drawings provide extremely detailed instructions and data, allowing the manufacturing process to be repeated several times to produce numerous identical products each time.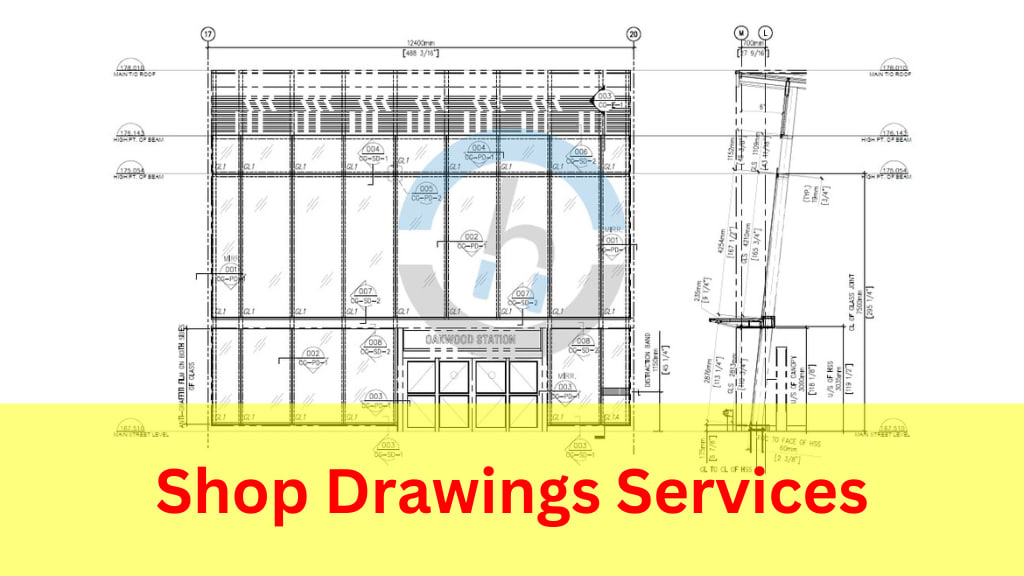 Shop Drawings Services
Shop Drawings, also known as technical drawings, are detailed blueprints that use a variety of sets of drawings to explain the design purpose of a building project. They are sometimes known as "Prefabrication Drawings" since they contain several sketches, plans, schematics, designs, and 3D models that facilitate fabrication and assembly. Shop Drawing Services contain all the details necessary to fabricate, construct, and install any building structure's components, including the materials, measurements, element links, erection specifics, comments on revisions, and so forth. Suppliers, Contractors, subcontractors, manufacturers, and purchasers employ these, which engineers, steel detailers, or modelers often make.
Glazing Shop Drawings are details and requirements for contractors that are displayed in construction papers. These drawings, used in the design and development of products, describe the manufacturing or assembly of the objects represented in the 3D models and mechanical drafting.
Steel Fabrication Shop Drawings provide a number of benefits, including the capability to guarantee top-notch quality, uniformity in the element measurements, and the opportunity to address upcoming difficulties even before they hamper real installation and construction.
These drawings are typically created by product manufacturers for clients that want precise designs for a specific project. It demonstrates that Millwork Shop Drawing Services are favored in mass manufacturing or a set of elements that are specially developed to meet a client's specific requirements.
Advantages of Shop Drawing Services in Construction Projects
Provide Detailed Guidelines for Installation and Design Information: Shop drawings show a scaled layout of how the end design will be put together, along with additional data about the components to be utilized, the product's dimensions, any hidden elements, the product's planned weight, its joints and links, and any special treatments, among other things. For instance, a steel fabrication design collection might include a design of the steel part including top or bottom perspectives illustrating the precise connection details, as well as a 3D detail to provide a clearer view. The parameters of the element will be shown, supported by details like "Column should be prepared with the protective oxide layer." These designs' clarity aids fabricators in creating precisely what is needed as stated for usage on the building site.
Make Duplicate Copies of an Identical Item: Shop drawings provide incredibly detailed directions and data, allowing the production process to be repeated several times to produce numerous identical products every time. When multiples of an identical element, such as roof joists, are required, this might be helpful. Also, it is helpful in the event that a produced component has a flaw or develops one. It is possible to roll and build an exact substitute in this situation. Duplication can save both money and time when working with a contractor strategy for the construction of new homes if all the homes that are intended to be produced are the same.
Paperwork and Documentation: Shop drawings might serve as documentation for future use if an issue arises. A certified and authorized engineer's certification can also be obtained using such documentation, which can then be assembled and submitted with the building permit application to the commission as supporting documentation.
Accounting of Materials: If there is a very huge structure, such as a unique structural steel rooftop support, which cannot be delivered in one piece due to its size and must be put together from numerous loose components on the building site.
Exact Costing: Expenses play a significant role in the manufacturing industry and need to be properly considered. The cost of the resources required for manufacturing may be precisely estimated with the use of shop drawings. They aid in preventing orders for too little or too much material, which, in turn, aids in avoiding the wastage of time and excess of goods.
Changes Before Issuance: As previously said, one of the major benefits of producing shop drawings is the ability to view the 3D Model and the building details included inside. This enables a designer to identify any conflicts, voids, or other irregularities in the model prior to it being built on location. Before arriving at a final set of drawings, shop drawings provide the designer the opportunity to explore many alternatives or methods of construction without difficulty. The designer will have the capacity to immediately add the appropriate components if something looks to be lacking.
Flexibility: Shop drawings may be transported anywhere and retrieved at any point due to the nature of current data being stored electronically. A cloud storage or public network can be used to keep a copy of the designs as a backup, and various devices with network access can view those files. Shop Drawing's key point is that it constitutes a more trustworthy informational tool to consult, and having quick access throughout the project inspection phases is quite useful.
Training: Shop drawings are an amazing way to gather data and expertise to acquire for a future architect who can create excellent representations of structures. A student can study the construction details of a shop design to understand how to actually construct a structure. It is definitely more beneficial to try to grasp a technical picture than it is to study an instructional book. Because the technical graphic clearly demonstrates what is happening and how things will function.
Promotional Use of Drawing Papers: The design sheet alone may be utilized to advertise the business that created the drawing in addition to demonstrating the manufacture or building of an element. Shop drawings typically have a "title box" at the top or on one of the file's sides. If the outcomes and job are exceptionally good, this not only serves to establish the drawing firm's affiliation to the job but also serves as a reminder or promotion of the original to maybe negotiate additional jobs down the road.
Consistency: A shop drawing's sheet format and drawing technique can be standardized with the preservation of shop drawings for earlier projects. It may aid in the development of a consistent presentation style to the customer or contractor, which is a professional practice. A consistent presenting style might help to promote a brand.
Conclusion
To complete a job successfully Shop Drawings are important since they are necessary to start any job. It is now feasible to derive Shop Drawings using 3D Structures thanks to the introduction of BIM. These removed designs have no coordination problems and enable improved scheduling and incorporation. It provides precise and fast solutions while decreasing rework. Engineers as well as designers are thus searching for methods of making these Shop Drawing Services more efficient and precise due to their significance in the construction project cycle.
Among the most important aspects of the AEC industry is Shop Drawing Services. For every construction product, having a decent drawing and set of plans is essential, but the quality of shop drawings is extremely crucial because prefabricated elements don't really allow for much space for modification after they are installed. To prevent delays and expensive rework on the building site, every detail including measurements and electrical/plumbing must be reviewed and approved when the shop drawings are sent from fabricators to designers/engineers to contractors or vice versa. There are a lot of advantages of Shop Drawings as mentioned above in this article.
About the Creator
Chudasama Outsourcing is a professional services provider company offering implementation services for AEC firms that are currently planning to implement Building Information Modeling (BIM). We offer premium BIM Modeling & CAD Services.
Reader insights
Be the first to share your insights about this piece.
Add your insights