Top Online Associate's Degree Programs
Finding an education these days is no simple task, but for those willing to reach for bigger and brighter opportunities, these online associate's degree programs will lead you where you want to go.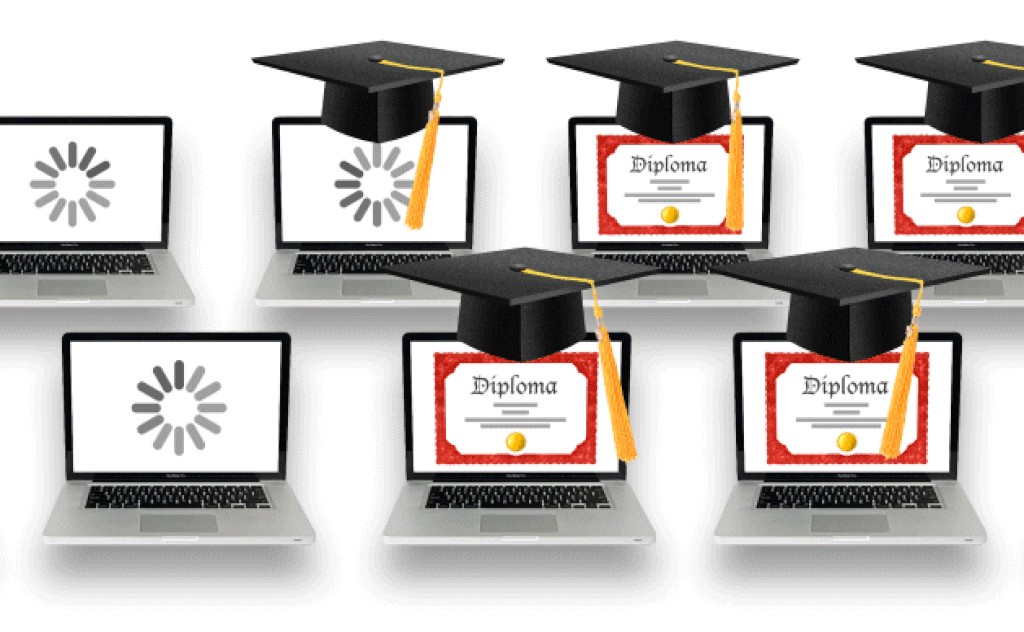 There's a variety of reasons why you might be skeptical of studying online, but of late it's become a growing phenomena that's almost easier than going to a state or university schools, which tend to be worth upwards of 10 grand. My advice would be to first ask yourself if you want online learning, or brick and mortar, since this is the rest of your life your working on benefiting. Once you've made that decision, go and gain the insight of studying a degree online via distance learning. It will be the difference between actually retaining the knowledge from online courses, versus simply "just doing it."
Aside from this, choosing from the vast amount of top online associate's degree programs is and will continue to be a rather debilitating and crucial task for you to overcome, but you aren't alone. There's plenty of different online schools offering a complex education fueled with the best insight and tools for you to succeed in the career path of your choice. If you're unsure as to what this path might even be, try finding the best jobs you can get with an associate's degree, just to see which areas are best for stringent pursuit.
Nursing Programs
Gaining an education in nursing is no easy task, and costs for such an investment have risen dramatically. Don't stress your out beyond the studies by taking out a loan. Instead, investigate top online associate's degree programs for nursing on the net; there's a vast array of levels and types under Sinclair College.
With over 200 online courses, gaining any number of academic degrees can be a cinch at Sinclair, but don't think any of them will be simple. There's also a plentitude for those looking to become an associate of applied science, plus various arts courses and outward opportunities that make Sinclair an inexpensive priority among online colleges for those willing to learn off the web. For out of state students, costs tend to range from $100-$300 per credit hour.
Dental Hygienist Programs
When thinking of the top online associate's degree programs, you'd never suspect that dental hygiene would be a study of interest. Even beyond the fact that the dental hygienist is one of the best paying jobs that necessitates an associate's degree, you'll never have to worry about your teeth's health if you're the expert.
On a more serious note, searching for truly benefiting dental hygienist associate's degree programs can be a painstaking task, but with the College of Southern Nevada you're worries are wind. They have provided prospective students in dental science a broad gaze at the field with classes steered toward oral epidemiology, public health, research methodology, and so much more.
Law Degree Programs
If you're looking to bass the bar with flying colors, Western Carolina University is your one-stop shop for success. From pre-law to advanced legal research, WCU has some of the best online associate's degree programs and certificates for studies in law.
Not only for legal eagles, but WCU is open for all kinds of different opportunities, since they have some of online programs for students looking for business, art, and science degrees of any class. Per semester, WCU can cost anywhere from $200 to $750, which makes it a highly educated and affordable place to learn law of any level.
Computer Engineering Programs
Grantham University spells out the basis for its being among the best online associate's degree programs by guaranteeing employment, detailed lesson planning based on problem identification and analysis, plus huge amounts of resources for a positive professional development witnessed in all of its many students.
When concerning computer engineering, they delve deep into the tech and culture, bringing out both history and future prospects on its use. Courses tend to be centered on electronics theory, software systems, microprocessor design, and much more, all of which pertain to the best computer engineering education program based online.
Journalism Programs
Arts and Communication isn't a light subject for the lesson planners of Florida Tech's online associate's degree programs. They provide not only a variety of topics to choose from, but also in-depth classes that bring out the best in talent and investigative skill for those attempting journalism.
If you want to make the best out of your education in journalism, especially for those looking into the best online associate's degree programs, Florida Tech has the best viable options and can also remain a quality resource for years to come. Tuition is most often $31,000—$32,000 in total.
Cyber Security
With Facebook now under fire for its massive breach of well over 80 million users' data, it's safe to say that of top priority in conventional settings is cybersecurity. In protecting your finances, identity, and even valuable data-related possessions, the advent of better and more secure online systems is a must for more positive web-based opportunities.
For that, let's also protect your education with Saint Leo University. They have an implementation of many online associate's degree programs, most praised among them being cybersecurity. You'll be witness to valuable insights, like security tools, countermeasures, ethical hacking, systems maintenance, and more. Tuition rates depend on different factors, but can be best visualized as $34,000.
Political Science Programs
If cybersecurity is an issue, then politics are really bad in this day and age. Political science, actual beneficial knowledge of it rather than opinion-based, is a must in terms of elevating the country, and even the world if we added diplomacy to the mix. But it's not like every school out there has a quality education for this topic, especially today.
New England College has exceptional online associate's degree programs with an eye for every angle in the realm of political science. They embody the very ideal of diverse learning and value the prosperity of equal ideologies, as so recognized by Equal Educational Opportunities, for which they say:
"It is New England College's policy to administer all educational programs and related supporting services and benefits in a manner which does not discriminate because of a student's or prospective student's race, color, religion, sex, sexual orientation, age, national origin, physical or mental handicap, or other characteristics which cannot be lawfully the basis for provision of such programs or services."
Finance Programs
Representing the most inexpensive and quality online associate's degree programs for Finance is Penn Foster, which costs a whopping total of $1,000. These courses are outlined by broad, entry level concepts that are later expanded and expounded upon by specific, thought-driven lessons.
Specific subjects examined under Penn Foster's online finance associate's program are statistics, accounting, company finances, principles of management, business trends, law, and much more. You'll tackle big, problem-solving equations and learn the most advanced tips in professional finance, all while learning at your own pace and at home.
Agriculture Programs
Though it may not be your very first choice, agricultural associate's degrees have a great deal of informative concepts inherent in its craft, from historical means to even excavation methods. For those wanting the best education in agriculture, Ohio Christian University has in-depth lesson plans specifically dedicated to the methods and history of the subject, as well as interesting pairings, like their agribusiness studies.
Tuition prices are around $200 per credit hour, which makes OCU an inexpensive place for productive learning in a topic that tends to be ignored. Agriculture is an important part of understanding culture, history, and the earth around us. By taking an education with one of the best online associate's degree programs, you'll begin to see just how interesting and inspiring these lessons can be.
Business and Accounting Programs
Indiana Wesleyan University is a fine school with the best online associate's degree programs in both business and accounting. It might be an extreme challenge to take both in-depth courses online, but it's a possibility if you want to gain an edge on the competition.
Provided in each program are a variety of lessons that gain in difficulty the deeper, or longer, you take the course. You'll develop valuable perspectives on business decision-making, information management, effective communications, accounting principles and analysis, plus many more. The summer online tuition for 2018 is $362, which makes it an inexpensive route for the most sophisticated education.