Top-10 mobile apps for slide deck design
Yes, not only PowerPoint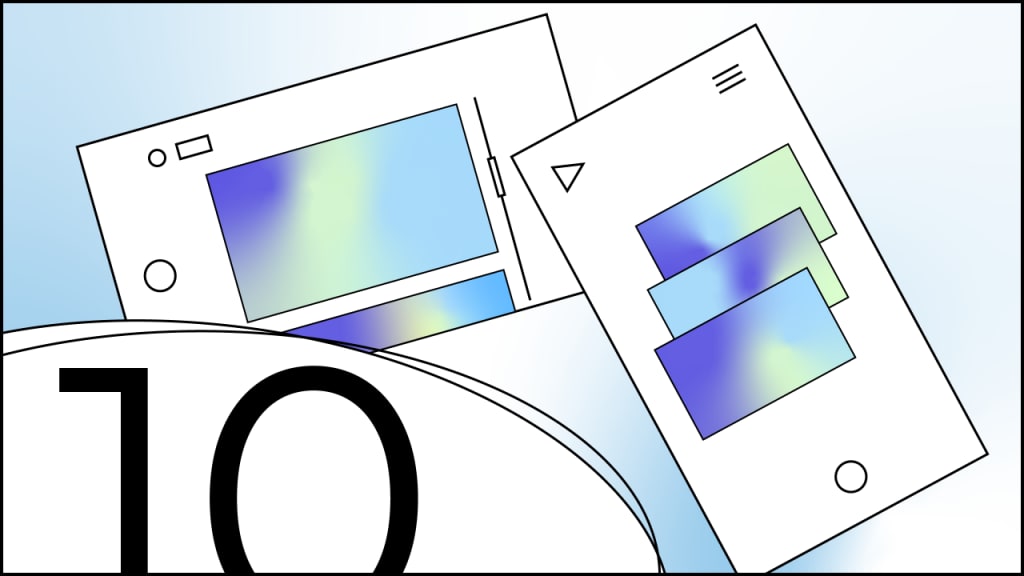 Check out our top-10 list of slide design apps to help you finally switch from PC to smartphone.
A smartphone is by far the most popular device for each and every person on our planet in the past decade. Yet earlier it was quite hard to picture a complete working process being run on a mobile phone or a tab even with all necessary tools provided. Today all software developers are not only familiar with this format but also tend to aim solely at it.
A decent public slide deck rarely requires much information on the slides. Thus, Apple as a pioneer in visual presentations sticks to a "one number per slide" rule created by Steve Jobs himself. His counterpart, Guy Kawasaki, an evangelist for marketing, suggests a simple 10/20/30 formula: 10 slides for a 20-minute speech using 30 pt font size.
Let us guide you through all features of mobile apps that will help you create a perfect visual metaphor for your presentation.
1. Google Slides
A user-friendly app with a familiar interface and collaborative editing option. Everyone who has a link can edit the project, add suggestions and comments. To put it simply, a link provides access to your project, allows editing, adding suggestions, and comments.
A slide show is carried out in a web browser or in the app itself. This app is especially convenient for those who use other Google services. A web version is also available.
Pros:
User-friendly and familiar interface
Supports presentations made with PowerPoint and Keynote
Presentations may be shared via video calls
Cons:
Doesn't support videos
Price: free
2. FlowVella
An app cut for working on a tab. If editing collaboratively, the app notifies the author when the project is viewed or edited. Moreover, it provides statistics on most-viewed slides and tracks viewers. The app is supported on MacOS.
Pros:
Offline editing
YouTube videos integration
Autoplay for videos
Cons:
Price: a free version allows creating 4 presentations per month with 10 slides each. An extended version starts from $10 per month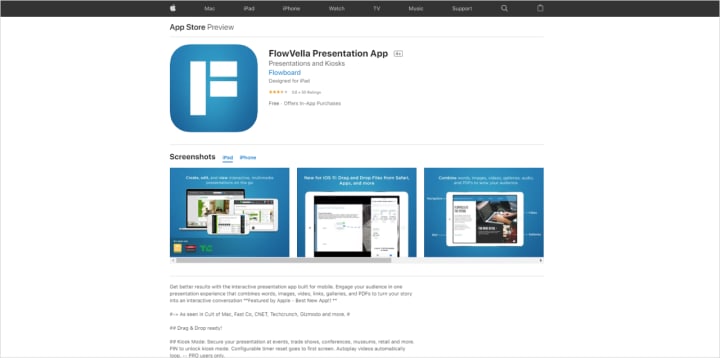 3. Prezi
Prezi is a perfect fit for slide decks based on visualization, storytelling, and interaction with the audience. Prezi (as a company) also carried out research that states that the above-mentioned components are key to delivering a successful presentation. Their app has a fancy interface reminding of a neural map made of slides. Users can zoom in on a particular slide or view the whole deck.
Pros:
A creative approach to presentation design
Supports presentations made with PowerPoint
PreziVideo — a free feature that enables to share slides during conference calls
Offline editing available in the extended version
Cons:
Unusual interface
Multiple complaints about faulty authorization
Price: The basic option is free. An extended version starts from $7 per month
4. Haiku deck
Another extraordinary but user-friendly app that turns presentation design into a game. The slides can be viewed via a web browser.
Pros:
A considerable selection of tools
Familiar interface
A great choice of stock images
Cons:
Doesn't suit those who like graphs and charts
Archaic interface
Price: the basic tools are free. Pro plan starts from $9.99 per month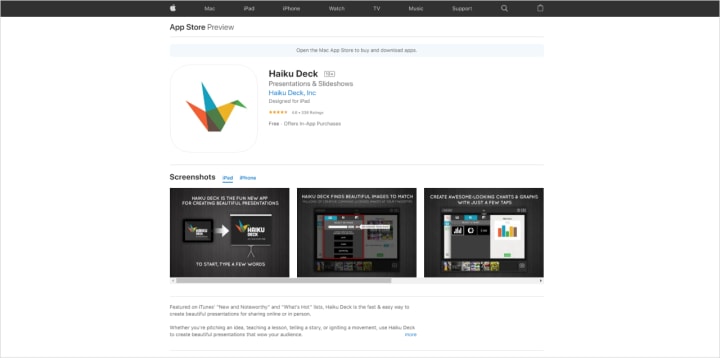 5. Canva
An app with a vast selection of design templates for various graphic modules including presentations. Perfectly suits those who place value on images, charts, and graphs.
Pros:
Graphs may be created directly in the app
Custom images
Logo design tools
Also, available on macOS, Windows & via web-browser
Cons:
Negative feedback on unexpected shutdowns
If uploading images they may get distorted
Price: A limited number of templates are available for free. Pro subscription is for $12.95 per month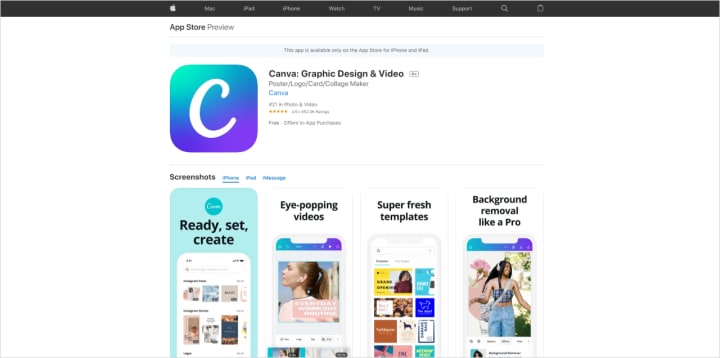 6. Adobe Spark
This app is cut for creating various graphic art, web pages, and videos. Users can set slide display time and autoplay mode if needed. A web version is also available.
Pros:
"Traditional" process of creating presentations
A considerable amount of slide templates suited for every purpose
Cons:
Not adapted for Cyrillic alphabet
Price: Basic (core) features are provided for free. Pro-plan subscription starts at $9.99 per month
7. Paste by Wetransfer
A user-friendly app for slide design. Users may add various content such as screenshots, videos, graphs, and links by dragging it into the app. If authorizing with a corporate email, a logo and corporate colors upload automatically. Available on macOS.
Pros:
Easy-to-use
Collaborative editing
Assign and delegate tasks mode/feature
Price: Basic (core) features are provided for free. An extended subscription starts with $9.99 per month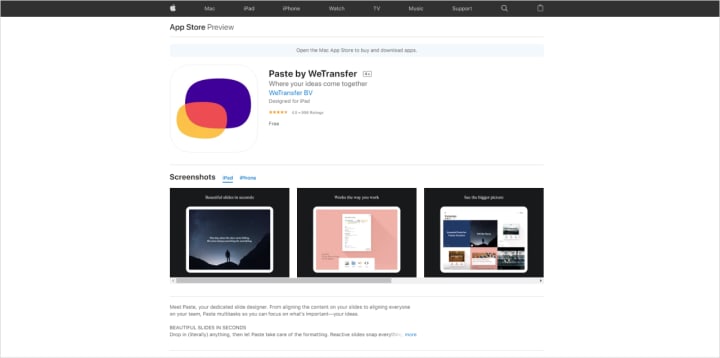 8. Showpad
An app aimed at sales staff productivity improvement. It enables users to put various content together and share it in a form of a slide deck.
Pros:
Suited for those who like to share their ideas on-the-go
Focus on successful marketing toolkit
Cons:
Narrow focus: only works for sales presentations
Price: basic (core) features are provided for free. Extended plans price list is provided on request
9. Keynote
A default app for IOS designed by Steve Jobs himself for presenting company products. This app incorporates all necessary tools for slide design: more than 30 templates, dozens of shapes, charts and images. Users may also record and add audio and video comments.
Pros:
Familiar interface
A simple slide creation process
Slide decks may be viewed on other Apple devices via Keynote or a web version
Supports PowerPoint presentations
Offline changes are applied automatically when the connection is restored
Cons:
Only supported on IOS
Price: free
10. Microsoft PowerPoint
The very first tool for creating and viewing slide decks. This app is well spread in the world; it provides an extensive slide design toolkit.
Pros:
Familiar interface
Versions both for Mac and Windows
Cons:
Occasional text entry errors if using an app for IOS
Price: free
Summary
There are two decent reasons to switch to mobile apps for slide design: first, these apps are designed for modern minimalistic slide decks, second, they offer an extensive toolkit that works for each end of every purpose.
If you prefer PowerPoint for your presentations, check out my online course PowerPoint 101