Tips and Tricks for the Engineering Student
From a Female Engineering Student to Other University Students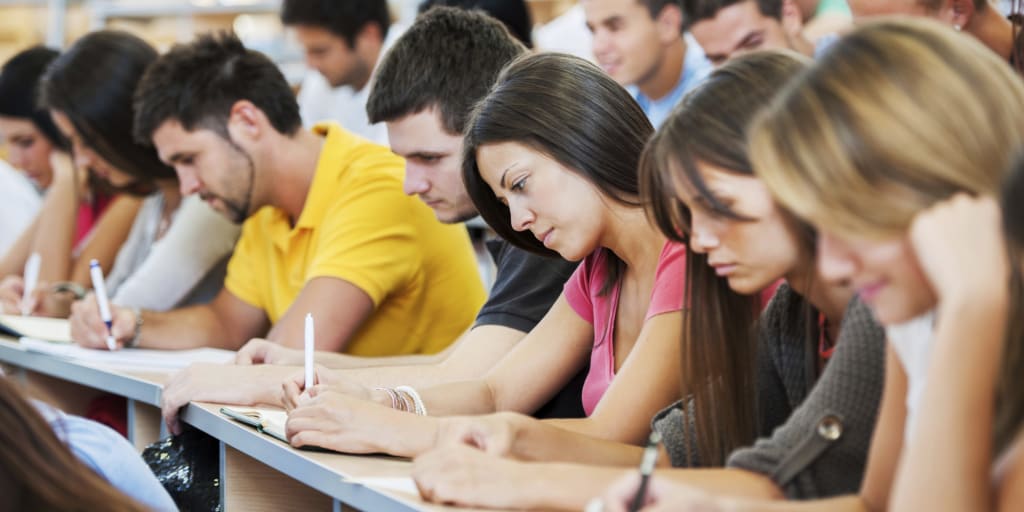 At this point in the school year, my fellow engineering students (or maybe not engineering—maybe students just trying to learn how I study) are probably struggling, or trying to get inspired to get through midterms or finals. Let me start off my saying that I am in my third year of undergrad, in Electrical and Computer Engineering. There are probably a maximum of five females in my class (including myself) at this point in my course. This is all just my experience, especially since the school I attend is very small and very male-dominated—not just in the engineering department. One of the first classes I attended, I was pointed out by male teacher who called me a "little girl," and proceeded to assume my ethnicity and speak to me in Spanish (when I am Filipina, and can't speak Spanish worth anything). He continued to do that for the rest of the year, and I was unable to drop the course as all classes were full. It was a deeply disturbing experience for me to sit through a class where the guys in my class would join in and tease me, calling me, "little girl." At my school, I had to earn the respect of my peers and teachers, in order for me to not get teased or called out in such a manner that would never happen to my male counterparts. I was once a straight A student, and now I was struggling to get a B. My sophomore year, I had to try my hardest in everything, and get the best grades in order for people to stop thinking of me as the person that was constantly struggling in class to actually wanting to be a part of my study group. Here are a few things that I did to get my grades together, and start studying more efficiently.
1. Get a Tablet
I know, it is expensive. As an engineering student, I find that typing notes is incredibly difficult; especially typing out formulas can be a very time-consuming task to make legible, especially if your professor or TA goes pretty fast through equations. If typing on your laptop is your thing, by all means, use it. Many laptops do have a tablet functionality if they are touch screen, where if you get a stylus, you can write with it. I find that to be difficult, if you don't have an active stylus that connects to Bluetooth, because it gets quite messy, since you cannot write on it like you would with a normal pen and paper—by resting your hand on the tablet. An active stylus will typically not pick up on your palm. I find that I remember things a lot easier when I write it out, and the thing that fit my budget the best was the iPad Pro 2016 in the 12.9" (yes, it's that big—quite the conversation starter with people in the airport when I whip it out) with the Apple Pencil with an app called Notability to take my notes. I personally bought mine refurbished, and I have had great experiences with it. As a proud member of the I Forget Everything Club and extremely unorganized, this device has been a lifesaver. As long as I have my iPad, I have all of my notes compiled into folders organized by class. My school uses Blackboard for professors to upload assignments, handouts, or make announcements. When my professor uses a PowerPoint in their lecture, I can upload it to Notability and write notes on the PowerPoint Presentation itself, as opposed to copying diagrams from the board and make it look not as neat. Not only does it make your notes look 1000 times neater, it has saved me hundreds of dollars on books.
College money saving hack 101: PDFs of books are everywhere on the internet for free, or at least at SIGNIFICANTLY reduced prices. Not only have I got almost all of my books for free, but I don't have to lug them around, because it is inside the Books app in my iPad. This makes doing textbook problems a breeze, so you don't have to recopy the entire problem into your notes—You can take a screenshot of the problem, and then solve it from there! This device is so useful for students and I couldn't recommend it highly enough. If you are not an Apple person at all, I recommend checking out the Microsoft Surface Pro. It comes with the pen and a keyboard all-in-one, as opposed to Apple where you have to buy it all separately.
2. Some Sort of Planning Technique Done the Night Before
Super obvious, but something most people neglect to do. I personally was never the "planner person." I would use it for like a week, and then never use it again. That is, until I heard about Bullet Journaling. Bullet Journaling is the most talked-about method of journaling, and at its core, it's a productivity journal. I do not get super artsy with it, but many people do. What helped me the most is creating a monthly calendar to put all of my assignment due dates into one place, so I could see how long is until each assignment. Doing this is how I discovered why I hated planners so much. It was that you only saw it week by week, as opposed to a monthly sort of deal. It felt so fake to me. I get things done by doing a to-do list. In my Bullet Journal, day by day, I write down everything I need to get done that day while referencing my calendar. I do this every night before I go to sleep, and keep it open for me to see what I need to do in the morning.
3. Gratitude
I get it. School, life, job, whatever is stressful. It sucks sometimes—okay, maybe a lot of the time. However, it doesn't mean that you can't take a few minutes out of your day to think about what you're grateful for. I used to always read stuff like this, and thought it wouldn't work, and almost thought I was above it. I do it before bed after my to-do list, just as a reflection on the day, to focus on what was good and what I am grateful for. Especially if I have had five midterms that week, and I didn't feel like I did too hot on one that day and I want nothing more than to eat my heart out in cookies and watch a good Sci-fi movie—This certainly helps me, when I'm on the verge of a mental breakdown. Overtime, I noticed that I learned to talk myself through situations, and after taking myself out of the situation. Your gratitude list doesn't have to be "I am grateful for my family. I am grateful for my food," although it easily could be. But overtime, you eventually get out of the stuff you know you're supposed to be grateful for. Some of my gratitude lists have included some of the following: "I am grateful I got the last bag of cookies at the grocery store. I am grateful I got parking right next to my building. I am grateful the doors opened on the train for no reason, allowing me to actually run into the train last minute, so I didn't have to get on the next train in 15 minutes making me late for my class." I promise you, we could all use a little positivity at the end—or beginning—of our day. It has helped me so much as a student and in my personal development, and I believe any person should do this. If you don't know where to start with gratitude, I highly recommend The Five Minute Journal. They also have an app which makes you go through prompts at the beginning and end of your day, that don't take more than a couple of minutes.
4. Caffeine
All nighters? Check. Waking up at 4 AM to finish the homework you couldn't bring yourself to finish, because you're so exhausted so you went to sleep early? Check. We work hard. We study hard. However, this does not mean that you can afford to sleep or not pay attention through lecture. The more tired you are, the greater the chance you don't pay attention in lecture, so you end up drawing or being on your phone, or playing a video game on your laptop. DO NOT DO THIS. Get yourself some coffee to focus. I am not advocating for anyone to take caffeine pills or anything. However, I find that a nice warm drink, whether it be coffee, green tea, or an herbal tea (non-caffeinated), keeps me significantly more awake. If you aren't a warm drink fan, then ice your drink.
College money saving hack: Buy your own tea bags and keep them in your backpack, and ask for a cup of hot water from the coffee shop on campus—which they will give you for free typically—and you can put your tea bag in there. The price of a cup of tea at my school can get you an entire box of tea bags from the grocery store. Better yet, make your tea or coffee at home, and put it in a reusable cup to be more environmentally friendly. However, if you are in a rush and need to save money, this is my favorite option.
5. Outside Research
Research? Outside of an assignment?? What???? Yes. Doing this is truly what made me stand out from my peers. MIT OpenCourseWare is literally the best thing that has ever happened to my GPA. There are professors that literally have taken their lectures, and based it on some of these professors. MIT OpenCourseWare is a website filled with FREE videos, PowerPoints, practice exams, quizzes, and notes made by the professor themselves. I had a professor that based an entire lecture on this one guy from MIT OpenCourseWare. I used the original professor's lecture notes, and all of the questions that my professor would ask in class regarding the topic that no one could answer were all on the notes from MIT OpenCourseWare. This is my favorite website to use.
YouTube is also an amazing source. However, most videos are over an hour long to get to the point. Get interested in the topics you are learning. Once you show a good deal of interest in the topic, your professor will notice, and will be more inclined to curve your grade a little bit at the end of the semester (you're welcome).