The Writer's Workshop
Volume One / Installment Three / Instructor Ahna Lewis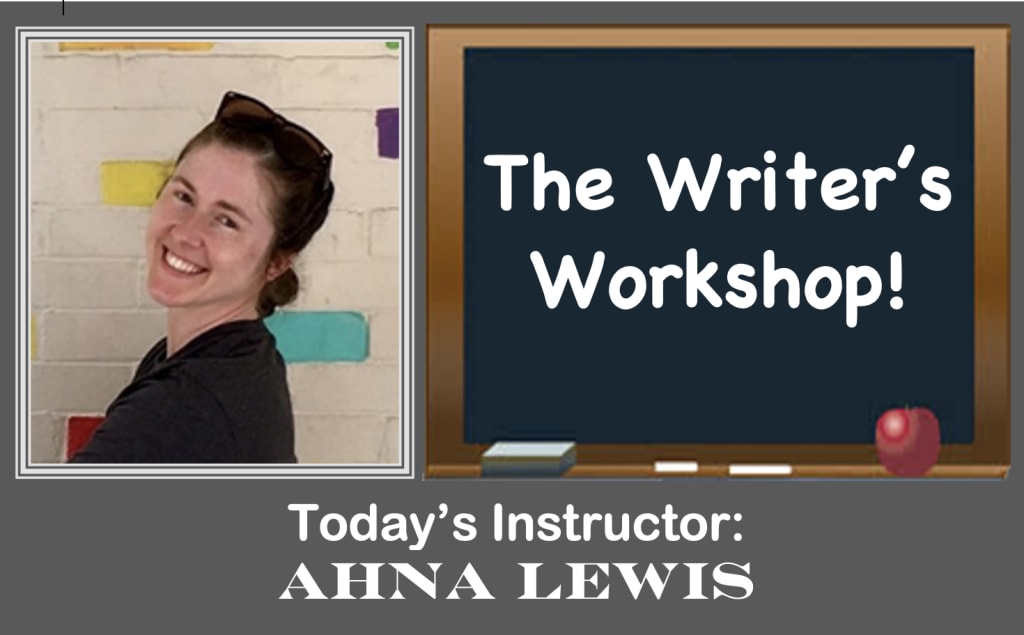 The Writer's Workshop is an educational series in which seasoned/educated writers/authors will share their insights on developing writing skills. This Workshop is sponsored by Rick Henry Christopher and the Facebook group Vocal + Assist
This Installment's Instructor is Ahna Lewis
≈≈≈
Ahna Lewis' Credentials
All through elementary and middle school, I KNEW I wanted to be an author. I wanted to follow in the footsteps of my literary heroes Anne Shirley, Jo March, and Laura Ingalls and write stories of my own. When I reached high school, my dreams hadn't changed, but the grim reality was starting to sink in that writing wasn't exactly a stable career. However, I was not to be discouraged. As it turned out, my three literary heroes had something besides writing in common. They all were teachers! I decided that becoming an English teacher was quite obviously the next best thing to becoming an author. Teaching would give me the chance to think and write creatively and to share my love of literature and writing with others.
Which brings us to today—I am a high school English teacher currently teaching in Maryland. Before Maryland, I taught overseas at an international school in Germany. I have a Bachelor of Arts in English and a Master of Arts in Secondary Education. Over the past 10 years of my teaching career, I have had the privilege of teaching English and creative writing to some pretty incredible students. Seriously. They have taught me so much and enriched my life in so many ways. I'm so proud of them.
≈≈≈
Avoiding the Traps
I'd say one of the biggest traps for aspiring writers is PERFECTIONISM. So many times I've seen students (and myself!) paralyzed by this idea that our words need to be perfect before we write them down. Time after time, the only result of this type of mindset is a blank page on a computer screen. Some of us hesitate to write even a single sentence because we think it's just not good enough. It's so important for aspiring writers to remember that in many ways, writing is just like playing a sport or learning a musical instrument. We're not going to be good at it right away. It takes time, effort, and energy. It takes mistakes and set-backs. It takes picking up the pieces and starting over. It takes work and it absolutely doesn't have to be perfect the first time.
≈≈≈
Detours, Stop Signs, and Writer's Block
One of the biggest detours you might encounter as a writer is writer's block. However, you can't let it stop you. There will be days when you don't feel like writing…at all. There will be days when everything you write goes straight to the recycling bin. The important thing is DON'T QUIT. Take a break, certainly. Go for a walk, listen to music, clean your house…but make sure you pick up that pen eventually…even if you have to take a whole week or even a month off. For myself, I've found that if I remove the pressure of perfection and just get words on the page, it almost always helps my creativity return. A fun writing exercise I like to do with my students is what I call a "Writing Sprint" where we have to write continuously for 10 minutes. Even if we have to write "I don't know what to write," we just keep writing until the 10 minutes are up. It's amazing some of the ideas we can come up with when we've turned off the filter and are just writing free.
On a similar note, I've found that I write some of my best poetry (doesn't work as well for me for prose) when I'm overly tired…it's like the little proof-reader in my brain is turned off and it frees the poetic side of my mind. Not sure if this is true for anyone else, but I've certainly noticed it in myself!
≈≈≈
Give the People What They Want?
Whenever I try to go along with the trends and write what I think is "popular" instead of what I truly know and care about, it never goes well. I always feel like an imposter. I believe there are stories in us that need to be told and if we're constantly chasing what we think someone else wants to read, we're not staying true to those stories. We need to write what we are passionate about. Even if that piece of writing never sees the light of day and is never shown to another soul, it was the story we were given to tell.
≈≈≈
What's the Whole Story?
Showing and not just telling is what sets apart creative writing from all other types of writing. Creative writers show—they use imagery to paint pictures in their readers' minds. They help us experience the story right along with the characters. For example, I think we can all agree that "The dog bared his teeth, a fierce growl rumbling from the back of his throat" creates a more memorable picture than simply, "The dog growled."
As much as I love showing and think it is an essential writing skill, I also believe it's possible to overdo it. Sometimes too much showing can make our writing start to stagnate. I'd like to emphasize the idea of balance when incorporating "show vs. tell." It takes more than imagery and sensory details to write a good story–there also must be a plot in there somewhere! I must remind myself and my students that a story shouldn't be all "show" all the time. The best stories are often a combination of both showing and telling. As writers, it's our job to determine when and where to really "turn on" the imagery and paint the scene.
For example, when I was writing my recent broken mirror short story, "Revenge Is Sweet," I knew I couldn't possibly show everything. That's just not possible in 5,000 words. It's also a good way to risk boring my reader if I start describing, for example, every single detail of my protagonist getting ready for school in the morning. (Especially if this has nothing to do with the plot!) So instead, I take a minute to think about which scenes absolutely must be shown in order to write the story I want to tell. Which scenes are the crux of the story? Which scenes do I want the reader to carry with them? For "Revenge Is Sweet," I knew I wanted to show when Melanie first opens the box with the mirror. I also knew I wanted to show the ending scene with the bees. I wanted the reader to feel and experience every single detail of those moments. Other scenes—for example, the series of attacks Janice encounters—I knew I was just going to tell. I considered showing one or two, but with a short story, you really have to pick and choose. And for the story I wanted to write, the main focus had to build to that ending scene with Melanie.
This leads to my first recommendation to develop your "show vs. tell" skills. If you are the type that plots your stories in advance (and I know not all of us are), decide which scenes need to be sped up and which scenes need to be lovingly crafted with magnificent detail. Find the balance and let your reader fully experience the very best scenes.
As for specific activities to develop "show vs. tell," I love to have my students work with pictures. In one class activity, I give them random pictures of people, architecture, animals, and other interesting subjects. I then have them write a description using the best "showing" detail they can muster. (I've found looking at a picture helps us add details we might not have thought to include if just using our imaginations.) After several minutes of writing, students read their descriptions aloud to the rest of the class without showing the original images. Next, we reveal the images, seeing how close the author's words brought our imaginations to the original picture. Oftentimes, the students end up saying that the image the author painted with their words was better than the actual picture! This is the kind of showing I think all authors hope to achieve!
Another show vs. tell activity I like to do in class has to do with emotion. How often are we guilty of writing "she was angry" or "he was lonely" without thinking about what those emotions look like and feel like? For this activity, I have students choose an emotion from a list and then attempt to write a description that shows that emotion rather than simply telling about it. In their descriptions, they are not allowed to name the emotion. We then guess which emotion they chose based on their showing description. This activity is often a lot of fun and really helps the characters in their stories come to life!
≈≈≈
If Only I Knew Then What I Know Now
If I could tell my younger writing self-anything, it would be don't waste time trying to be someone else in your writing. Write what you know and what you care about. Your ideas and experiences matter. You have something valuable to share with the world.
≈≈≈
A Toolbox Full of Magic
Before tackling a writing project, here's a few things I like to have:
- A thesaurus (especially when writing tautograms, haha)
- A designated writing time and a designated work space
- A tall glass of room temperature water (I know…I'm strange)
- A trusted friend to read my drafts and tell me what they really think
As for more writing specific tools:
- Vary sentence length! Use creative compound sentence constructions like participle phrases or absolutes to keep your sentences fresh and full of detail. Then change it up with short sentences to add suspense and emphasis. The key is variety! (e.g. Closing the door behind me, I step into the dimly lit hallway. I pause. An unmistakable noise draws closer. Footsteps. My pulse quickens, heart thrumming in my chest. I have to get out of here!)
- Add dialogue! Nothing shows a character more effectively than what they say.
- Introduce dialogue in a variety of ways. Remember you can use character actions and facial expressions to introduce dialogue—it doesn't have to be "said" every time. (e.g. My eyes narrow. "I didn't expect you to be here.") Using facial expression or character action to introduce dialogue is a fantastic way to slip in some extra showing details to really bring the scene to life.
- Avoid awkward dialogue tags. Oftentimes, "said" is way more natural and less distracting than over-the-top tags such as "articulated," "informed," or "asserted."
- Use active verbs that help create imagery and keep your sentences engaging! (e.g. There was a bridge across the water. vs A bridge stretched across the water. OR The parrots made loud noises. vs The parrots squawked obnoxiously.)
≈≈≈
Descriptive vs. Narrative
Narrative writing tells a story, while descriptive writing paints a picture. Oftentimes, the two go hand in hand because you really can't tell a good story without description!
≈≈≈
The Last Word
One thing I've learned from teaching creative writing is that writing is as infinitely unique as people. Just as no two people are the same, there is no surefire writing strategy that will work for everyone. You have to figure out what works for you—what clicks with your personality and your idiosyncrasies, what inspires you and challenges you. Make your writing strategies your own and don't worry if they're different from everyone else's.
The Writer's Workshop

Volume One / Installment Three
About the Creator
Writing is a distraction for me. It takes me to places unknown that fulfill my need for intellectual stimulus, emotional release, and a soothing of the breaks and bruises of the day.
https://www.facebook.com/groups/vocalplusassist
Reader insights
Outstanding
Excellent work. Looking forward to reading more!
Top insights
Easy to read and follow

Well-structured & engaging content

On-point and relevant

Writing reflected the title & theme

Heartfelt and relatable

The story invoked strong personal emotions
Eye opening

Niche topic & fresh perspectives

Expert insights and opinions

Arguments were carefully researched and presented

Masterful proofreading

Zero grammar & spelling mistakes

Excellent storytelling

Original narrative & well developed characters
Add your insights