The Bot Battle for Virtual Education
A new, student-founded startup enables those taking online classes to have a bot attend Zoom meetings instead of them. In this article, we look at Beulr and what the bot threat means for teaching and learning in the newly much more important world of online learning for higher education.
Overview
One thing is for certain: The history of modern information technology is replete with examples of how ingenious people find novel ways to use the technology in ways that the creators of the tech never ever imagined. One need look no further than the iPad for a quintessential example of this phenomenon. Today, the simple tablet has become omnipresent as a device used for serving customers, not only business, but in health care and more - all in ways Steve Jobs could never have dreamed of even in his imaginative mind. And in instance after instance, mainstream Web and ecommerce companies have adopted innovations from an unlikely source - namely the porn industry - that they are reluctant to acknowledge as being perhaps the most innovative sector over the years in finding ways to use online technologies in new and novel ways.
And now today, in the midst of the COVID-19 pandemic, online meetings have become the way that not only much of business gets done today, but much of education as well (see my recent article, "Zooming into an Uncertain Future"). Colleges and universities across the country, and indeed around the world, quickly pivoted in the middle of their spring semesters to offer exponentially more classes virtually than they ever had previously. And the move to online classes was not limited to higher education, as primary and secondary schools shifted their teachers and students to an online environment almost overnight in most cases due to the health threat.
And so, online meetings became the technology of the moment, as suddenly everyone was "Zooming" - using this company's (Zoom) online meeting platform as the way not just to get things done in the world of education. Indeed, had the pandemic occurred just a mere decade ago, there would not have been a technology available - and certainly not for free - to gather people together virtually in order to hold meetings, hold classes, and yes, to socialize and to create in the many, many ways people all around the world are using Zoom today.
But oh yes, there are always creative people out there looking to hack technology innovations. Some do it purely for fun - and for the challenge of "beating the system." Some do it for nefarious - even criminal purposes. Some do it simply to find flaws in the technology - and top tech companies often richly reward them for finding them. And yes, others do it to make their own lives easier (i.e. the folks who hack robotic vacuums to deliver popcorn to them!)...
.... and even a bit more fun (like using a Roomba to play beer pong!):
So, it should come as no surprise that two innovative college students have developed a way to hack Zoom classes. Why? Well, at first it was so that they could sleep in and avoid their 8 o'clock classes - or at least that's the way the story goes! And now, they are looking to expand their concept into a true business - and many other students all over America and around the world are interested in the bot they developed so that they could sleep through their early morning classes and have their "bot" attend Zoom classes for them! And as higher education becomes more and more reliant on Zoom for online learning as the de facto platform of choice, it is important for all of us to take note that yes, the faces you see on the screen and the participants listed as attending your Zoom meeting may in fact not really be there! In this article then, we will look at how all this developed - and what it might mean for holding classes online both now and in the future.
#Beulr
Yes, right now, if you are holding a class online in a Zoom meeting, it is entirely possible that some - perhaps even many - of the faces you see in those boxes on your screen and the list of attendees that you see is not all composed of real students attending in real time. Thanks to a startup company named "Beulr" (https://beulr.com/), students today can have a bot (see definition below) attend a Zoom class in their place - and to do so in a way that the instructor would not know that the student was not "really" there.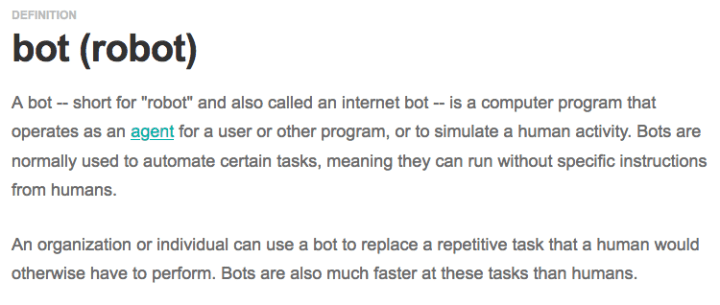 Source: TechTarget (https://whatis.techtarget.com/definition/bot-robot)
I first learned about Beulr from reading this recent post in a higher education group that I belong to on Facebook: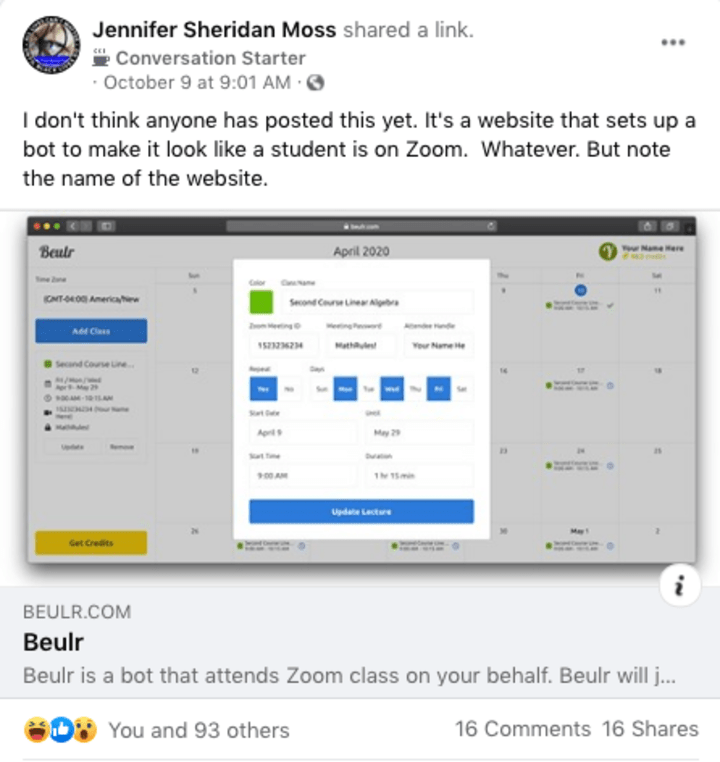 Source: https://www.facebook.com/groups/onlinelearningcollective/permalink/674143336549701
Many of the professors around the country responding to this post were, like myself, surprised to learn about the service and how long it has been around.

Some professors responded with a bit of humor to knowing such attendance bots existed (and even wished they could use one themselves)...

....and still others showing they know from whence the company drew its name (from the classic 1986 movie, "Ferris Bueller's Day Off").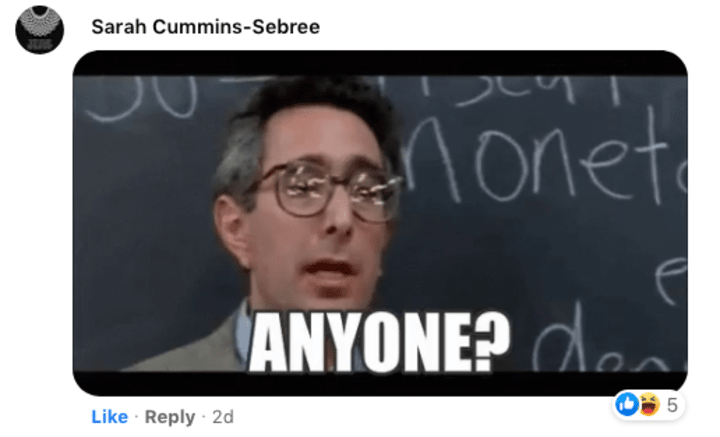 There were professors who appreciated the "disturbing genius" of Beulr, and the fact that it was a way for students to respond to problems with the setup and structure of much of online learning works - or doesn't work so well - today: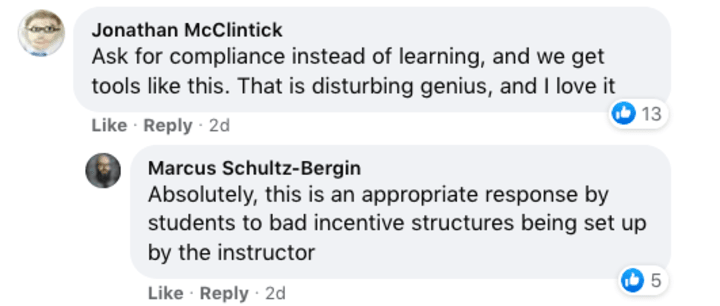 There were even professors who even faulted their colleagues for not providing a "product" that, in many cases, students really want to take the time to be engaged with:

And yes, there were helpful suggestions on how to do things in Zoom that would enable professors to get a true "count" of those students actually in attendance - and not their "bots:"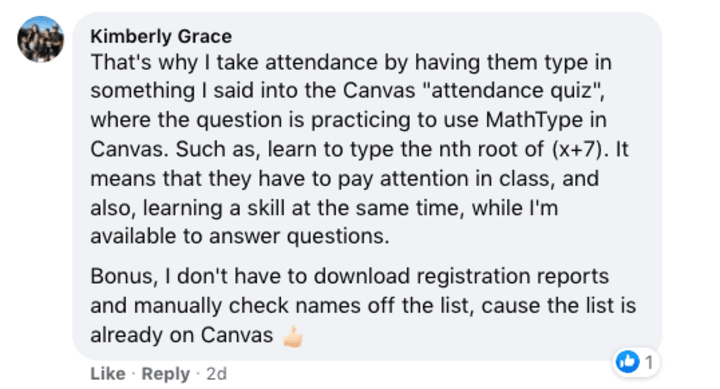 It did not take much "virtual digging" for me to learn than Beulr was indeed out there, and while the site and the service was certainly not widely known about among those of us employed in the world of higher education...
...college and university administrators should have known about Beulr, as the company was featured in a June 1st Wall Street Journal article entitled "School Goes Online. So Do Class Pranks.: Teens are using their digital savvy to outwit educators and disrupt or dodge e-learning." The article gave the very interesting background story on the site, as Beulr was developed by two computer science majors - Peter Solimine from Tulane and Jinseo Park at Georgia Tech - who spent a month while quarantined in March and taking their own online classes developing the Beulr bot. And yes, from the Beulr website (https://beulr.com/), the founding students had a good narrative as to the "why" they created the site (now whether most students would use a bot simply to "time shift" how they would view a class lecture is quite another story!).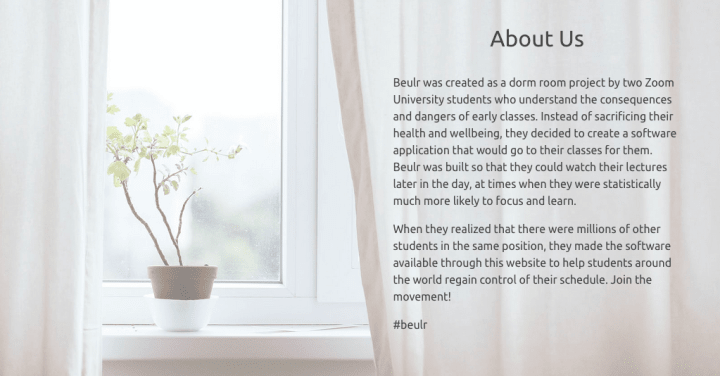 Source: Beulr (https://beulr.com/#how-it-works), October 2020
Operating on a token system that users could earn or buy, Beulr enabled students to have the Beulr bot attend a Zoom class for them for as little as 59 cents a session! And so as sometimes happens with a tech innovation, Beulr took off - really took off - beyond their wildest dreams! In less than a month as the Wall Street Journal reported, Beulr had over 10,000 users from over 100 countries. Then, with a dose of realities - the expense of running the site, a bit of ethical misgivings, and yes, summer internships - the two shutdown the site temporarily. Now however, as you can see in the Reddit update below, the founders have relaunched a new and improved Beulr (and yes, that "P.S." note means that you as a professor can't use a bot to actually "run" a Zoom meeting - sorry!).
Source: Reddit: https://www.reddit.com/r/Beulr/comments/iztjhq/hello_thanks_to_whoever_set_up_this_sub_were_very/
And as you can see in the most recent video update from the company in early October 2000, Beulr's cofounder, Peter Solimine (appropriately dressed in a robe!), now claims to have more than doubled its user count and expanded to over 150 countries! With new features (like playing a prerecorded video of you on a loop in your Zoom meeting and the abilities to join breakout rooms and answer polls on Zoom), new capabilities to integrate with Microsoft Teams and Google Meet, and with a subscription model coming (which should greatly enhance their revenue prospects), Beulr would appear poised to take-off - and perhaps even beyond the world of higher education!
Professors and Bots
It has been interesting to see the reaction to Beulr from my fellow academics on social media, which has been - to say the least - varied. At this stage, many of the posts about Beulr are still purely informational, with college faculty simply trying to let their peers know that such a service exists…
...and to inform people as to just what Beulr can do, and...
...of course, reminding folks that yes, the company's name is derived from THAT movie and THAT scene:
There are those however that lament the very fact that such a "workaround" exists for students…
.... to others that wish they could use Beulr themselves for getting around going to those virtual faculty meetings!
There are professors who show an admiration for the fact that students themselves invented Beulr...
..and some who used its existence to comment on the state of college athletics.
Still others think that the very notion that Beulr exists is a call for colleges and faculty to try and do better with virtual education...
... and a statement on just how we have structured education as a series of boxes to check and hoops to go through:

Some see Beulr as just another "whack-a-mole" fight against students using online resources to their advantage in college - and how it is futile such fights usually are (i.e. ask your students about what they can find out about your class on Chegg and other websites today!).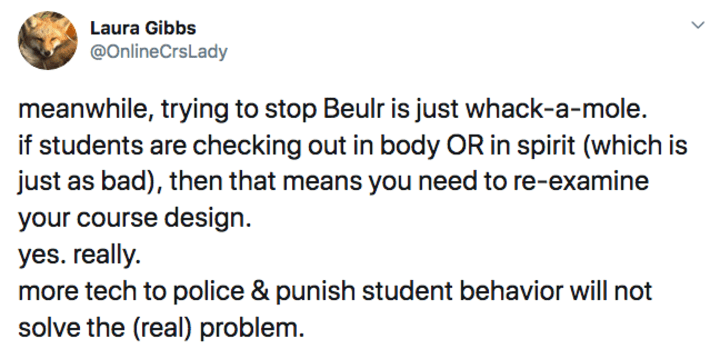 Still others have offered ways to help minimize the effect of having "Zoombots" in online classes:
And some even speculated - with maybe a tad of seriousness - as to what is to come...
... and whether we could someday have "bot professors!"
Finally, perhaps the best post on the matter was just how fitting Beulr was for 2020...
...and yes, perhaps the best named, and ultimately...
... like Thanos, it was "inevitable!"
Analysis
As Zoom (and Zooming) grows exponentially (and its stock price does likewise), it will inevitably experience "growing pains" - both as a company and with its technology as it strides toward its likely place high on those "best brands" and "most admired companies" lists to come out later this year. It has been the company and the technology of the year of the coronavirus, serving as a lifeline for companies and educational entities of all types and sizes. And yet, there will be hackers with far more malicious intents than the folks at Beulr that will attack Zoom. For instance, since the beginning of the pandemic, businesses and educational entities have had to deal with "Zoom bombing" - unauthorized and sometimes dangerous intrusions into Zoom session, generating far more security concerns than the bots that enable students to fake their online attendance in college classes.

One thing though is for sure, 2020 has been a transformative year in terms of "how" we think about education, and no matter how long the current pandemic conditions and restrictions may last - or become even more restrictive - the grand experiment that colleges and universities have been engaged in with the shift to virtual classes is likely to have long-standing ramifications. Whether it is 2021, 2022, 2023… that we go back to some sense of "normal" (as defined by where we all were in February of this year), it is very likely that many insitutitions will continue to offer many more online/hybrid/HyFlex/flipped classroom course offerings than what they did before the coronavirus came on the scene. And yes, Zoom, and Google Meet and Classroom, and Microsoft Teams, and Cisco's Webex and other platforms yet to come to prominence or in development will be a big part of this transformation.
And so, as we know across the board when it comes to academia, with more and more virtual learning and teaching, there will be more and more of a push for those demonstrable quality benchmarks - standards, certifications, engagement metrics, etc. - for such class formats. And yes, student attendance will be a part of all of this, as a sign of student engagement. And while it is by no means the best or most reliable measure of student engagement and/or a predicate of student success in any class format, attendance is an easy measure to track - whether in the "real" or virtual classroom - and so it will be continue to be emphasized not just by individual professors, but by departments, colleges and entire universities, even with the knowledge that bots may indeed be among us. Still, it will be up to us in the classroom - whether it be entirely virtual or a hybrid environment - to come up with inventive ways, such as some of those suggested here, to measure the attendance of "real" students vs. bot ones!
All in all however, as a strategic management consultant and professor, one can do nothing but give a tip of the cap to the innovative students behind Beulr. Whether the company lasts 6 months or goes on to become one of the Inc. 5000, they have launched a technology that definitely will make Zoom better (as the company will no doubt make changes to combat the use of bots on their platform). However, what these two computer science majors - Peter Solimine and Jinseo Park - may have accomplished with Beulr is to make colleges and universities, and yes, all of us professors and instructors, really think about the issues involved in this accelerated shift to virtual classrooms and online learning sparked by the global pandemic. While Beulr bots may be present - and in some cases plentiful over the short-term in pockets of higher education, the founders of Beulr's biggest impact may be the fact that they will likely generate a real discussion on the "hows" and "how much" of virtual learning that may - in time - make the online teaching and learning experience better for all.
And as has happened with many other technologies, the hacking of Zoom in this way may not only make their platform better, but it might produce those unintended consequences that will make the online meeting and virtual educational experience better for all involved. So, while many of our colleagues and administrators may bemoan the fact that Beulr exists and that many students are making use of it already, the positives that will spring from knowing that bots exist among us in our Zoom classes might, in the end, be a good thing - perhaps a really good thing!
About David Wyld
David Wyld is a Professor of Strategic Management at Southeastern Louisiana University in Hammond, Louisiana. He is a management consultant, researcher/writer, publisher, executive educator, and experienced expert witness.
Social Media Links to David Wyld:
on Facebook
on LinkedIn
on Twitter

David Wyld
Professor, Consultant, Doer. Founder/Publisher of The IDEA Publishing (http://www.theideapublishing.com/) & Modern Business Press (http://www.modernbusinesspress.com)
See all posts by David Wyld →