So, College Isn't For You
But that's okay.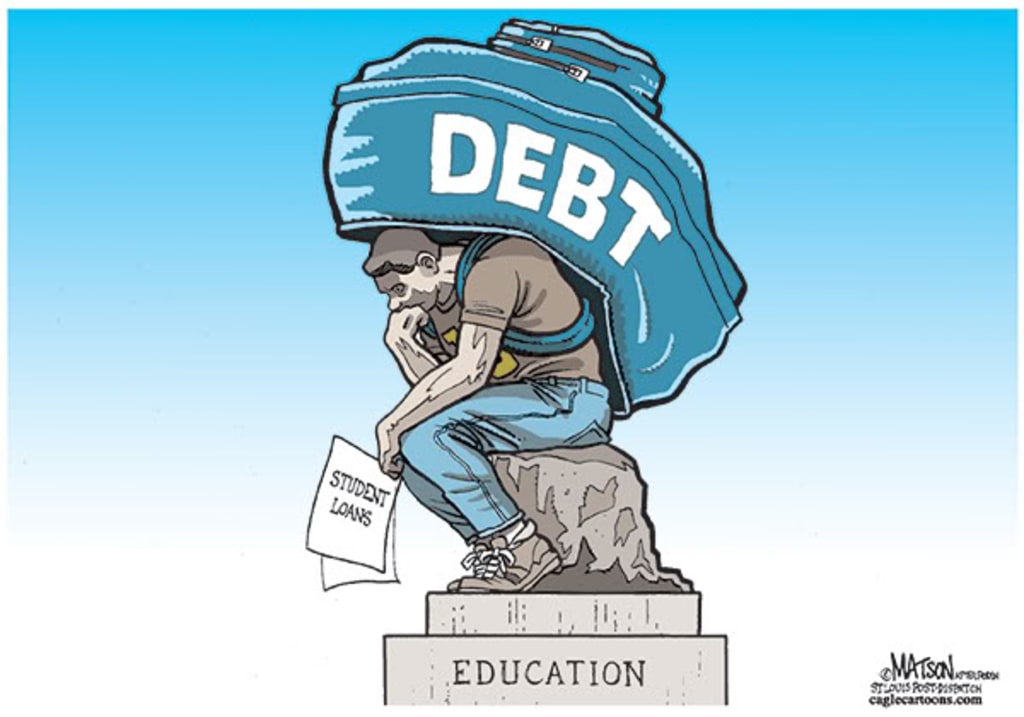 So all your life you've been told that you have to go to college in order to be successful. I'm sure by now, a lot of people know that isn't true. There is proof in the people who are billionaires and do not have a college degree. The thing is, those people make it seem so simple and effortless to just drop out and make a billion dollars with just a little bit of hard work. What they don't tell you is the stress and strain it puts on you and the ones you love. Everyone around you has expected you to get a degree and become this cookie cut out of society but deep down, you know that's that what you were made for. And it all comes down to one simple thing.
COLLEGE ISN'T FOR EVERYONE.
This is something that I have found. I put 110% into everything I LOVE to do. I will honestly say if I don't love it, I won't put the effort in and I hate that about myself but that's just how I am. I hate school, I hate sitting down in a classroom listening to someone for hours on end and ultimately knowing my success and failure rests in the hands of a test. A piece of paper.
I AM NOT OKAY WITH THAT.
I have earned 3/4 of a associates degree in Criminal Justice and about 1/3 of a associates degree in Early Childhood Education. I initially thought that it was just the degree I was in and so I changed it, only to realize it is college as a whole.
I am already an anxious and depressed person but adding school and tests and quizzes into that mix just made me a disaster. It seems crazy but I was finally brought to my knees and had to make the right decision for my well being. The one thing I had to repeat to myself, saved me.
IT IS OKAY TO LET PEOPLE DOWN IF YOU ARE DOING WHAT IS BEST FOR YOU.
Just because it is what they want for you, doesn't mean it is what is best for you. I was constantly in my head telling myself that everyone around me would be disappointed and I would end up alone. While some people stayed true to what I was thinking, most people trusted that I made the decision with my best interest in mind. Now I'm not saying everyone was happy go lucky about it because that isn't true. My parents (who never graduated college) were counting on me to be better than they were. My girlfriend (who has a double major bachelors degree in Criminal Justice and Psychology) struggles with it sometimes. I think it is hard for her to see someone becoming so successful without a college education because she had the traditional parents that told her with out one, she wouldn't make it. But in the end, this decision was made for myself and no one else. But you do have to remember one thing,
YOU CANNOT BLAME OTHERS FOR PUTTING SO MUCH WEIGHT ON COLLEGE.
We live in a society that hammers that thought into everyone. But people like us walk a different path, we step to another beat and that's okay. Without people like us, Facebook, this website and so many other things wouldn't be here. But with all of this being said,
GIVE IT A TRY.
I'm not telling anyone to just assume they aren't cut out for college. I gave it a try for almost three years. You should give it a try too. I mean it is very different from high school and it might be your cup of tea. I love the old saying 'Don't knock it til you try it'. That is how I feel about so many things in life, including college.
YOU ARE NOT ALONE.
There are so many people who have figured out that college is just simply not for them. It's okay. Take a breath. I'm sure you have in mind what you want to do. Go out there and get it. Chase down that dream until it becomes a reality. No piece of paper is going to make that easier.
I am twenty-one years old and I am making my dreams, attainable goals. Writing and starting my own reptile business. I have started both with a great start and I don't have that fancy piece of paper.
YOU WILL MAKE IT AND IT WILL BE OKAY.
college