Part 12: The Best (Really Worst) College Student Excuses of All Time - The Online Classes/Zoom File
College professors from around the country have offered the most outrageous excuses their students have given for missing a class, a test, or an assignment. Here are the best ones concerning issues students have had with online classes.
Overview
As an overview, this article is part of a series (Overview: The Best (Really Worst) College Student Excuses of All Time - Introduction to the Article Series), exploring what excuses college students have offered to explain an absence, a missed exam, a paper or project being late, etc. All of these excuses have been collected from this author's contemporaries - professors and instructors at colleges and universities all across America. As such, it is a "crowdsourced" piece, and I owe them my gratitude for sharing their "best" excuses - which in reality means the "worst" - from their students over the years that provided the basis for this article series. And in all of these articles, each of which deals with a different "origin area" for student excuses, from health to tech to social to pets and more, we not only see excuses that make us laugh, but we also see some that could make you cry, as there are also stories of students who "went the extra mile" and persevered over the unique obstacles they might have faced in their lives to succeed in school (A complete list of the articles in the series with links to them is provided at the end of this article.)
In this article in the series exploring college student excuses, we look specifically at how issues arise in online classes in causing students to miss a class, a test, or a paper/project submission deadline. So, without further ado, let's open the online classes/Zoom file and explore how "real world" issues can impinge - or even make impossible - one's ability to engage in learning in the online environment.
Online Classes and Zoom-Related Excuses
This article series is being written in the time of the COVID-19 pandemic, an event that has changed so very many aspects of our daily lives. And certainly, the coronavirus outbreak has caused a massive shift in the world of higher education, with more classes being taught online than ever before. Suddenly, even the most tech averse professors were teaching online, and platforms like Zoom, Google Meet, and Webex became lifelines for enabling classes and learning to carry on in spite of the dangers of the virus. And of course, with a rush to online classes, that meant that there would be a rush of excuses for online classes as well! These will be explored here.
To begin, it's not just students who have "issues" with online classes. Indeed, sometimes it is the instructor who makes the mistake about where to be online on their calendar for the day:
"I was 30 minutes late to a Zoom lab meeting because I was sitting in the wrong zoom session. I was really pissed that not one student showed up. I was really sheepish when I went to the right zoom. They were all there waiting for me."
And this - being in the wrong virtual place - is now a common issue today, even for professors:
"I've done that. I was only about 15 minutes late. I only knew because a student texted me to ask if we were still having class. 'Yeah! I'm waiting!'"
"If that happens after about a few minutes I realize that I'm the problem and that's the first thing I check!"
"I did this last semester... after emailing them all to ask them where they were and they replied 'um, in the Live Lecture session?' I apologized profusely, gave them all a 'one unexcused absence no penalty' day at any point in the semester as my thanks for not making fun of me too much."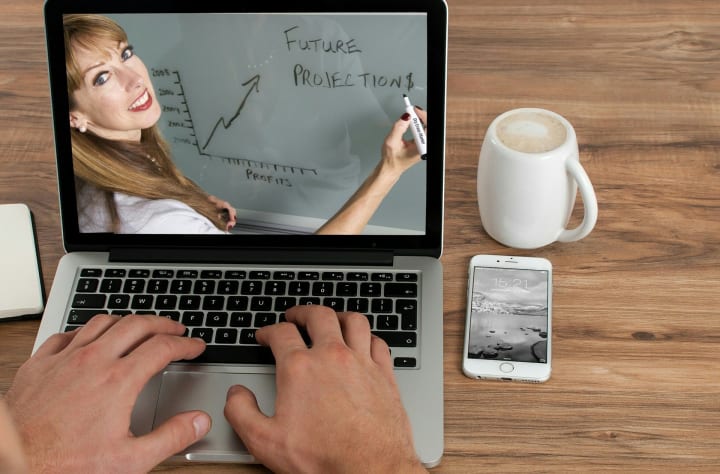 Sometimes, the offline and online worlds do collide in interesting ways for all of us:
"Today's version of why I'm late is from a colleague. It's COVID and therefore virtual. Her school is mandating a fire drill so she had to push back our meeting. .... while it is legitimate, why on earth does the school have a fire drill virtually?"
"Ok so I had to miss my history class this past semester and asked to zoom into it because I started an experiment for my research and in an instance of poor planning, the reaction was longer than the time I had to get to class. I was using a camp stove to heat this reaction because we didn't have hot plates that went high enough yet, so I literally had to be there with it at all times. This is the email I sent to my prof: 'Hi Fr. Brian, is it okay if I zoom the class today? I encountered some poor planning on my part and began a reaction for my senior research that has to heat for 2 hours and I just can't leave it unattended. I was hoping I could just join the class remotely, so I can also avoid burning down Dupre. Thank you!' Dupre is our science building. He sent me the zoom link. We don't need any more fires at this school."
"Yesterday while we were in a Zoom class, one of my students got a bat in her room and we all watched (transfixed and yelling encouragement) while her apartment maintenance dude ran around with a bag and a ladder trying to catch it."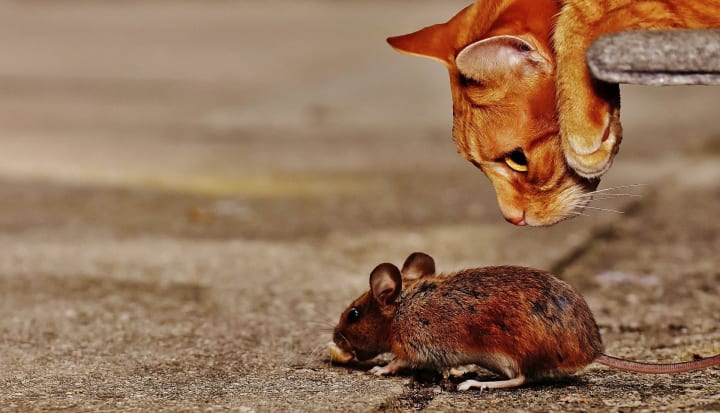 The online world has always been a place where students can do "interesting" things to cheat. This leads to the "cat and mouse" game of catching students cheating, but sometimes, students can make it easy, as the story from this anonymous colleague revealed:
"In my former life, I got an email from the LMS tech support with an attached message from a student who had been buying alllll of his work from a pay site thinking the LMS tech email was the pay site email. He was basically chewing them out because 'his' work was late and it was going to affect 'his' grade.... He'd given them his login info and everything. They were posting discussions and papers, etc. Needless to say, he didn't graduate."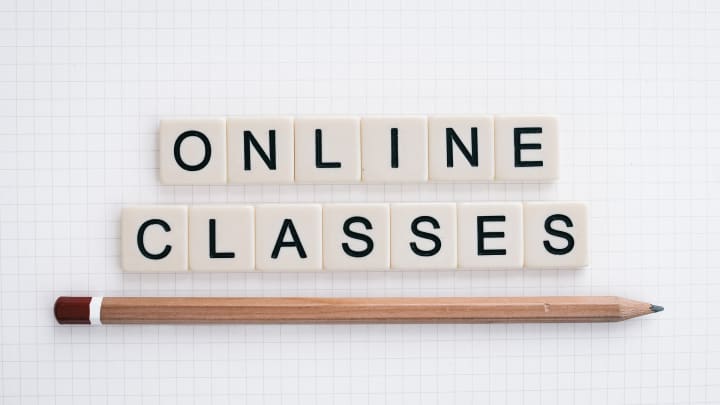 Now, students have had issues with online classes predating the pandemic, of course. However, as virtual classes have proliferated and become much more the norm over the past year or so, well so too have student "issues" with online classes:
"I will be unable to hear, and therefore participate in class for the first 8 weeks due to extensive ear piercing that prevents me wearing headphones. Also, I have no webcam or mic...I introduced this student to the office of disability services to see what tools they could provide to help her thrive. Suddenly, they found a speaker at home to at least be able to listen to class." To which a heavily-pierced colleague replied: "As someone with no less than 5 piercing in each ear, this person was truly full of it."
"A student just told me he couldn't Zoom class because his car was stuck in the driveway due to snow. He has the internet at home and a laptop."
"One of my final one-on-one Zoom critiques was interrupted by the student's maid wanting to clean their room."
"I had a student say she couldn't complete her online work because she poked herself in the eye with a broom handle and couldn't see."
"In the middle of a class one of my students' toddlers ran into the room naked and my student just slammed the computer shut and didn't come back. Later they emailed me and said 'I'm sorry for missing the remainder of class, I was too embarrassed to log back in after everyone saw my son's private parts.' I cackled and assured them it was okay."
Conclusion
Now while we may laugh at some of these excuses for their statistical unlikelihood and their absurdity, there are also excuses that are both absolutely true and in many cases, positively inspiring. So, almost every one of the articles in this series on student excuses will conclude with one or more stories submitted by professors across America of students who overcame adversity in dealing with their personal issues. And so, we will wrap-up this article where we have indeed had some fun looking at the excuses submitted by college faculty on how some students have used issues with their online classes as an excuse with a reminder of how others have overcome their circumstances to succeed in their college work and displayed qualities that will likely serve them very well in their careers and futures.
While we know that students have had a lot to deal with in the almost year that we have been living and learning with the COVID-19 pandemic, there are some REALLY inspiring stories to come out of all of this:
"I had a student who had a deportation scare and a mental health flare-up in the latter part of the semester at the beginning of the pandemic. She went from failing to passing, thanks to getting me all the missed work a few days after grade submission. Pretty impressive!"
I had a student cry today in a one-on-one Zoom call with me. I asked him why he didn't turn in his summary and he said when he reads his own words they look stupid. He is a refugee from Burma. I said I don't think he's stupid, I think he's doing something hard and brave and I'm proud of him, and I would love for him to think of himself that way. That's when he teared up."
And yes, for all the complaining about Zoom courses - from both students and instructors - it is a platform that allows us to connect with each other wherever we are. Sometimes, this can lead to some unusual - and yes, inspirational - student stories, like this one:
"I had a student get on Zoom last spring while he was getting his hand stitched up (from nearly severing a finger) in the doctor's office."
The Article Series
If you enjoyed reading this article on the best excuses offered by college students regarding legal issues, please check out the other articles in the series exploring a whole host of other "causations" of absences, missed tests, late projects, etc. It's all offered in a good spirit, and I hope you will check them out for yourself and perhaps share with your colleagues - and maybe even your students!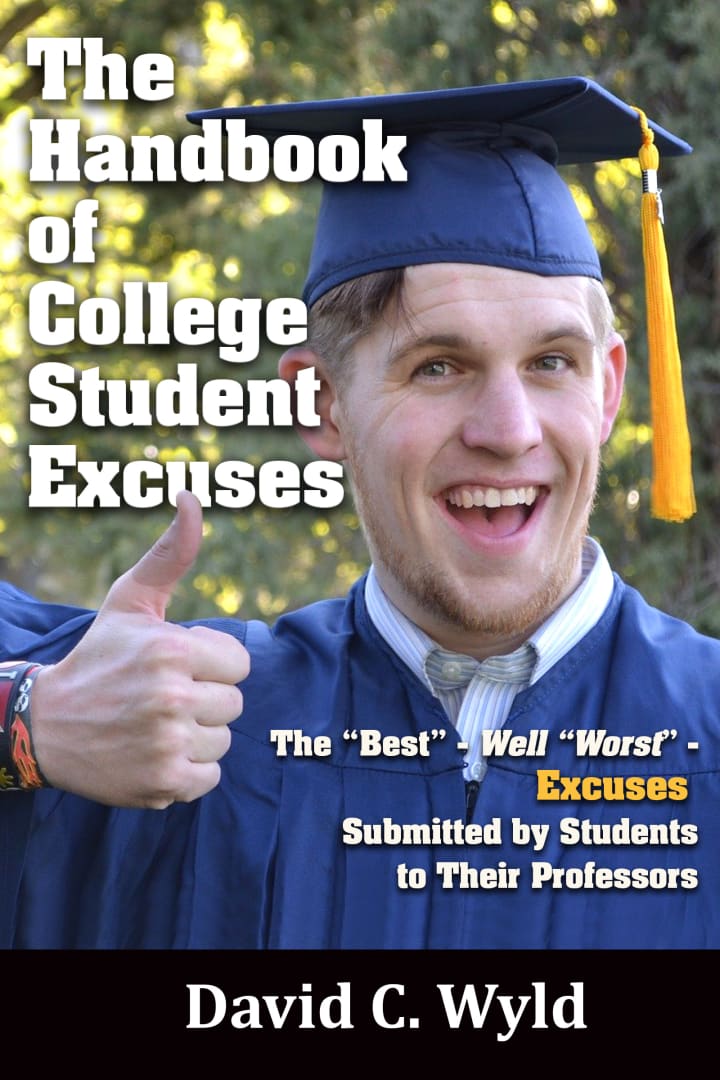 The Book
Enjoy this article - or these articles? Please buy Professor Wyld's ebook - The Handbook of College Student Excuses - that compiles all of these excuses in one place - for yourself, for a college student you know (or parent), or for a college faculty member. It is a great, fun read, and makes a great gift! Get it today from Smashwords (https://www.smashwords.com/books/view/1073655) or on Amazon (https://amzn.to/3rM5IXZ). You can also view the college student "Excuse of the Day" on Dr. Wyld's blog at http://www.collegestudentexcuses.com/the-best-excuse-of-the-day/.
About David Wyld
David Wyld is a Professor of Strategic Management at Southeastern Louisiana University in Hammond, Louisiana. He is a management consultant, researcher/writer, publisher, executive educator, and experienced expert witness.
Social Media Links to David Wyld:
+ on Facebook
+ on LinkedIn
+ on Twitter
+ on Medium
Did you enjoy this article? Please share it with your colleagues and friends! You can also show your support by "voting it up" by leaving a tip of a dollar or more by hitting the button below.

David Wyld
Professor, Consultant, Doer. Founder/Publisher of The IDEA Publishing (http://www.theideapublishing.com/) & Modern Business Press (http://www.modernbusinesspress.com)
See all posts by David Wyld →