Microdermabrasion Course
Microdermabrasion Course | BC Beauty Training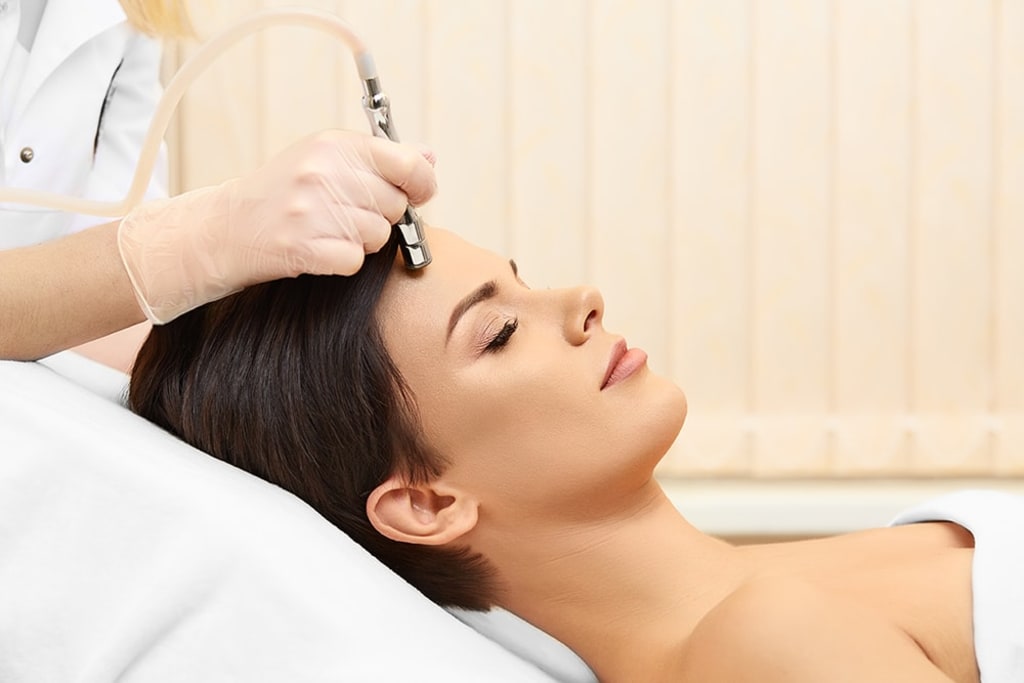 Our microdermabrasion course teaches you how to carry out this facial treatment—allowing your clients to benefit from the skin that has been rejuvenated and resurfaced.
Microdermabrasion Course
This microdermabrasion training course will teach you how to carry out this prevalent luxury facial treatment—allowing your clients to benefit from the skin that has been rejuvenated and resurfaced. This treatment will also reduce the appearance of fine lines, wrinkles, scarring and pigmentation. Upon completion of this course, you will be able to competently offer this service to your clients using the popular diamond-tip microdermabrasion technique.
This treatment is often booked as a course of treatments, making it a lucrative service to add to your portfolio as the client will book in regularly to see great results.
Students will need to provide a model for this course.
BC Beauty Training will provide all products and equipment for the course; you are not required to purchase any kit to complete this course.
Course Content
Hygiene and Safety
Professional Code of Ethics
Safe Working Practices and Legislation
Anatomy & Physiology
Equipment and products
Contra-Indications
Contra Actions
Client Consultation
Breakdown of the procedure
Aftercare
Practical Session
Course Overview
Here at BC Beauty Training, we specialize in one to one training, enabling us to give you our full attention and take the course at your pace. We do offer courses to more than one student at a time.
If you would like to take a course with a colleague or friend, you would both qualify for a discount of 10% off your course price. We want to keep our groups small not to dilute the quality of our training.
Groups can be up to 4 at one time. If groups are more prominent, we will have two trainers on site.
We ask that students arrive on time for their course for a prompt start. We start our session with the treatment theory and discuss the course manual you are sent upon booking. The remaining time of the course will be spent carrying out the practical aspect of the course and learning the treatment hands-on with demonstrations and your trainer guiding you through.
Some home study is to be completed before your practical session; this is sent out to you when you book your course.
Course Benefits
Facial treatments are currently in very high demand, and they are an extremely profitable treatment to offer clients. Microdermabrasion is a non-surgical method of skin rejuvenation utilizing mechanical skin exfoliation and provides a modern, painless alternative to chemical and laser peels.
It is a popular treatment amongst clients of different ages, gender and skin types. After treatment, clients will immediately notice their skin is smoother and younger-looking.
This effective facial treatment can be offered salon based or mobile and charges £45 per treatment.
Course Entry Requirements
Students will need to have a facial qualification before attending this course.
Qualification Received
Upon completion of this course, you will receive an accredited diploma qualification.
We are accredited by ABT and The Guild of Beauty Therapists; this enables you to gain insurance qualified to offer your treatments to the public.
How to Book?
Call on 01273 502227 or email [email protected]
Choose your date and time and discuss your needs with us; we will book you in. We will send you a confirmation email with all the details required.
At the time of the booking, you will need a deposit for this course. The rest will be paid on the day of the training. Deposits are non-refundable and non-transferable. Payment can be made by debit/credit card or Bank Transfer.
FREQUENTLY ASKED QUESTIONS
Do I receive a certificate?
Yes, you will receive an accredited diploma certificate on the same day as your course. To pass, course standards must be met and theory work completed before the practical training day.
Which qualification do I receive?
You will receive an accredited diploma qualification. We are certified by the Guild of Beauty Therapists and Associated Beauty Therapists.
This allows you to gain insurance to work on members of the public.
How long do the courses take?
Most of our courses are half-day courses and generally run between 10 am and 3 pm.
It depends on which course you choose and how quickly you pick it up as to the finish times.
You are required to carry out home study before the course commences.
Do I receive a course manual?
Yes, you receive a training manual with everything you need to know about the specific treatment you are carrying out.
The manual is emailed to you when you pay your booking fee. Some home studies must be completed at the back of the manual before your practical training day. This can be emailed back to us or printed and brought with you on the day.
how to
About the author
BC Beauty Training is a professional training school we specialise in offering one to one training, on all of our beauty courses.
https://bcbeautytraining.co.uk
Reader insights
Be the first to share your insights about this piece.
Add your insights