Library Management System
Integrated Library Management Solutions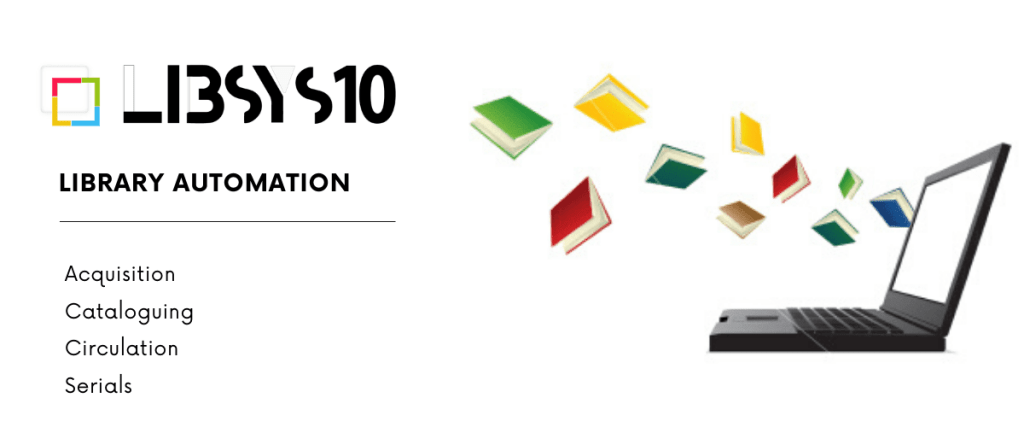 The Present times demand Library Management System to deliver much more than operational efficiency. It needs to create appreciable staff satisfaction and delightful experience for the patrons every time they interact with the system.
LIBSYS 10 is the latest offering by LIBSYS Ltd moving from its older version of LIBSYS 7 Library Management System. Taking a step further, LIBSYS 10 is poised to transform the overall library experience through technological innovations, refining the work-flows and accelerating best library practices.
LIBSYS 10 is a Library Management System to enhance the total library experience through value-added features and services. A true realization of Lib 2.0, LIBSYS 10 delivers unparalleled satisfaction for both patrons and library staff. It gives end to end manageability of the library operations through its comprehensive modules. As a Web-based solution, it provides platform independence. The interactive features in the industry's most advanced OPAC make LIBSYS 10, the most rewarding choice for all the Librarians. Moreover, LIBSYS 10 is a product aiming the most convenient and pleasing library experience through its value-added features.
LIBSYS 10 MODULES
Designed & Developed to Manage Operations of Large Libraries. Providing Enriched Experience to Library Staff and Users Through Library Solutions
Acquitision
With LIBSYS 10 Automated Library Acquisition System, multi-location libraries having centralized procurement can perform hassle-free processing like centralized ordering and invoice processing with flexibility for location-wise receiving. Online indenting and approval simplify the process.
Cataloguing
The Cataloguer gets a new powerful tool 'Net Cataloguing' that allows searching of catalogues of other libraries having Z39.50/SRU-SRW/OAI-PMH Library databases. Retrieved MARC 21/MARC-XML records can be edited and downloaded into LIBSYS 10 Automated Library Cataloguing System. Cataloguer works on a flexible MARC 21 interface that provides quick-tips as well as in-depth online 'Help' to make the task easy. User-defined iReports or AACR2 Cards provide the much-desired flexibility and localization to the library.
Circulation
LIBSYS 10 Automated Library Circulation System offers a new level of circulation through integration with the latest RFID technology. Besides the regular email reminders to patrons, options are available for instant SMS alerts and emails. Patrons can perform self reservation and self-renewal. Support for multi-location circulation through location-based checks and validations.
Serials
LIBSYS 10 Automated Serial Control System builds upon the widely appreciated functional depth of serial control of earlier versions with the inclusion of MARC21 interfaces. Handling of online journals to meet changing subscription patterns of the libraries. Option to scan the cover and contents page of physical journals for publishing in OPAC. Compliance with SICI-Barcode standard.
REACH OUT
A user-friendly unified Web OPAC Library System allowing patrons to access multi-location libraries providing comprehensive information through the table of contents, summary, author notes, etc.
OPAC: LSOpac providing a gateway to all library resources like books, journals, etc and enabling patrons to get information through a powerful search engine.
Federated Search: Federated Search in Library to perform a search on Z39.50, SRU/W and Libsys database resulting in sitewise listings of search results.
Mobile Apps: LSearch App is a mobile app designed to run on android based smartphones, tablets and other mobile devices providing access of your library OPAC.
Touch Screen Kiosks: Self Service Kiosks placed in a library integrated with LSOpac touch screen software allowing users to access catalogue
RFID SYSTEMS
Libsys's RFID technology wherein RFID tags are placed on library items and the information encoded on these tags can be retrieved through an RFID reader resulting in ease of operations related to Lending, Security, Shelf Management and Stock Verification.
LIBRARY ON CLOUD
LSCloud, the Libsys Cloud-based Library Management Software on the cloud to mitigate risks related to data security and reduce servers and hardware costs.