Learn Graphic Design Without College (or Debt)
Taught by the Best of the Best in the Graphic Design World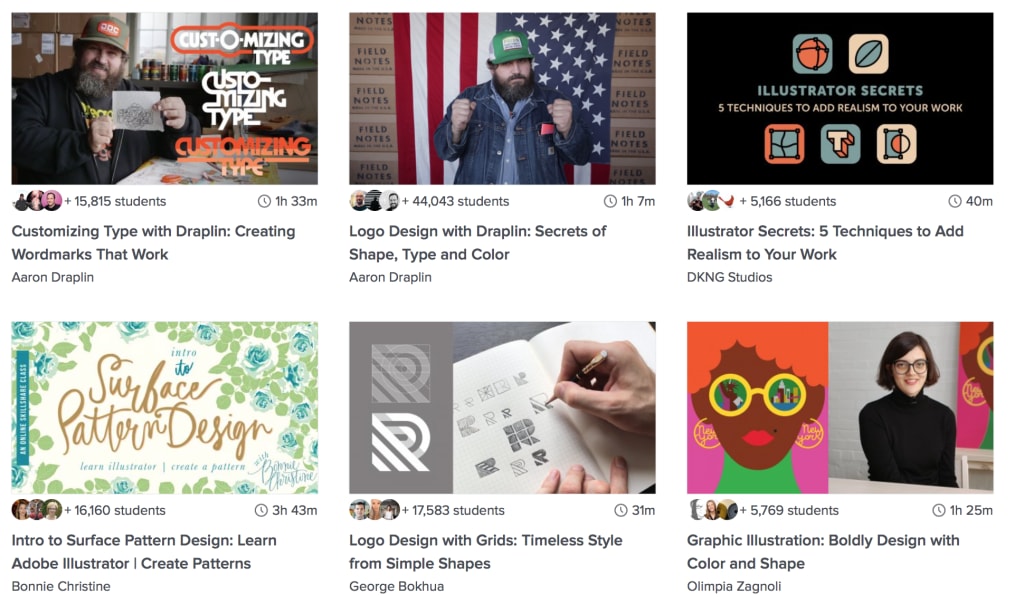 Take as many classes as you want. Try 2 months free by the referral link below!
Skillshare is an online learning community aimed at graphic designers, techies and artists. There are thousands of classes available for you to take and each one guides you through, step-by-step in the design process.
Class projects can be shared in the individual class community for critique or just for fun. Take your knowledge and build upon it with the next class; it's amazing how fast you can learn when you set your own pace!
There is no limit to the number of classes you can watch. This is NOT like Udemy where you pay a hefty price for one single (often shartworthy) class. Skillshare is absolutely the top online learning community available to you; it's more like an apprenticeship under your favorite designers without all the unnecessary college "fluff" they require you to choke down while you take a few relevant classes.
Are you already an experienced graphic designer, artist or photographer? (There are so many niches here it's impossible to list them all!). Become a teacher and make money every month based on how many minutes your class is watched. I teach a few classes on sewing (one of the least popular niches on Skillshare) and make $20-30/month. If you teach in graphic design or typography, for example, you can make a lot more. I am currently working on the outline for a few surface pattern design classes that I will be publishing soon.
Use the referral link below to try Skillshare totally free for two months.
Skillshare first came into the picture for me when I had an online fabric shop on Etsy. I was getting into graphic design and thought that logo design would be an awesome opportunity to open a second Etsy shop and make (pretty darn easy) money on the side by offering premade logos. Everyone is looking for solid routes for passive income, myself included.
When it came to graphic design, though I had already struggled through classes in college and never learned anything that stuck. My professor taught our beginner Adobe Illustrator class at the level of most kids who had already gained experience with the program at home or in high school; I was from a small-town school that was lucky to have those big, old, boxy computers from the early 2000's. Needless to say, I didn't know even the most simple commands on a Macbook Pro and I had no idea what to do with the scary pen tool- or anything for that matter, in Ai.
I gave Skillshare a shot when I saw that one of my favorite textile designers was teaching a class. I tried it free for two months (like you can do above) but once I saw that there were thousands of classes already available with new ones being added every day, there was no turning back for me. I learned the ins and outs of Adobe Illustrator by following the screen recorded, step-by-step classes offered by Aaron Draplin and others. I learned color theory, typography and even marketing. It was amazing! I now have enough experience that I have developed my own methods in indie fabric/surface pattern design to teach my own classes.
The link in this article is a referral link and I may be compensated in return for referring others to join Skillshare. I have been a member of Skillshare since July 2015 and only endorse products or communities that I love and use myself. Thanks for your support!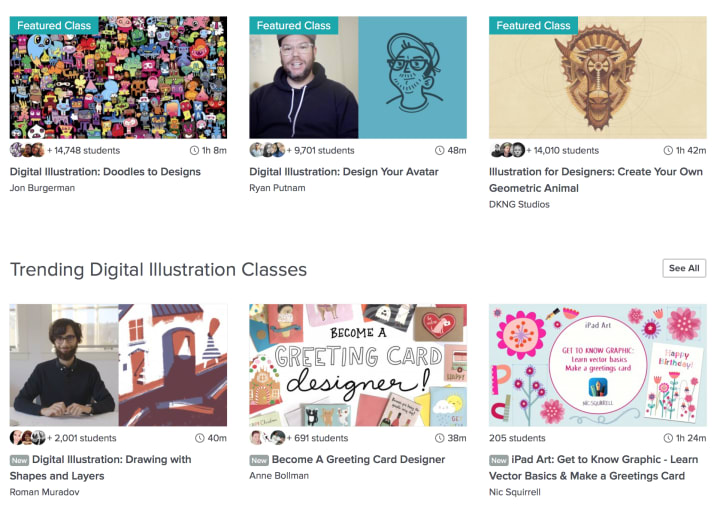 Reader insights
Be the first to share your insights about this piece.
Add your insights