How To Write An Essay About A Haiku
Analyzing Short Poems
It's poetry month. So now is just as good a time as any to continue the Introduction to Poetry series. And I'm finally delivering on my promise to show you how to find enough analysis in a haiku to write an essay. Yippee!
Welcome to the fourth article in the series of learning how to annotate and analyze poetry. If you stumbled across this article first, you can scroll below to read the first, second, and third articles.
The basics were covered in the first two articles. So the objective now is to put everything we learned up to now into practice while adding new literary and poetic devices along the way.
For all examples, I use modern poems to show literary and poetic devices in action. This means a fresh, contemporary poem by an artist you can support, follow and interact with now!
Today's focus is specifically how we can use the identification of line numbers, rhyme scheme and devices to construct a complete essay based on one of the shortest forms of poetry, a haiku.
A Review Of Stanzas, Line Numbers And Rhyme Scheme
It is time to apply what we learned from the first and second articles. We are going to determine the stanzas, line numbers and rhyme scheme of a poem instead of a haiku for today's practice and review.
Our poems for today's lesson are "chrysanthemum" by My Name Is Not Cypress and "Connection" by Kelli Sheckler-Amsden.
Both haiku have the same rhyme scheme and number of stanzas and lines:
Number of Stanzas = 1
Number of Lines = 3
Rhyme Scheme = ABC
Review of Annotations for Literary and Poetic Devices
For today's poems, I focused on identifying and marking just two devices: enjambment and point-of-view. I also highlighted two elements of note in both poems: nature and movement/position.
Enjambment is when one line of poetry runs over into the next. So, there is no punctuation. The idea continues from one line to the proceeding line. This is the exact opposite of an end-stopped line of poetry.
Point-of-View is the perspective of the speaker or narrator of the poem. It can be first, second or third person. If you want to go even deeper, then you can also determine if the speaker/narrator is omniscient (knows everything going on) or limited omniscient (only knows one or a few things going on). There are technically more, but that's not the focus here.
Remember, whenever you annotate a poem, it is important to create and provide a Key or Legend for your markings and notations. Our annotations help us see patterns in poems. These patterns, or lack thereof, help us have the information and examples needed to write a whole essay…or at least carry out a great discussion.
Constructing Paragraphs
Before we get into the essay sample, it's good to know how I was able to write a whole essay based on just six lines of poetry. The trick is knowing the secret to writing the perfect body paragraph. You can read about that here:
In the essay example below, I shortened the commentary (CM) portion of the body paragraphs to purposely keep the essay brief since it is covering two poems and this is just an example.
Essay Example
The following is a 5-Paragraph Essay Based On Analyzing A Haiku.
Even though I marked four aspects in the poems, they are not the sole focus of the essay I'm about to share. Rather, I used my annotations to lead me to aspects these poems had in common or not. Then I determined if the comparison and contrast demonstrated something significant to understanding the poems.
Please note that in a formal essay section headings like "Title, Introduction, Body Paragraph" would be omitted. I just include them here to prove I'm not cheating and there are 5 legitimate paragraphs.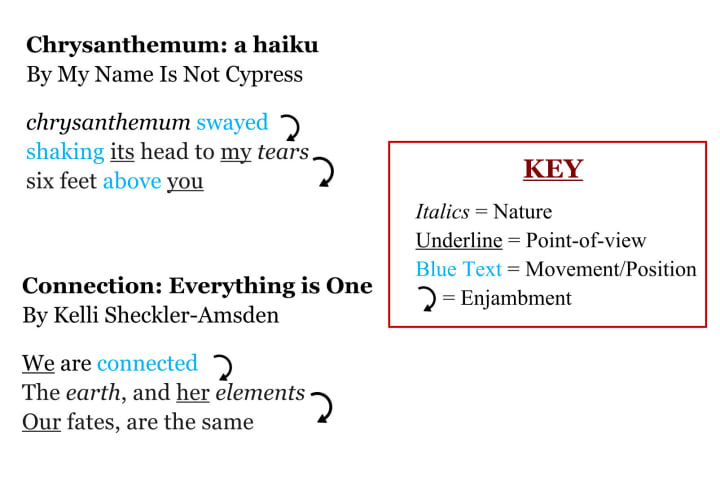 Title: Two Well-Seasoned Haiku
Introductory Paragraph: Poetry offers a world of endless interpretation. Haiku especially lends itself to forcing the writer to quickly delve deep into the subject and enlighten the reader. Additionally, haiku challenges the reader to rapidly immerse him- or herself in the poet's world to tease out meaning. Both My Name Is Not Cypress' "chrysanthemum" and Kelli Sheckler-Amsden's "Connection" stick to the nature aspect of traditional haiku to convey the circle of life.
Body Paragraph 2: "chrysanthemum" and "Connection" are both presented from a first-person perspective. The reader gains the first-person narration in "chrysanthemum" from use of the phrase "to my tears." While one might originally assume the chrysanthemum is the focus, by line two it is evident that the flower is just a proxy for the narrator's feelings and perspective. "Connection" begins with "We," which is first person plural. Even as the poem ends with the plural possessive of "Our," it is clear how the "I" is multiplied to further convey the connectedness of everyone and everything. The use of point-of-view to show solitude or togetherness can also further the understanding of the lifecycle.
Body Paragraph 3: In "chrysanthemum" and "Connection," the notion of "where there is life, there is death" is handled differently. Chrysanthemum presents the life of the flower and narrator looking down upon death six feet below. The circle of life remains continuous in this scene by the chrysanthemum living off the same ground that encases death and holds up the living body of the narrator. In "Connection," the whole poem creates one big circle. The poem begins by bolding asserting, "We are connected." A synergy then forms between what exactly is connected: the earth and everything on and in it. These words are punctuated with another bold assertion that "Our fates, are the same." Once again highlighting the connectedness of all, the author ends with no punction that lends itself to the reader looping back to the opening line and continuing the poem, ending where it all began.
Concluding Paragraph: Now this essay will loop back to where it began, just as "Chrysanthemum" and "Connection" tackled the circle of life. Most poems, especially haiku, must express much in a condensed space. Both poems do exactly that while maintaining a traditional focus on nature, stretching in narrow confines to incorporate the inevitable, life and death.
What We Learned Today
Today we learned how by doing a little ground work, writing an essay even for the shortest of poems can be a breeze. Our annotations are the building blocks for what eventually become patterns, or not, that we can use to form ideas, arguments, connections and eventually an essay.
Did You Miss The First, Second, or Third Article In This Series?
Read The Original Poems Here:
Permissions: The author received the consent and blessing of My Name Is Not Cypress to use her poem "chrysanthemum" and Kelli Sheckler-Amsden to use her poem "Connection". These are contemporary poems published by writers on Vocal. That means recently published poems by artists you can support, follow and interact with today!
About the Author
Stephanie Bradberry is first and foremost an educator and life-long learner. Her time in academia spans 19 years and counting as a professor of English, Literature, Business and Education, former high school English teacher, and more. She loves freelance writing and editing. She is the founder/owner of Stephanie J. Bradberry LLC and former founder/owner of Crosby Educational Consulting, LLC. Learn more at stephaniebradberry.com
About the Creator
I have a passion for literature and anime. And I love everything involving academia, health, metaphysics and entrepreneurship.
For products and services, visit: stephaniebradberry.com
For online courses, visit: bradberryacademy.com
Reader insights
Outstanding
Excellent work. Looking forward to reading more!
Top insights
Easy to read and follow

Well-structured & engaging content

Excellent storytelling

Original narrative & well developed characters

Expert insights and opinions

Arguments were carefully researched and presented
Eye opening

Niche topic & fresh perspectives

Heartfelt and relatable

The story invoked strong personal emotions

On-point and relevant

Writing reflected the title & theme
Add your insights