Graphic Novel Adaptations by Gareth Hinds and Candlewick Press
A Beautiful Way to Introduce Teens to the Classics of Literature

I am continuously surprised when parents discourage their children from reading by refusing to let them read comics. Many adults that I talk to profess to dislike reading books because they hated what they were forced to read as children. Why are we so bent on forcing people to read what they vocally don't want to read? It's only going to kill the joy that reading can bring! Reading what you love anyway.
Children's books are full of pictures, yet most parents don't seem to be denying their children picture books. So what is it about comics? Why are we expected to move from gorgeous books of pictures and words, to books that are text only? Text only books are fine for those of us that are book lovers. Book lovers aren't necessarily born, though, but are made. Made—not forced.
If the ultimate goal is to foster in children a love of story and an appreciation of literature—as I suspect it is—work with what you have. Do your children love books with pictures? Do you want to transition them to something a bit more sophisticated and grown up? Why not give graphic novels a try?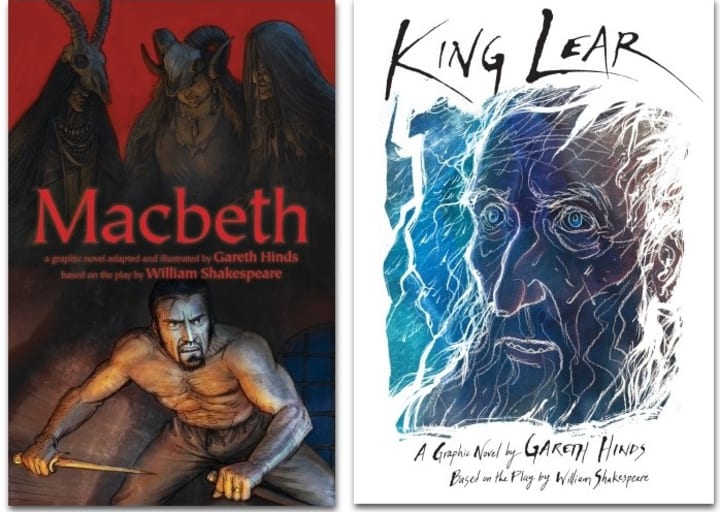 A librarian friend of mine recently passed me a copy of Gareth Hinds' graphic novel adaptation entitled Poe: Stories and Poems (9780763695095 Candlewick Press). Edgar Allan Poe (January 19, 1809-October 7, 1849) is easily one of the most beloved writers of the United States of America.
I remember studying Poe a little, but in school. Many of my friends and I fell in love. For many, however, Poe's somewhat stilted early 19 century narration and verse were a stretch and a chore.
How much more accessible Hinds makes Poe's stories and poems, by not only illustrating them (beautifully so, I might add), but adding little footnotes for unfamiliar words and concepts. There is a footnote for improvisatori and habiliments in "The Masque of the Red Death," for instance, and brief explanations of nitre and Amontillado in "The Cask of Amontillado." At the end of the book, we also learn that Poe modeled the character of Fortunato from "Amontillado" on his literary rival Thomas Dunn English.
Who says comics can't be educational?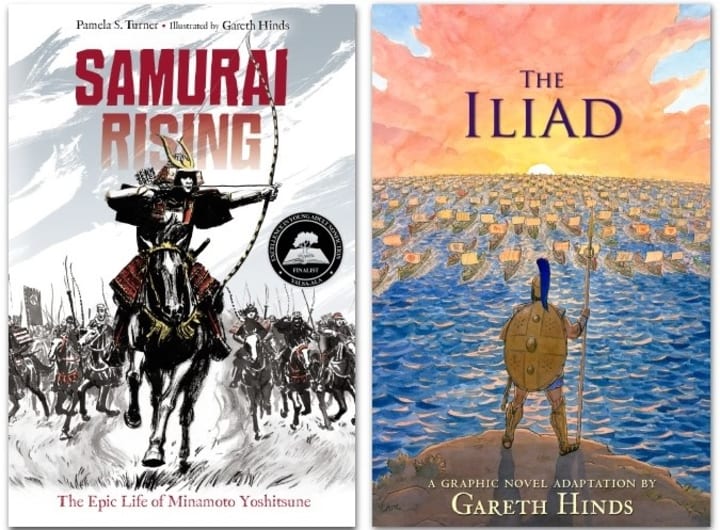 Candlewick Press specializes in children's literature and they are one of my favorites. Some of their more well known titles includes: Guess How Much I Love You by Sam McBratney and illustrated by Anita Jeram, the Where's Waldo/Wally? books by Martin Handford, the award-winning Because of Winn-Dixie by Kate DiCamillo, and many, many more. So, any parent can feel confident that a book published by Candlewick is quality.
Hinds has several titles currently out, tackling stories from the Greek poet Homer, to Shakespeare, to Poe.
The epics so far adapted include:
The Iliad
The Odyssey
Beowulf
Shakespeare plays include:
Macbeth
Romeo and Juliet
The Merchant of Venice
King Lear
Poe stands alone as the only single author Hinds has taken on thus far, which seems fitting to me as Poe's stories (especially) and poems (somewhat) tend to be sensate and graphic (pun fully intended).
Hind has also illustrated two nonfiction books. Samurai Rising: The Epic Life of Minamoto Yoshitsune, by Pamela S. Turner, tells the exciting story of one of the most famous samurai in Japanese history, Minamoto no Yoshitsune (1159-June 15, 1189). Gifts from the Gods: Ancient Words and Wisdom from Greek and Roman Mythology by Lise Lunge-Larsen retells Greek and Roman myths for a modern audience and explains the ancient origins of certain words, such as "janitor" which comes from the Roman god, Janus. Both books are rated for ages 10 and up.
I realize these books are all intended for children and teens, but adults can get something out of them, too! I thoroughly enjoyed Hinds' interpretations of Poe's works, especially for "Annabel Lee," where Hind imagines the narrator spending his life building an intricate sandcastle around Annabel's tomb on the seashore.
If you are looking for ways to introduce these classic tales to your reluctant reader, I hope you give Gareth Hinds' graphic adaptations a look. They may be just what you are seeking.