Erectile Dysfunction: Regain your sexual confidence
Erectile Dysfunction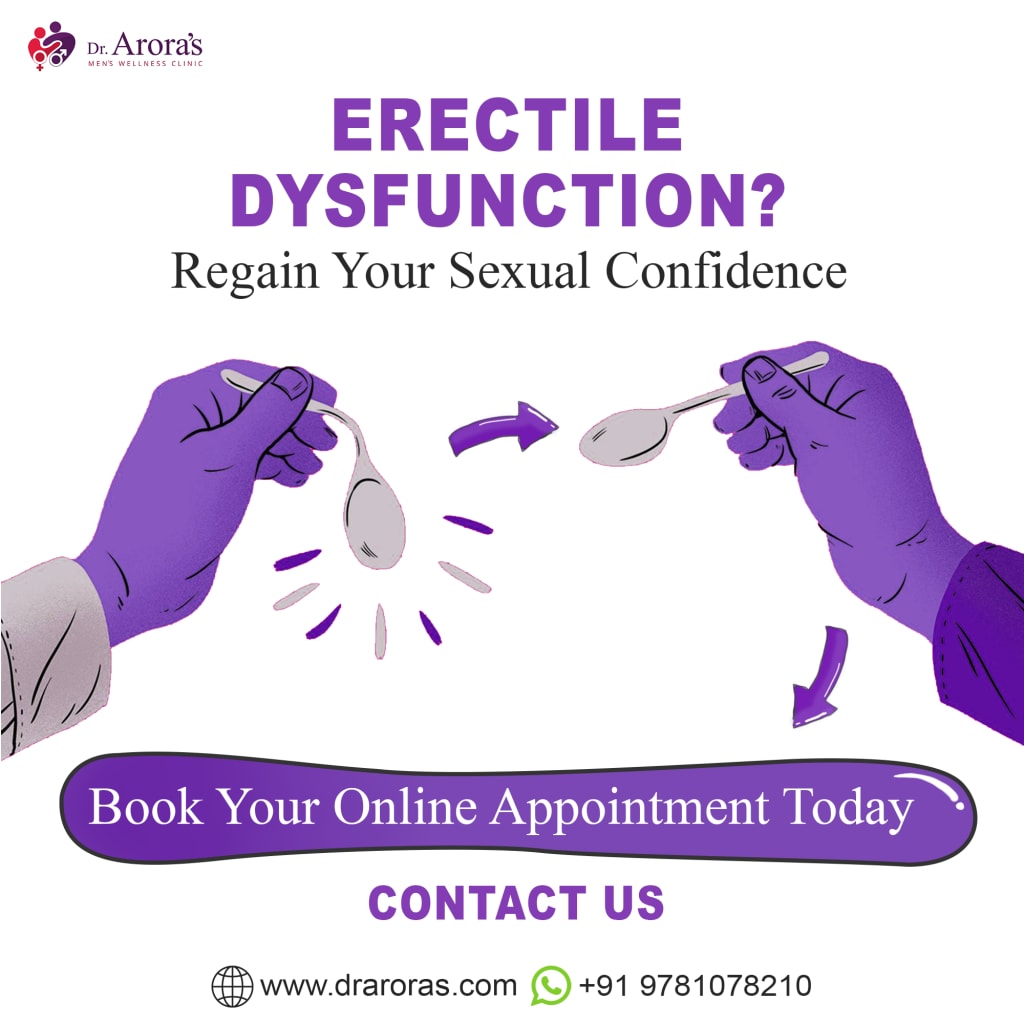 Regain your sexual confidence
Introduction to Erectile Dysfunction
Definition of Erectile Dysfunction
Importance of Sexual Confidence
Causes of Erectile Dysfunction
Physical Causes
Psychological Causes
Lifestyle Factors
Symptoms and Signs
Difficulty in Achieving or Maintaining an Erection
Reduced Sexual Desire
Emotional Impact
Diagnosing Erectile Dysfunction
Medical History Assessment
Physical Examination
Laboratory Tests
Treatment Options
Lifestyle Changes
Medications
Psychotherapy
Vacuum Devices
Surgery
Natural Remedies and Alternative Treatments
Exercise and Physical Activity
Herbal Supplements
Acupuncture
Coping with Erectile Dysfunction
Open Communication with Partner
Seeking Support
Maintaining Emotional Well-being
Prevention and Lifestyle Tips
Maintain a Healthy Weight
Exercise Regularly
Manage Stress
Avoid Substance Abuse
The Importance of Seeking Professional Help
Conclusion
FAQs
What is the main cause of erectile dysfunction?
Are there any natural remedies that can help with erectile dysfunction?
Can psychological factors contribute to erectile dysfunction?
How can I talk to my partner about erectile dysfunction?
Can erectile dysfunction be prevented?

Introduction to Erectile Dysfunction
Living with erectile dysfunction can be a challenging and distressing experience for many men. Erectile dysfunction, also known as impotence, is the inability to achieve or maintain an erection sufficient for sexual intercourse. It can have a significant impact on a person's self-esteem, intimate relationships, and overall quality of life. In this article, we will explore the causes, symptoms, diagnosis, and treatment options for erectile dysfunction, as well as provide tips on coping with the condition and regaining sexual confidence.
Causes of Erectile Dysfunction
Erectile dysfunction can arise from a variety of factors, including physical, psychological, and lifestyle-related causes. Physical causes of ED may include underlying medical conditions such as diabetes, cardiovascular disease, hormonal imbalances, or neurological disorders. Psychological causes can range from stress, anxiety, depression, to performance anxiety or relationship issues. Additionally, unhealthy lifestyle habits such as smoking, excessive alcohol consumption, drug abuse, and a sedentary lifestyle can contribute to the development of erectile dysfunction.
Symptoms and Signs
The primary symptom of erectile dysfunction is the inability to achieve or sustain an erection. Men may experience difficulty in getting an erection, a reduced sexual desire, or find it challenging to maintain an erection during sexual activity. These symptoms can lead to frustration, embarrassment, and a negative impact on self-confidence and intimate relationships.
Diagnosing Erectile Dysfunction
To diagnose erectile dysfunction, healthcare professionals typically begin by assessing the patient's medical history, including any underlying health conditions, medications, or previous surgeries. A physical examination may be conducted to identify any physical abnormalities or signs of an underlying condition. Laboratory tests, such as blood tests, may also be performed to check hormone levels, blood sugar, cholesterol, and other factors that could contribute to erectile dysfunction.
Treatment Options
The erectile dysfunction treatment depends on the underlying cause and severity of the condition. Lifestyle changes, such as maintaining a healthy weight, engaging in regular exercise, managing stress levels, and avoiding substance abuse, can have a positive impact on erectile function. Medications, such as phosphodiesterase type 5 (PDE5) inhibitors, are often prescribed to enhance blood flow to the penis. Psychotherapy can help address psychological factors contributing to erectile dysfunction, while vacuum devices and surgery may be considered for more severe cases.
Natural Remedies and Alternative Treatments
Some men may seek natural remedies or alternative treatments to manage erectile dysfunction. Regular exercise and physical activity can improve overall cardiovascular health and promote better erectile function. Certain herbal supplements, such as ginseng, L-arginine, or horny goat weed, have been suggested to have potential benefits, although scientific evidence is limited. Acupuncture is another alternative therapy that some men find helpful in managing erectile dysfunction.
Coping with Erectile Dysfunction
Coping with erectile dysfunction involves open communication with a partner about the condition and its impact on the relationship. Seeking support from a healthcare professional or joining support groups can provide valuable guidance and reassurance. It is essential to address any emotional or psychological challenges associated with erectile dysfunction and maintain overall emotional well-being.
Prevention and Lifestyle Tips
While not all cases of erectile dysfunction can be prevented, certain lifestyle modifications can reduce the risk and improve sexual health. Maintaining a healthy weight, adopting a balanced diet, engaging in regular exercise, managing stress effectively, and avoiding the use of tobacco, alcohol, or illicit drugs can contribute to overall well-being and sexual function.
The Importance of Seeking Professional Help
It is crucial for individuals experiencing erectile dysfunction to seek professional help. Healthcare professionals specializing in sexual health can provide an accurate diagnosis, offer personalized treatment options, and guide individuals on their journey toward regaining sexual confidence and overall well-being.
Conclusion
Erectile dysfunction can significantly impact a man's quality of life, self-esteem, and intimate relationships. Understanding the causes, symptoms, and available treatment options can empower individuals to seek appropriate help and regain sexual confidence. By adopting a holistic approach that includes lifestyle changes, medical interventions, and emotional support, individuals with erectile dysfunction can take positive steps towards a fulfilling and satisfying sexual life.
FAQs
Q: What is the main cause of erectile dysfunction?
A: Erectile dysfunction can have multiple causes, including physical conditions like diabetes, cardiovascular disease, or hormonal imbalances, as well as psychological factors such as stress, anxiety, or relationship issues.
Q: Are there any natural remedies that can help with erectile dysfunction?
A: While some natural remedies like regular exercise and certain herbal supplements may have potential benefits, it is essential to consult with a healthcare professional before trying any alternative treatments.
Q: Can psychological factors contribute to erectile dysfunction?
A: Yes, psychological factors like stress, anxiety, depression, or performance anxiety can contribute to the development or worsening of erectile dysfunction.
Q: How can I talk to my partner about erectile dysfunction?
A: Open and honest communication is key when discussing erectile dysfunction with your partner. Choose a comfortable and private setting, express your feelings and concerns, and emphasize that it is a shared issue that you both can work on together.
Q: Can erectile dysfunction be prevented?
A: While not all cases of erectile dysfunction can be prevented, adopting a healthy lifestyle, managing stress effectively, and avoiding risk factors such as smoking or excessive alcohol consumption can reduce the risk of developing the condition.
About the Creator
Pawan help peoples suffering from erectile dysfunction and provide information about permanent treatment for erectile dysfunction from expert sexology doctors. For Information Visit: https://www.draroras.com/erectile-dysfunction-treatment
Reader insights
Outstanding
Excellent work. Looking forward to reading more!
Top insights
Expert insights and opinions

Arguments were carefully researched and presented

On-point and relevant

Writing reflected the title & theme
Add your insights