Ekushey Book Fair 2021 & Pandemic
Bangla Academy Book Fair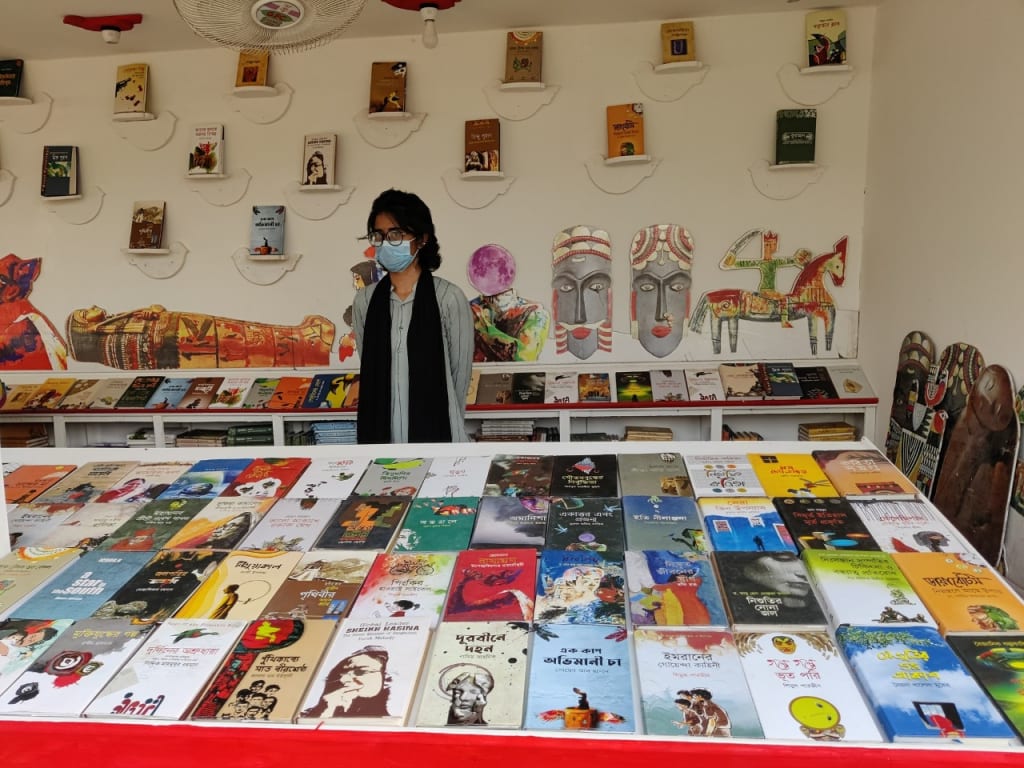 Ekushey Book Fair 2021
Book fair during pandemic & the future of publication industries
When I am abstained to the work, no way to breath, sigh of being gasping then my subconscious mind gives me reminder that I haven't been reading book from two to three days. There is no substitute for books to revive the mind just as it takes oxygen for the body to survive. I think like that. Books make a latent relationship between the body and mind. Matching the life we live, the passing time. For this reason perhaps Rabindranath Tagore said "Books are a bridge between the past and present"
This year we have witnessed unprecedented book fair. 37th immortal Ekushey Book Fair couldn't be initiated at tradition rules due to Corona Virus. Director General of Bangla Academy Habibullah Siraji announced that Ekushey Book Fair won't be started at February 1. After seeing that news , I feel the probability of great danger. Oh my dearing book fair! Book fair adds more value than other festivals to the bookworms. Readers like me eagerly waiting to this fair all year round which was founded in 1984 by former Director General of Bangla Academy Monzur-I-Mowla.
Finally after much speculation immortal ekushey book fair was started March 18th . Our honorable president inaugurated the fair virtually. But the fair would be continued 14th April, which means the first day of Boishak. But as the days passing by, the fear was also increased due to the upward infection rate of corona. But at the end the fear became true. Book Fair was postponed at 12th April. Surprisingly a lot of people came to the fair by knowing that they can be infected by corona virus. They made purchase, share their feelings about books.
There is endless number of dramas surrounding the book fair. The book fair was not starting even though it was about to start. Strict lockdown imposed.
City dwellers are being asked to stay at home. Public transport is closed but the fair will continue. What a sudden shoot! Some publishers made their way home with books and shops in sorrowful mind. Some people started posting Facebook status of 'I am going to the book fair by the grace of Allah'. Yet people went to the fair, Bought the book. I am not very much influenced by emotions. Still, I was impressed by the people's love for books. Ah, the new books! What a unique feeling in the smell of new paper absorbed in the mouth!
It's not just the locals who come to the fair. We have also seen foreigners in various media coverage. Many foreigners have come to the fair wearing saree, churi. They don't understand Sunil, Sukanta . But with absolute compassion they explored the books. Bought a book, filled into the bag. Seeing all this, the mind is being dissolved, overwhelmed.
This year's Ekushey book fair 540 stalls has taken part in across a wide area of Bangla Academy and Suhrawardy Udyan. A total number of 2640 new books have come out. The organizing committee designed the fair with ensuring hygiene and safety. There was strict surveillance by the law enforcement agencies. However, the safety rules are not maintained properly.
Again, a group of people was taken a stand in social media to close the fair. "Doesn't Corona go to the book fair?" Where have you been so wise in this foolish country? It does not matter who listened or did not listen. The point is, we don't even think about those involved in the publishing industry, but we want the government to think. Many publishers have not been able to sell the same number of books in a month as in other years. So what will happen to these people? Don't they need to eat? Don't they have a family? Are they out of society? The people will not stand in front of so many questioners and the government also wants to keep its back. In fact, the publishing industry has fallen on deaf ears. Osman Gani, the publisher of the forthcoming publication, has written an open letter requesting the Prime Minister to purchase books worth Tk 100 crore on behalf of the publishers.
On the occasion of the birth centenary of Bangabandhu and the golden jubilee of independence, the publishing industry had hoped for the same. Many publishing houses have already been closed. How long those who have survived with minimal manpower are still questionable. Corona may not leave us. Yet life will continue, will have to run in own way, in own equation. Because life is not exchangeable. In this situation, the immediate intervention of the Prime Minister along with the concerned ministries is very important to save the publishing industry.
If a nation wants to grow in talent, mind and creativity, there is no alternative to reading books and taking care of the industry, there is no scope to look at it in short. We wish good days will come soon. Let's have a book fair again on undaunted day. Bangla Academy and Suhrawardy Udyan will once again in the gathering of writers, readers and publishers. At least for a reader, there is nothing more to ask for.