Education After COVID-19 What Schools Must Prepare For?
Education After Covid-19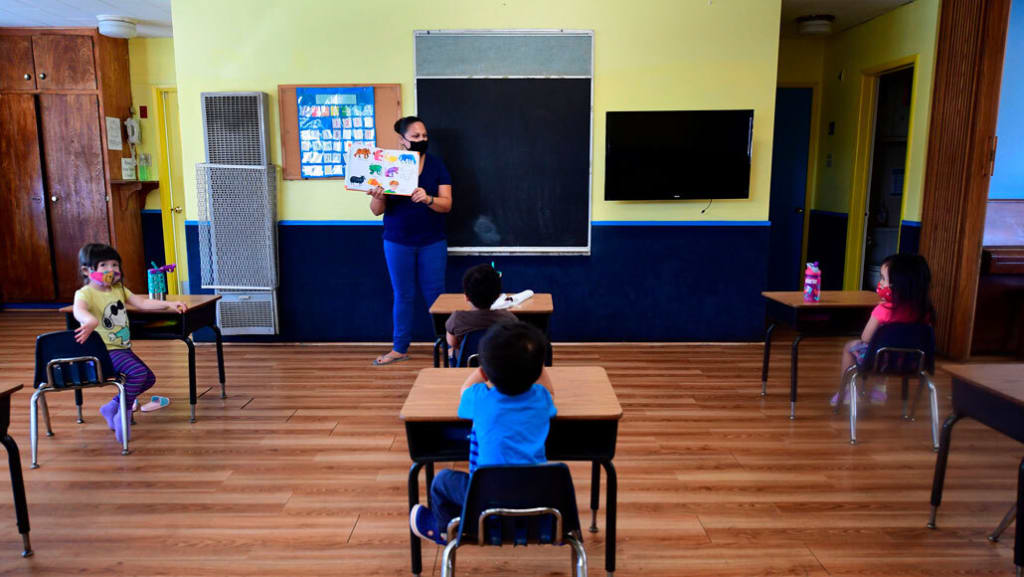 Education is often viewed as a force for change, but COVID-19 has pushed the education agenda back by many years.
So much so that the schools now face a global education emergency as dubbed by the World Economic Forum (WEF).
Given the peculiarity of circumstances perpetuated by the pandemic, innovating education has become imperative.
Millions of young children are losing on learning opportunities. Especially so when learning at this age is closely tied to the future prosperity of their selves as well as their nations and the world. Yet, this emergency is yet to get a proper response from education leaders, governments, and parents.
This article by Edvantic, a world's education company, aims to show the gravity of pandemic consequences on education – bad, good, and all that is in between.
Story by Numbers
•During the height of closure of schools in April 2020, about 91% of students globally were out of school – indicating a high-possibility of a lasting impact on their learning.
•Many learners in over 40% of the low and middle-income countries are at the risk of exclusion from learning, especially those from poor financial backgrounds, minorities, and learners with disabilities.
•Most global education systems responded by shifting education to distance learning solutions – such as online mode – but all of them proved more or less imperfect substitutes of classroom learning.
•Cancellation of exams resulted in scoring highly dependent on teachers' whims and judgments, which could accentuate stereotypes in developing countries where the systems are not as developed.
•Going forward, higher dropout rates are a concern, calling for educating leaders and giving them sensitivity training in order to successfully bring students who have fallen through the cracks back into the system. But it could be too late before the appropriate steps are taken.
How soon education leaders will be able to fill the gaps created by the COVID-19 crisis?
Worsening Reality
The condition of learning in pre-pandemic times wasn't very thrilling either. WEF reports that half of all children in the developing countries couldn't read a basic sentence at the end of their primary schools. The situation only worsened by the pandemic and it would have further deteriorated when the schools reopen.
In the meanwhile, should the leaders sit and wait for the crisis to come to end, or look for solutions to innovating education. Without a doubt, the latter should be the approach of institutions.
Online Learning Is Half the Solution
The other half is preparation.
Even post COVID-19 pandemic, online system of education can be a strong support for K12 institutions. What leaders need is a planned and comprehensive approach to remote learning!
While the evidence suggests that online learning proved more or less imperfect in comparison to traditional teaching for school students, it is important to understand that the problem isn't in the mode, but in our planning.
From low- and middle-income countries to the developed ones, schools shifted to online learning mechanisms almost in a hurry. That left:
-Teachers unplanned and unprepared for the shift,
-Educators intimidated by the technology, and
-Learning suffers, as a result of the above two.
Way Forward
School readiness for online learning and teaching is paramount and will remain this critical even after the pandemic. To set up the right hardware at school as well as home, K12 leaders along with governments must step forward.
Implications for schools
1.Schools need to take the responsibility of training and educating leaders in technology and online mode of teaching. Teaching in digital mode requires some re-learning on the part of educators for good outcomes.
2.Schools need to bring parents onboard and make them actively involved in child's education.
3.Schools need to devote serious planning to online assessments and evaluation.
4.Schools need to redesign curricula for flexible, online learning.
5.Schools need to share the responsibility of bridging the digital divide and bridge what's undone by COVID-19 in the headways made so far in making education accessible to all (as per SDG 2030).
6.Schools must aim for increasing financing of education to cast a wider and better-quality net for education of young minds.
Education leaders should be the voice of unrepresented and left out, for they are best placed to raise the concerns faced by the K12 system, which is crucial for the future of our world.