Digital Marketing And Useful Strategies For Implementing Effectively
Digital Marketing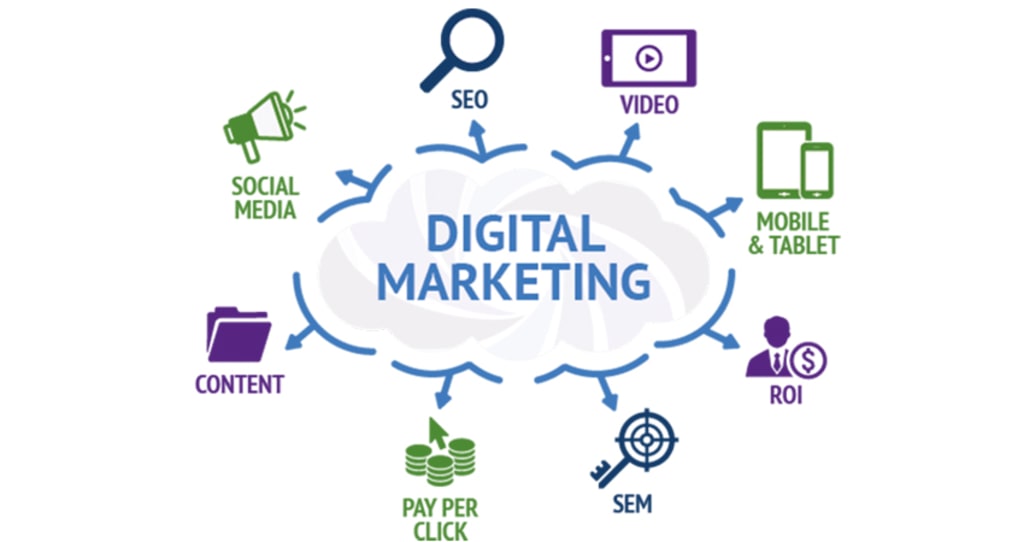 Digital marketing is a part of general marketing which aims to promote the company's services via technologies. It is a relatively new form of marketing, but it has become increasingly common in recent years as more companies move their operations online. As the name claims, the main tools using digital marketing are websites, social media, and every other online way to reach potential customers. Digital marketing is very effective in reaching a large audience with minimal effort and expense, which makes it an attractive option for many businesses.
The main reason why digital marketing is so trendy and useful today is that it can reach a higher audience. Also, it does not require high costs which makes it more profitable to implement.
What You Need To Implement Digital Marketing In Your Company
The difficulty and complexity of implementing digital marketing will vary depending on the size and type of company. But if you consider the following indicators, it will be easier to use digital marketing profitably:
Set the exact aim - If you don't know what you want to receive from digital marketing, you won't be able to reach it.
Know your customers - none of the businesses will be successful if the needs and wishes of the audience are not known. This is the primary to make your digital marketing strategy effective.
Create compelling content - In order for people to engage with your brand, you need to produce high-quality, original content that is relevant and interesting to them.
4 Choose the right channels - There is a multitude of ways to reach consumers online, so it's important to select the channels that will work best for achieving your goals.
5 Monitor and adjust - As with any marketing campaign, it's important to track metrics and analyze data in order to see what's working well and where improvements can be made.
All these mentioned criteria are united in the concept of the right strategy. If the company exactly know what it wants to receive from implementing digital marketing, then it is easier to create a relevant and effective strategy. Here are some notable strategies, that can be helpful if your company faces the hard work of implementing digital marketing.
Analyze The Current Situation And Double Down On It
It is crucial to analyze the current situation and what is most profitable for the company before implementing a new digital marketing strategy. A thorough analysis will help ensure that the new strategy is successful and profitable for the company.
The first step is to make a deep analysis of what stage you are currently in. Once you've identified the areas that are producing the best results, you can then double down on those efforts to further improve your results. Additionally, you can also use those successful elements as a foundation to build new digital marketing initiatives around. By taking a strategic and data-driven approach, you can effectively implement new digital marketing strategies that will help take your business to the next level.
Improve the Quality Of Content
Content is one of the most important aspects of digital marketing, as it can help to make a strategy successful and profitable. Good content can engage and convert customers, while bad content will repel them. The most significant is to make original and catching content for your target. When done correctly, digital marketing campaigns that feature strong content can be extremely effective in driving sales and generating leads.
It is important to improve your content when you are implementing a new digital marketing strategy in your company. It can be done in several ways. For example, you can be more focused on quality which includes making error-free content. Additionally, it is essential to find the balance between the content story and target needs. This is the main way to make the content interesting for your audience. And also, it is significant to make it easy to understand. It will increase the probability to be more memorable for the customer. All this together will make your digital marketing very profitable for your business.
Set The Target Audience And Consider Their Feedback
the importance of having the right target for your digital marketing strategy will vary depending on your business and objectives. However, in general, it is important to choose a target that is relevant to your product or service, and that you believe you can connect with on a personal level. Choosing several channels for reaching your customer is essential but they should be relevant to their needs and your service characteristics. Otherwise, it won't be profitable. Once you have identified your target audience and chosen the most effective channels for reaching them, you can then begin developing your digital marketing strategy.
Customer feedback should be considered when developing or improving a digital marketing strategy. Feedback can be collected from research, interviews, or via social media data statistics. You should ask customers what you want to find out and not what you want to hear. Your aim should be to listen and get closer to your customer's needs. If you do this right, then you will be able to make your digital marketing more successful.
Reader insights
Be the first to share your insights about this piece.
Add your insights