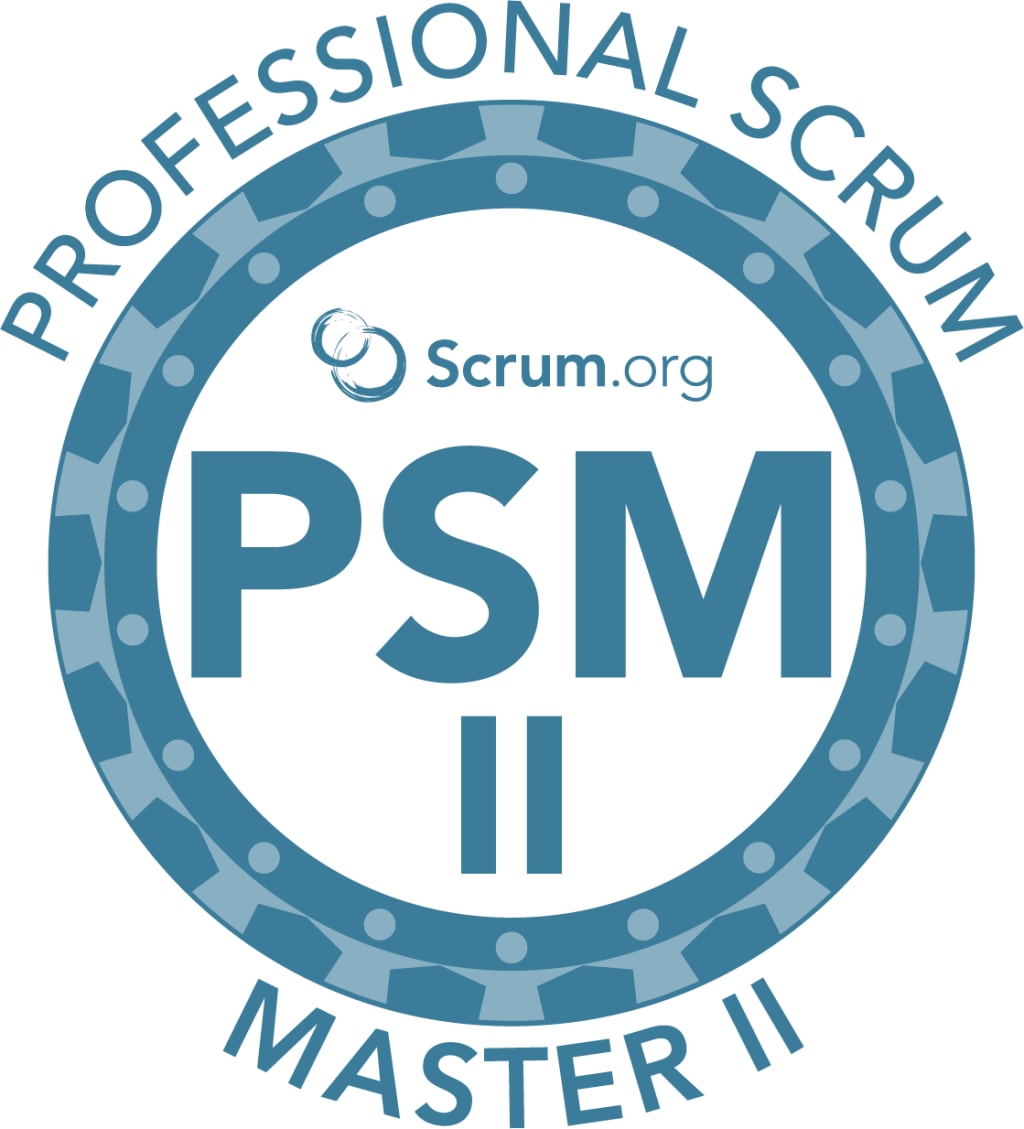 Professional Scrum Master™ II (PSM II)
The 2-day Professional Scrum Master™ II (PSM II) course is an advanced class designed to support Scrum Masters in their professional development. Unlike the Professional Scrum Master (PSM) course which focuses on how to use Scrum, the Scrum framework and the role of the Scrum Master, PSM II is an advanced course which helps students to understand the stances that characterize an effective Scrum Master and servant-leader. The class dives deep into how Scrum Masters serve the Scrum Team, Product Owner, and the organization.
Overview
2 Days of Online Virtual Class.
PSM II exam fee included.
Delivered by a Professional Scrum Trainer.
Free Exam Retake.
Digital reference materials that will assist continuing the learning journey.
Course Outline
What makes an effective Scrum Master
How to support the Scrum Team
How to support the organization
Challenges of middle management
Dealing with complexity and impediments
Measurement in Scrum
Successful product delivery and "Done"
Facilitation techniques
The course is for anyone interested in learning a better and faster way to create awesome products, including:
Business Analysts
Developers
Finance and Audit
HR Managers
IT Professionals
Managers
Product Owners
Project Managers
Project Sponsors
Scrum Masters
Team Leads
Testers
those who are interested in working with people
those who care about their team's performance
those looking for ways to foster collaboration
Certification
Step 1: Register for a Professional Scrum Master-II course on Skillier
Step 2: Take the 2-day PSM-II course and get instructed by Professional Scrum Trainers® (PSTs).
Step 3: Scrum.org will send you a link to create login credentials on successful completion of course.
Step 4: Click on the link received from Scrum.org and create your own login credentials.
Step 5: Take the 90 minutes online PSM-II test which comprises 80 multiple choice questions, multiple answers and True/False by using those credentials.
Step 6: Score a minimum of 85% to pass the PSM-II test, after completing the course.
Step 7: After accepting it, you will receive PSM_II Certification from Scrum.org.
PSM-II Certification and Training FAQ's
1. What are the benefits of pursuing a Professional Scrum Master-II ?
The PSM II course has been thoughtfully designed to make you an exceptional Scrum Master. You will be equipped with all the tools and techniques to:
Make use of your understanding of the most up-to-date Scrum methods and approaches.
Learn how to make decisions using Scrum principles.
Serve as a servant-leader for Scrum teams.
Improve the efficiency of development teams and product owners
To help Scrum Teams be more effective, provide a framework.
Increase agility by creating an environment that is conducive to Scrum Teams.
2. What are the learning objectives of the Professional Scrum Master-II course?
At the end of the training course, you should be able to learn the following:
What makes a good Scrum Master?
What can you do to help the Scrum tea
What can you do to help the organisation
Middle management's challenges
Managing complexity and roadblocks
Scrum's measurement
Product delivery success and "Done" facilitation techniques
How to use the Scrum Values and Principles to make decisions.
Scrum Masters can use these Servant Leadership Tips and Techniques to operate with a larger organisation.
3. What are the main topics that are covered in PSM-II training ?
The main topics that are covered in the PSM-II training are as follows:
Effects on the organization of a successful Scrum Master
Dealing with complexity and servant leadership
Dealing with team conflict
Removing impediments
Facilitation techniques
The Importance of a "Done" Increment
The Sprint Goal
Refresh the purpose of the Scrum Events
The role of management in Scrum
Successful product delivery
Measurement in Scrum
How to support the Product Owner
Understanding the challenges of middle management
Scrum Master as a change agent
4. What is Professional Scrum Master?
Professional Scrum Master™ (PSM) is an abbreviation for the job function of a facilitator for an agile development team. The Scrum Methodology is based on key ideas that allow a team to self-organize and respond swiftly to tasks and situations. A PSM (Professional Scrum Master™) serves as a servant leader and facilitator for a Scrum team, integrating Scrum best practises, tools, and skillsets to ensure success.
5. What do a Professional Scrum Master do?
A Professional Scrum Master is tasked with managing processes while adhering to the Scrum values and principles. A PSM's responsibilities include:
At the end of the daily scrum, assisting his or her team in coming to an agreement
Assisting the team in determining what can be accomplished in a given time frame
It is his or her obligation to remove roadblocks to his or her team's growth.
The Scrum Master ensures that the team does not overcommit while still achieving its full potential.
About the Creator
Our world class certification courses will get you recognized and fuel your growth. Your purchase will help transform a life by supporting girls & education.
Reader insights
Be the first to share your insights about this piece.
Add your insights