Community Playthings: A Great Company
Furniture, Blocks and a Blog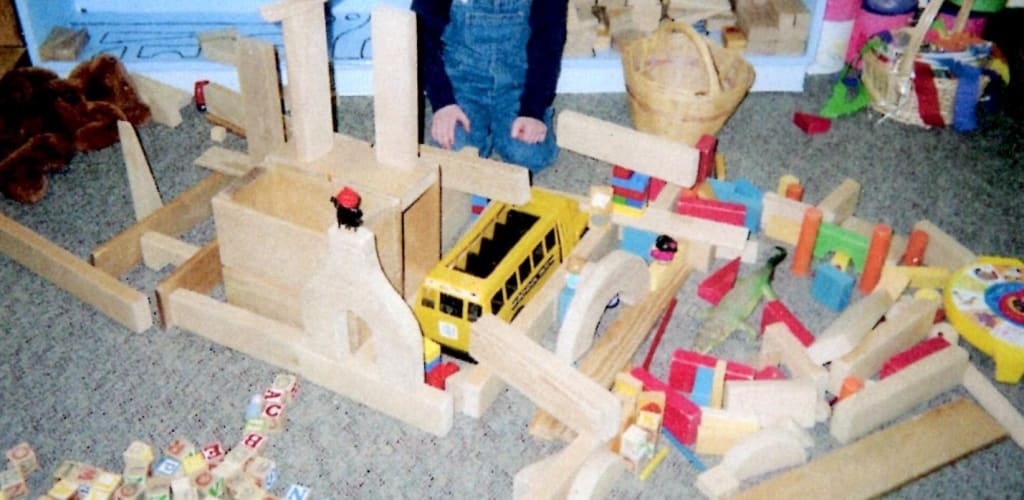 These wooden blocks have been played with every day for over forty years!
Community Playthings is a company in upstate New York that specializes in furniture and toys for early Childhood Education. The company was started by a small cooperative community called Macedonia in 1947. This community joined the Bruderhof Community near Rifton, New York in the 1950's and Community Playthings has been providing quality toys and furniture for both the Bruderhof Community and the world ever since.
Community Playthings, has a very strong belief in the importance of providing quality environments for children. They have made it their life's work to provide these exceptional products to support the important work of play that children do each day.
The wood they use is sustainably sourced, the finishes are all low VOC emitting finishes, the quality is the best I have ever seen.
I taught in a small preschool for nineteen years. The blocks the children still play with today are at least forty years old. The chairs and shelves are between twelve and twenty years old. They are still in daily use at the school and are in great condition. The only thing we have ever had to do is sand down a few rough spots that showed up from wear and repair a cracked hollow block. Keep in mind this is over a period of forty years! The big hollow blocks have been favorites year after year. The children build towers, houses, beds, fire trucks, airplanes and more with these big blocks. The blocks are heavy enough to build up some muscles in the children. The furniture and the toys are extremely durable, perfect for little hands to manipulate and provide a wealth of play opportunities.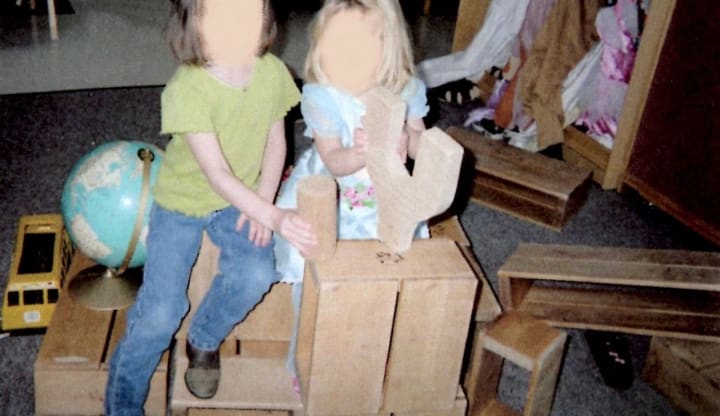 These two girls built an airplane with the hollow blocks.
They also have a blog on their website that has an amazing amount of information on early childhood development and education. Their articles are well researched and written by some of the top educators and child development experts in the country. The articles are full of ideas for projects and for designing curriculum that emphasizes play and time outdoors. This blog is available free on their website and you can sign up for their newsletter which sends each new article to your inbox at no charge.
Their website and catalog also include ideas for room designs, activities and articles on environments for children. The pictures of the children using the toys and furniture are priceless. Each product is carefully designed after watching how the children use the materials. This is a company totally devoted to providing the best for children. Each piece is carefully crafted to provide the best value for both the children and the teachers. They also have customer service people very willing to help you design a classroom and find the perfect furniture and toys to stock it.
I just can't find enough words to say how great this company is. Their products are a little pricey, but when you see the amazing quality and care that goes into each piece, you will understand why. They are worth every penny. At our school we would save up and do fundraisers in order to be able to purchase products from Community Playthings. For one thing, we knew it was a one-time purchase! We knew we weren't going to have to buy that particular item again for at least 40 years!
Community Playthings has a fantastic customer service record. They are always ready to help in any way they can.
I don't have an affiliate program with this company, so I do not get any compensation from telling you about them. I feel that the information in their blog and the products they sell are very valuable and I hope more people will spend some time on their website getting to know this great company.
https://www.communityplaythings.com
And please check out my blog : https://booksbubblesandblocks.com/ for more information about Early Childhood Education.