Advice to a Nephew
Just a little list to help him...and maybe some of you...?
This was a list of advice that I gave to my nephew when he was about to begin high school in the late 2000s. It was in a letter that I never sent, and a part of me regrets that I did not get to at least talk to him about most of these points. I did share some advice in texts and conversations, but I recently found this page in my notes and I thought that it was only fair to share it with the rest of you. Your judgment counts…
1. Don't worry about being with the right crowd. They usually end up moving in the wrong direction.
I did not say this to be mean-spirited or nasty. It is simply based on many years of observation and several Facebook friend requests. You do not want to go down that particular road.
2. Don't pick fights, but never back down from a bully. They can tell when they've lost.
A difficult task, but one you will have to consider and understand as long as you find yourself harassed by certain people who cannot take a hint. I am also going to add that this does not mean they will always be other students. There have been plenty of teachers acting as unnecessary aggressors and they need to be taken down a peg. Words really are weapons, especially when recorded surreptitiously and handed over to the administration. Your fists are a last resort.
3. Study something that you truly enjoy. There is nothing worse than going for a diploma and realizing it is not who you are.
Again, I have seen this in action: a student I knew was always worrying about grades and panicked up until the day of an exam or test that his marks would not make it. I did not see him for many years after we parted - not as friends - and was told that he became a kindergarten teacher. Not much call for all that advanced calculus and algebra when dealing with school glue and construction paper. Please take it easy. It is a diploma, not a magic lamp. Life is chance and risk. Go for it!
4. Make friends with people who have different interests than you. You will learn more from them than anyone else you encounter at school.
You might disagree with this if you are being streamed into one particular subject or academic level, but remember that everyone is following a particular river (stretching that metaphor out as much as I can, I see). You should hang out with the kids who love to draw, play basketball, sculpt, study amphibians in their spare time, and want to become mechanics and farmers. That interest will give you a fuller picture of what this world is all about. Talk to them.
5. Grades are not everything. Strange to say it, but it is absolutely true.
Please accept this from a college instructor: I have had wonderful students who did not amount to anything, and academic failures who now run their own businesses. Again, the diploma is not a magic lamp.
6. Do not let your friends make you do something you know is wrong. You are a smart kid and will figure this out (see note no. 1).
Did you read no. 1? Well, then I don't have to add much here. You are a bright kid who knows right from wrong. Keep that in mind.
7. Meet a smart girl and stick with her. I would suggest the one who sits alone in the cafeteria, has glasses, and does well in the classes you have low grades in.
I know, I know... There are always going to be other girls who will distract you with their lines, words, gestures, clothes and the like. But keep a look out for the ones who are not trying; the ones who know that they live in a very interesting world of their own thoughts and feelings. Again, you will learn something...perhaps about yourself.
8. Don't take weekends off. That extra time should be used wisely (find a hobby or skill not taught in school).
Time is not just money. It is far more precious. All of the things that will make you interesting - friendships, hobbies, interests, skills, etc. - have to be nurtured away from the classroom. You will find that once you have graduated, not everyone wants to know that you were a straight-A student. They may want to know the real you.
9. Study hard. This does not mean just doing well in school; life is something that you should be studying (it is right in front of you, running hot and fast).
You have already heard of 'The School of Life'. Well, it is quite real. There are no prerequisites, no textbooks, several exams and tests, and no graduation procedure once you are done. Learning is a process that does not end for any of us. Keep you mind open and learn to accept and process what is out there.
10. Stay in touch with your uncle. He really wants to know if he said the right things.
Hey, what do I know? I just want you to not make any of the mistakes or 'painful learning experiences' that I went through (I may have something worth hearing).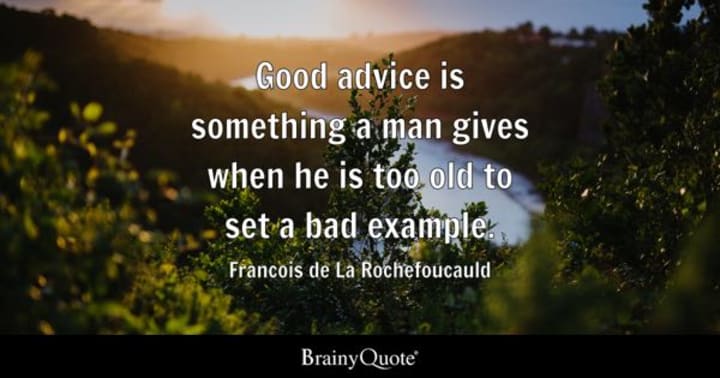 Reader insights
Nice work
Very well written. Keep up the good work!
Top insights
Eye opening

Niche topic & fresh perspectives

Easy to read and follow

Well-structured & engaging content

Expert insights and opinions

Arguments were carefully researched and presented
Compelling and original writing

Creative use of language & vocab

Heartfelt and relatable

The story invoked strong personal emotions

Masterful proofreading

Zero grammar & spelling mistakes

On-point and relevant

Writing reflected the title & theme
Add your insights