8 Unspoken CAT rules MBA Aspirants should know
We wanted to talk to you about some important things about MBA entrance exam preparation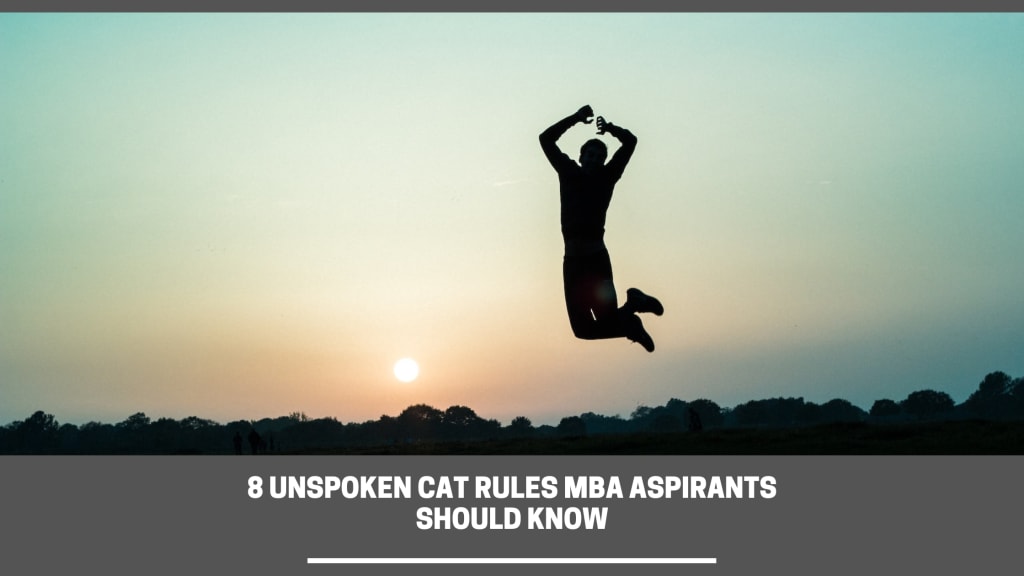 We wanted to talk to you about some important things about MBA entrance exam preparation with the help of personal tutors for MBA exam that are usually not explicitly known; things that people will not tell you; and things that you will only learn after 3-4 months of preparation.
Rule#1: It's Management
To begin, keep in mind that this is a Management Aptitude exam, not just a random knowledge test. To ace these exams, we must learn to manage ourselves. Along with the specified syllabus for each section, we must also focus on things like our reading speed, comprehension, exposure to various situations in life, work experience, ideas, and perspectives on social conditions, among other things. This is management, whether it is management of your language skills, management of life situations, or management of your test-taking strategy. Some of the first steps in any management process are organizing and planning. Learn to do this to make your life easier and to better prepare for these exams.
Rule#2: Consistency redefined
Consistency and perseverance are also important. Consistency does not only refer to studying for a set number of hours every day. It also entails being determined to take all mock tests one after the other, analyzing each one and then aiming to improve scores in the others. You should also experiment with your test-taking strategy in each mock. Consistency encompasses mental stability, regularity in studies, uniformity in understanding, unity of action, and the dependability of your plan.
Rule#3: Know thy 50%
It is critical that you understand the exam for which you are preparing. Understanding means knowing what is required to crack a section. For example, the CAT - Quant has 34 questions, but attempting 12-15 with 95+% accuracy can easily get you to the 95%ile. Play the 50% card to reduce your negative score while increasing your percentile. All we need is the ability to recognize our areas of strength and know where we fall short. MBA entrance exams are designed to assess your ability to maximize your skills.
Rule#4: Cross-functionality of Sections
You do not need to study for each section separately. None of the three sections are mutually exclusive, that is, they are independent of one another. When you study specific topics or concepts in one section, they may help you understand other sections as well. When you practice the fundamental concepts of percentages, ratios, number systems, and averages in Quant, you will be able to speed up your calculations in DI/LR. Similarly, understanding reasoning concepts can help you in VARC critical reasoning sections.
Rule#5: Newspaper reading is BASIC
Many aspirants struggle with verbal ability and wonder if there is any specific material to study to prepare for it. For those people, we would recommend, but not be limited to, reading newspapers every day. MBA students should be well-read in order to have a better chance at a management career. As a result, they must broaden their reading horizons and scope. Once every two weeks, read an international magazine, read top 30 novels written by internationally acclaimed authors, and read works from various genres - history, fiction, management, and so on. Begin with the ones you're familiar with and work your way up the ladder slowly and steadily. Discuss what you read with your friends and family to ensure you understand the main point of your passage.
Rule#6: For the Record
Another critical task is to keep track of your daily contributions to CAT Prep with the help of personal tutors for CAT preparation. You must keep a daily log book in which you must record the time you devote to each subject as well as your entire test assessments. This may appear to be tedious and time-consuming, but trust us when we say that it will help you analyze and grow. Believe us, very few people will even advise you to do so. However, we have seen the results and strongly advise you to keep a record of your preparation.
Rule#7: Learn about the World
Aside from these things, make sure you are informed about what is going on in your society, college, city, state, and country. You may not have your own ideologies, but you must have an opinion on everything going on around you. Whatever profession you choose, a well-informed and aware candidate will have an advantage over the competition. Don't put off learning about the world until it's convenient. The time has come! Aside from that, practice writing brief essays on everyday topics. Writing will help you think clearly and will aid you in your WATs after the aptitude tests are completed. Remember that an MBA aspirant is interested in everything under the sun. So, be inquisitive and read as much as you can.
Rule#8: Time rules
Everything revolves around time. Every time you pick up a new set of questions, set a timer and stop when the timer runs out. This will also assist you in identifying areas where you spend more time and areas where you spend less time. As a result, you will be able to better plan your efforts.
Finally, remember not to lose hope if you encounter difficulties during your preparation. Practice difficult concepts over and over; you may fail several times, but don't give up while you're at it.
Reader insights
Be the first to share your insights about this piece.
Add your insights