$700 This Month From Medium (Without Partner Program)
In this article, I will show you how I make $700 This month from Medium only.
Making money is not easy. When I started doing online work, such as completing captchas and surveys, I didn't receive any payments from these websites. So, I decided to quit and focus on my studies. However, I later stumbled upon some online content that inspired me and helped me understand how money works and the numerous ways one can make genuine money. This is why I now write about genuine methods and techniques for making money. Having spent around 5 years in the digital industry, I feel I have the necessary experience to share valuable insights on this topic.
If you know me, then you know that I write content that can help people make money in a proper way. Many gurus give ideas about making money without teaching how to make money in a proper way.
My first income came from freelance work that I did. I learned video editing in 6–7 days and then registered my gig on Fiverr. One week later, I got my first client and that was my first dollar earned from online income. After that, I continued to learn multiple skills, one of which was blogging. Through blogging, I discovered Medium.com
So, I started writing valuable content on Medium. However, I quit after writing 3 articles because I didn't get any views. But then, one of my articles received 2k views in just a few days, so I decided to write more on this website.
After some time, I realized that I couldn't apply for the Medium Partner Program due to my country of origin. However, I continued to write and started suggesting tools in my articles. People found these tools helpful because they were genuinely great, so I joined their affiliate program and started uploading affiliate links on my Medium articles.
I suggest Jasper.ai, Pictory.ai, Systeme.io, and VidIQ as tools that I recommend for people in my niche. I have a lot of knowledge about making money and online business because of my expertise in the internet, which is why I started writing about side hustles and affiliate marketing.
If you think about Jasper.ai, it is a writing tool. You may wonder why we should use Jasper.ai when we have ChatGPT. However, as a writer, blogger, or entrepreneur, you need plagiarism-free content that can rank high in search engines. Jasper.ai is integrated with SEO and has not only writing capabilities but also an AI chat, AI image generator, and many more features that you can use to produce copyright-free content. This is why I love Jasper.ai and promote it
Get 10,000 Free words on Japsper
Now my jasper Earning is $281 in the screenshot you can see I have 4 customer that gives me $281 recurring.
Jasper.ai affiliate earnings
After jasper I promote Pictory.ai because this AI tool is really incredible and it is really helpful for affiliate marketers, bloggers and youtube automation channels because Pictory creates a video if you paste a script or any article on Pictory.
So, I suggest affiliate marketers to use Pictory to make content on youtube because making content is not easy when it comes to video format but now it's easy using Pictory.
My Earning on Pictory.ai is $320 and this is recurring.

this makes me more motivated and I started working more on affiliate marketing.
My third recommended tool is Systeme.io, which is a platform that is completely free of cost. I love it because I know that to build an online business, I need an online automation system, and for automation, I need software like funnels and email software. If you check the prices of marketing funnel software, you might get shocked because of their high cost. Therefore, I recommend that beginners should not pay that much amount. Systeme.io is suitable for beginners to experts, and it includes features such as an email system, funnels, newsletters, and website builder for free. They also have a paid plan for people who want to build their business further
My readers are mostly beginners who want to start affiliate marketing or any online side hustle. If you know the proper way to do it, you can make a business. I recommend Systeme.io, which has a grow and update plan, so I get paid.
I earned $102 from Systeme.io last month, which was my second last month's earning, but I have not received payment yet. Systeme.io has an affiliate policy, which means I will receive this amount after a month. You can see the screenshot below.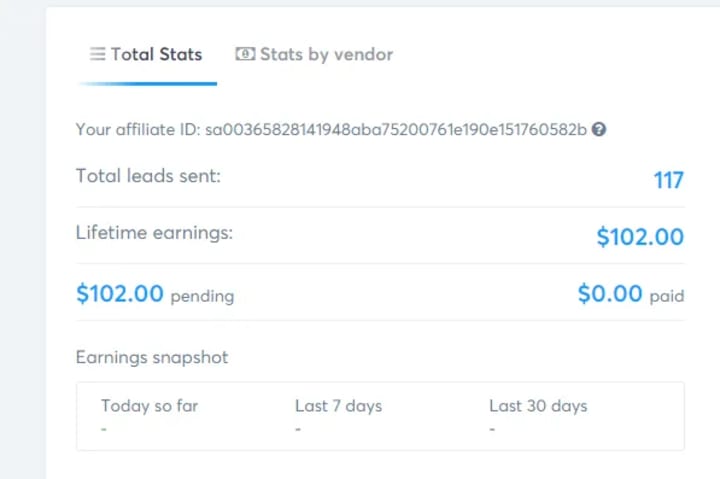 My last earning is so small but I am not going to ignore this because I earn it so, It was $3.67 from Vidiq and this is screenshot of this.
screenshot by author
Vidiq is for YouTubers who want to grow and do SEO of youtube videos it can recommend a tool for every YouTuber because it was the best tool I get when I don't have any Idea about what to upload then it gives me ideas about youtube what is on trending so this youtube extension is must have for YouTubers.
Download this extension using my affiliate link. VIDIQ
These are all the tools that I promote on Medium and other platforms. I have created a list of all the affiliate products that I promote, and most of them offer recurring commissions. You can access the list by clicking the link in my bio.
If you are interested in starting affiliate marketing, you can read my other articles where I share genuine methods that I have tried. And if you are not interested in affiliate marketing, I also write about other side hustles that you can pursue.
One thing to keep in mind is that reading or consuming content alone will not help you make money. Many people just blame each other on social media without actually doing anything. If you are not using social media to make money, then you are missing out on opportunities.
Running an online business requires consistency and continuous improvement. If you are not consistent and not willing to improve, you will end up jumping from one thing to another without making any progress.
Reader insights
Be the first to share your insights about this piece.
Add your insights