3 Questions to Ask Yourself Before Going to University
For Future Students from a Student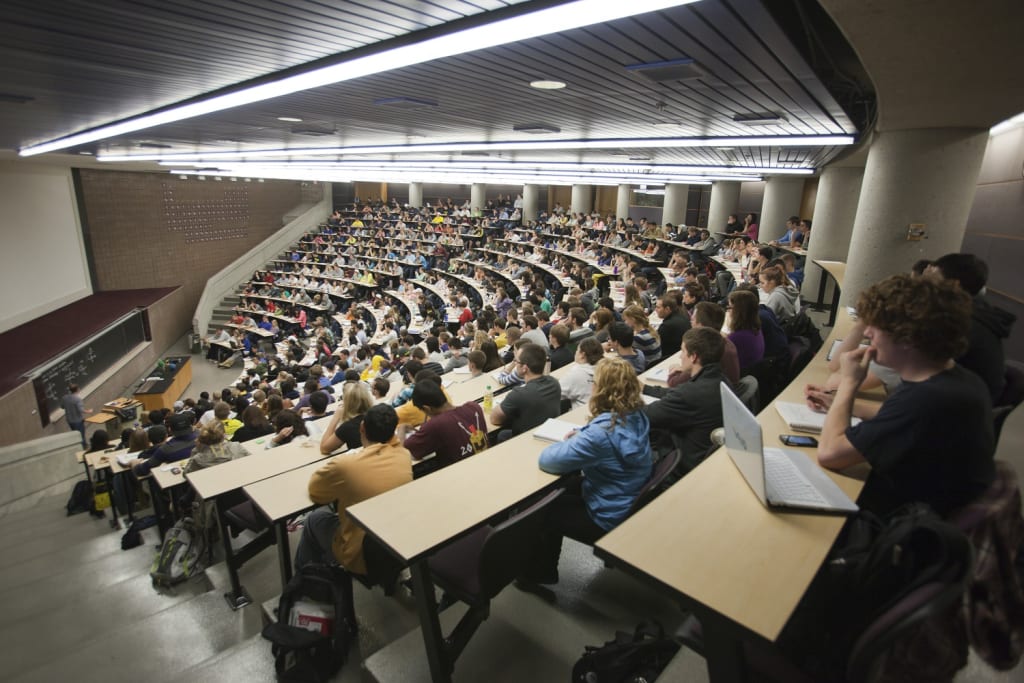 Courtesy of USNEWS 
University is a place that many students hope to end up in after their high school career. But is that because of self motivation or societal conditioning? These questions will hopefully point you in the direction of answering that.
1) Who is telling you to go?
The obvious answer likely is your parents, but you have to remember that they want what they think is best for you. Major key here: you can't let other people define who you are going to be. The best quote that I've heard on this is from a man named Gary Vaynerchuk and he said something to the effect of "I'd rather die on my own sword with no regret then on someone else's full of regret." Is going to university a choice that you are going to regret for the rest of your life? Likely not... but is being agreeable and going to university because mom or dad told you so then getting the "safe" job because mom or dad think that is a good plan really what you want? It could very well be and all power to you, but you have to understand what you want in life. If you are constantly going on in your head about what you want to be doing and you feel like maybe you can't do that in university then you have to have a conversation with yourself and with your parents or loved ones about your thoughts. Then if you choose not to it's game time.
2) What do you like?
The question of what you want to be when you grow up is thrown around so much when you're under 20 because your life, in the eyes of many, hasn't started yet. The reason I find asking kids what they want to do when they grow up so ludicrous is because most kids have done nothing. So when you're asked to pick your favorite out of a bunch of things you don't know you're basically doing a blind taste test but it costs $20,000 per year (as a native in Canada going to a Canadian University) and that's the only taste you're allowed to have on your tongue for the rest of your life. How is that fair? Sure the average person has 10 jobs before 40 but that doesn't mean that its what they were meant to do. I just think trying and doing bad jobs or good jobs will help clarify what you want to do because the thing that you daydream about doing while you wash the dishes or stock the shelves is the thing that will make you happy in the long run.
3) Is it necessary for your dream?
If your dream is to be a doctor, this advice isn't for you. If your dream is to own a business and work for yourself then this is for you. If you want to run a business, you have to ask yourself is the time and monetary investment worth it? Or can I start this right now and learn as I go? Or can I do the school thing and hustle on the side? (what I'm doing). You need to know what avenue you personally are made for because not everyone is all work or all school or a mix of both. So if you feel that you're not sharp enough yet and you need to go to school before you start this then you need the all school. If you feel like you've just got to do it then go all in and do it. If you think that you need to be sharper but have a dying urge to hustle and make something even before you're done school then first DM me on Instagram @calder_amoswood and then just find the balance for both.
Conclusion
In the end it's about how you work and what you feel your path is. I know it sounds like in these articles that I'm bashing universities, but that's not what I want to do. What I want to do is to make the switch of "I need to go to university to be successful" to flip and I want people to critically think about what is the best return on their investment of time and money.
If you know someone that needs to see this then share it with them.
My insta is @calder_amoswood and I'm also working on a YouTube channel called Boys at Large. It's like a podcast gaming type of thing. I hope you like it.
I release articles every 2-4 days depending on the review process so follow me if you liked this.
About the Creator
I wanted to be like Indiana Jones until I realized that there were probably mosquitos where he did his adventures.
I like basketball, rap music, esports and books.
Twitter: @amos_calder
Reader insights
Be the first to share your insights about this piece.
Add your insights