Merry Stress-mas!
Visualizing my holiday eco-anxiety as a way to cope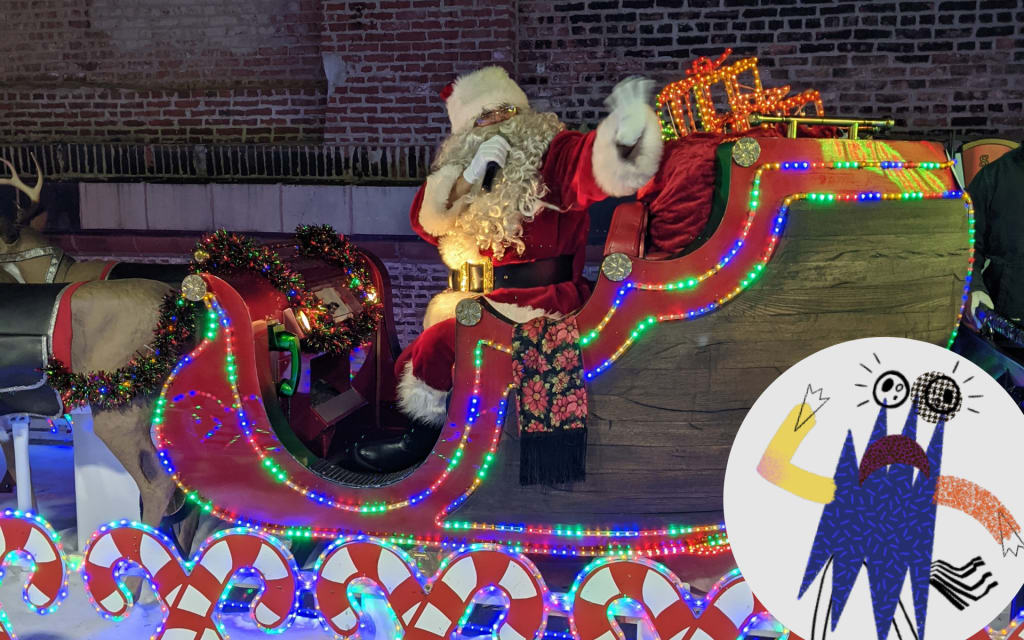 Santa Claus waves from his sleigh as my Stress Monster "Frantic Freddie" spirals
I love the joy of the holidays. Twinkly lights. Cocoa delights. Snowy nights. Growing up I cherished every Christmas tradition, no questions asked. Picking out a tree that we'd trim to a holly, jolly soundtrack. Plugging in each string of lights and playing the game Which Bulb Is the Dud? Sneaking downstairs in awe at the vast number of colorfully wrapped presents under the tree and trying to guess which of us four kids would get the biggest one. Salivating over myriad crockpots lined up at my grandparents' house stewing for our Christmas feast.
As an adult, I grew more aware of the capitalistic drive that kept these traditions alive. Not until I had my own kid did I start to deeply re-evaluate this season of giving. For the last five years, my own misgivings have grown immensely as the social and environmental consequences have become more front-and-center. With each revelation about the negative impacts of Christmas, a new node of anxiety would cannibalize a section of neural network in my mind that allows me to feel joy.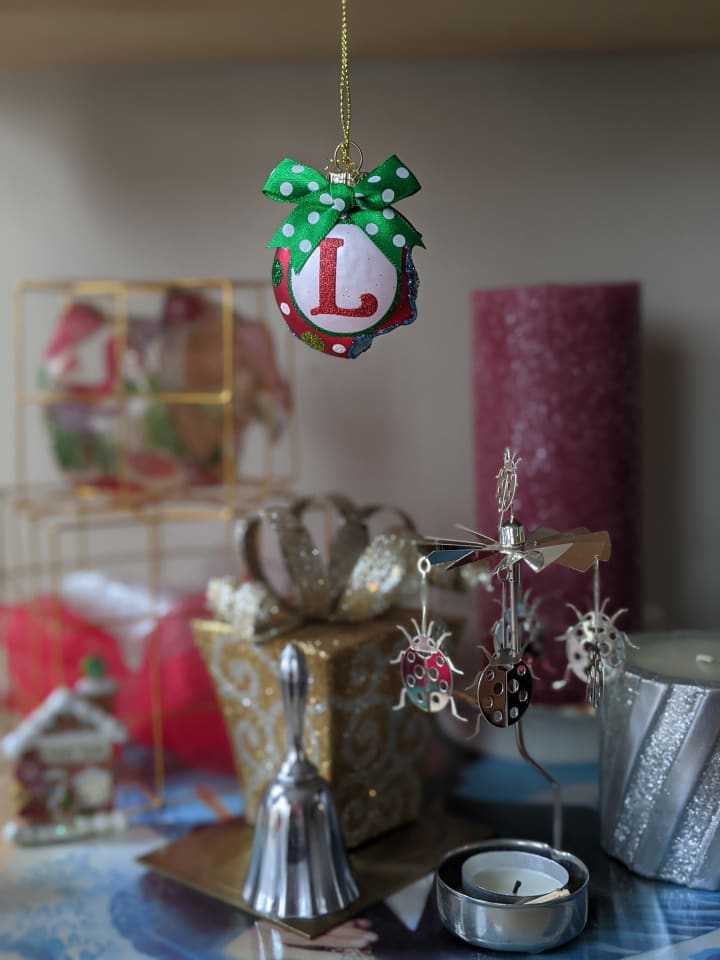 After too many years of all-consuming winter-time bummery, I needed to find a way to restore the delight and tamp down the mental blight. First, I followed Brene Brown's advice on shame. She says, "The first element of shame resilience is recognizing shame and understanding our triggers… We can make mindful, thoughtful decisions about how we're going to respond to shame." I figured why not take this one step further and identify each of my anxieties by a silly face and clever name. This way, I can visualize them as I call them out of the shadows and address them head on.
So, allow me to introduce you to a few of my Stress Monsters: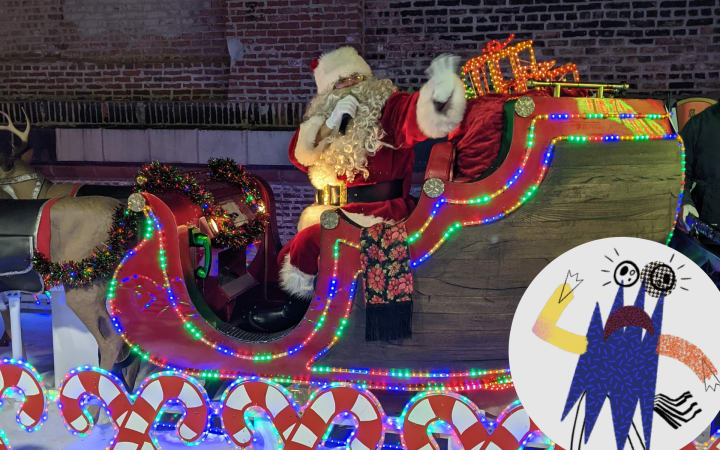 Frantic Freddie pops up constantly. (He's actually there all year round.) Just the sight of a delivery truck sends him into a spiraling tizzy. "So much trash! Oh the plastic! Millions of dead evergreens! Shipping useless stuff from China! Is this Santa Claus being compensated fairly?!"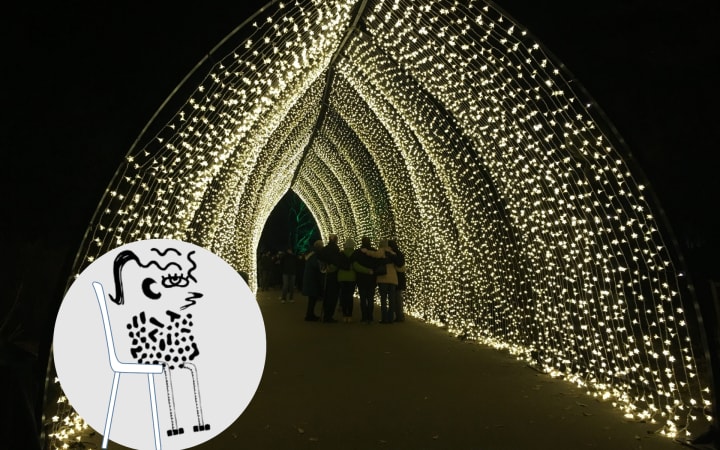 Fatiguella quietly slinks into a chair. She is easily overwhelmed by conflicted feelings. "I would exchange sustainable gifts, but what is 'sustainable' anyway? Buying local is better, but does anyone need more stuff? Is a gift from the thrift store acceptable? Why do I care about what other people think? Are these lights powered by renewable energy? I need a nap. Wake me up in January."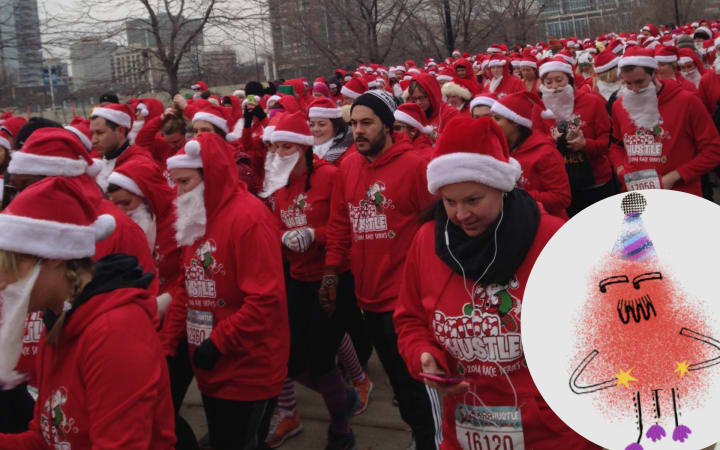 Party Pooper Polsky is the master of spirit-stealing, *wah wah* moments, shutting down any lively conversation. Their intention is to inform and educate, but honestly it comes off as Grinch-y. How does one continue to enjoy a hot toddy after learning your festive Christmas sweater is one of the worst culprits of fast fashion?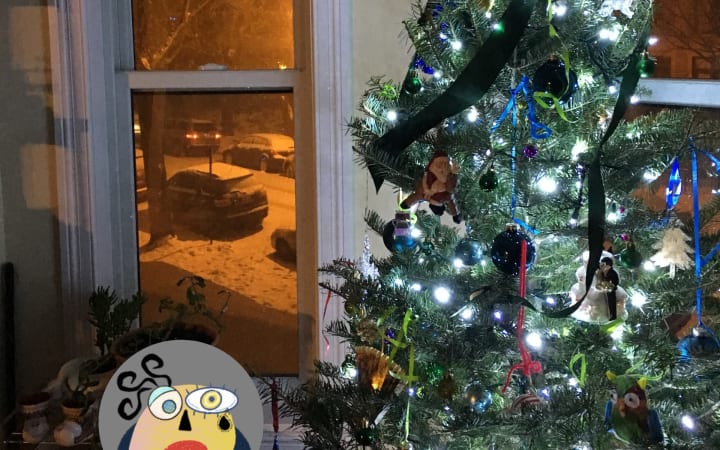 Then there's Dezzy Despair sitting lugubriously in a dark corner. A heavy presence, yet not saying a word…
Now that my Stress Monsters have been ID'd, how do I shoo these exhausting house guests from my mind?
As the next step, to avoid getting sucked into the despondent chatter, the social psychologist in me decided to find real life voices to drown out the mental ones. I started to ask my neighbors, friends and family a battery of questions about their own holiday habits. Which ones were the most uplifting and which were the most dispiriting? I started to see patterns, similar to my own, that inhibited people from shifting away from flawed traditions. Folks were not oblivious to the harm of many of our customs, yet they didn't want to miss out on any of the joy. It gave me hope to hear that people have a desire to change and that's the first step.
Talking about it with others and finding people who care as much as I do has helped quiet the eternal internal voices. And writing about it contributes to my ability to cope which allows me to relish the best parts of Winter Wonderland (so thank YOU for reading).
Also, creativity has a special way of filling a fretful mind. When I put my dumpster diving / upcycling skills to good use, the anxiety soirée simply becomes background noise. I've crafted an "alternative" tree out of used wreath wires, reclaimed drawer pulls and salvaged beads. This year, I pulled a box of only slightly defective gold ornament bulbs from a pile of trash. I turn Who Gives a Crap TP wrappings into gift wrappings. And now my whole family and my in-laws have committed to a "buy nothing new" gift tradition. We're making each other things, shopping at second hand stores, even re-gifting (because why not)!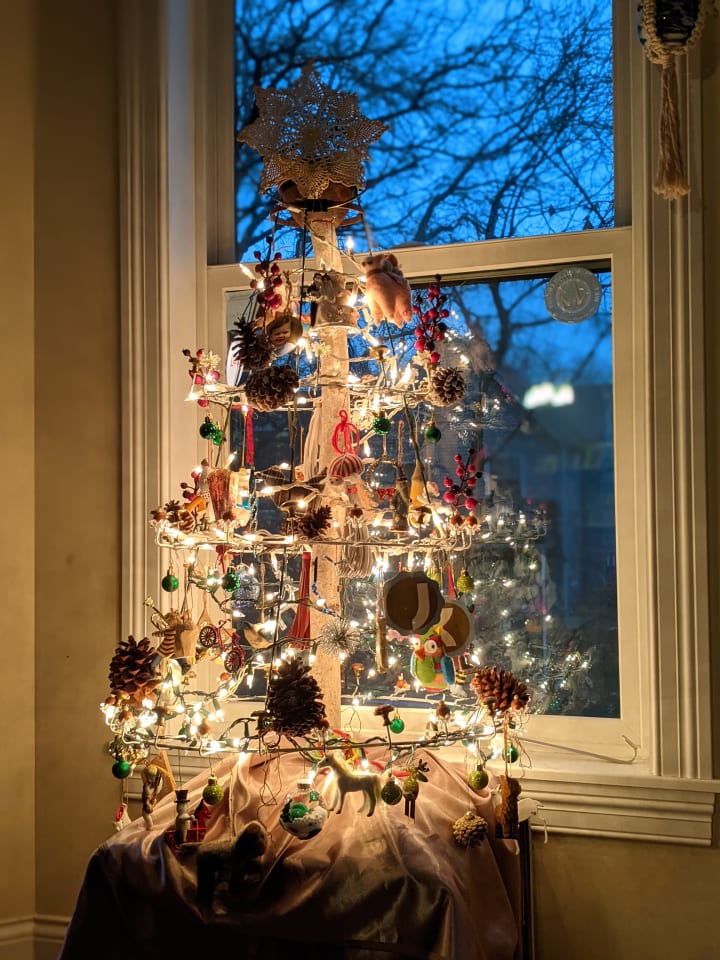 The most rewarding step for me is helping others make the shift to a simply joyful holi-YAY, which compelled me to create a video series. A guide of fun, creative exercises, mimicking the steps I took to get here - like identifying and visualizing your own Stress Monsters. If you want to embark on this journey with me, jump right in here!
Sustainability
About the author
All through my gloriously zig-zaggy career, three things shine through: creativity, community and a fascination for human behavior. I founded Nowhere Collective, a network of creative makers + tinkerers with a love for people + planet.
Reader insights
Be the first to share your insights about this piece.
Add your insights