A freak lightning strike
A freak lightning strike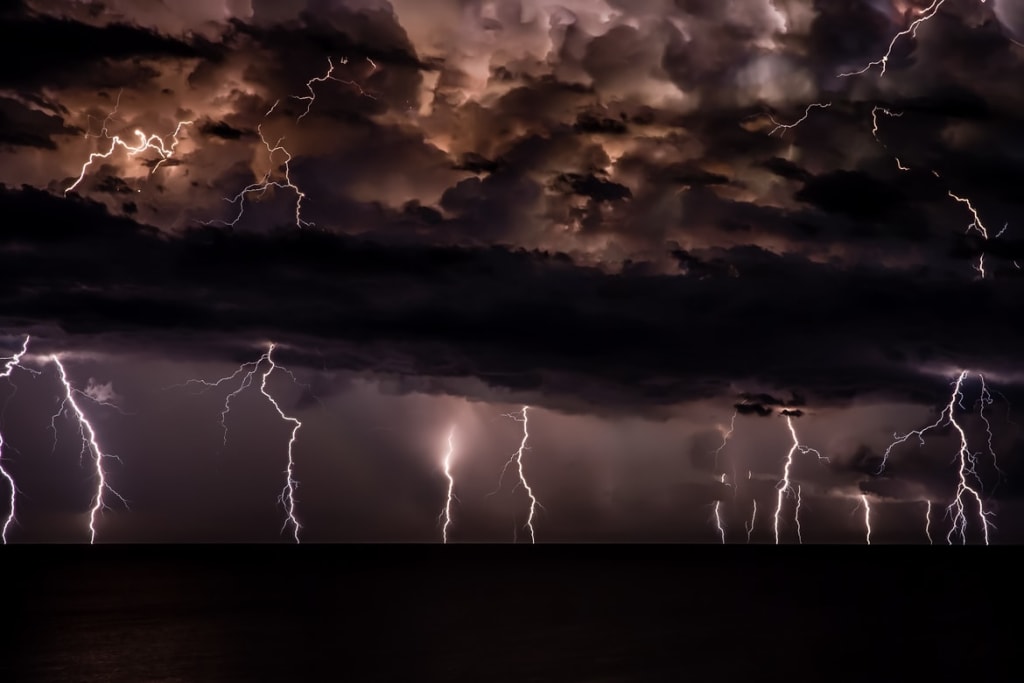 1. The away team was killed by lightning during the match
In the Democratic Republic of Congo, during a football match between Bena Tshadi and Basanga, 11 away footballers were killed by lightning. In addition, 30 others suffered burns during the match. The two teams drew 1-1 when lightning struck the visitors, leaving the home players unscathed.
2. Struck by lightning seven times and killed himself
The average person, if they live to be 80 years old, has a probability of being struck by lightning of about 1\3000. However, between 1942 and 1977, Roy Sullivan, an American park ranger, managed to survive being struck by lightning in seven different places.
Roy Sullivan is listed in the Guinness Book of World Records as the person who has been struck by lightning the most times in recorded human history. He earned two nicknames: "Lightning Rod" and "Human Lightning Conductor." He shot himself at the age of 71 over a failed crush.
3, lovers playing field was struck by lightning
Lightning ends the lives of a couple in an instant. Jens, 36, and his girlfriend Gottlieb, 28, parked their car on a busy motorway in the West German state of Westphalia. After kissing and hugging, they got out of the car and plunged into a nearby bush. They were so passionate that they didn't stop until lightning struck near them. The frightened pair ran naked out of the bush and were struck by lightning in the pouring rain.
4. A 13-year-old child was struck by lightning at 13:13 on Friday the 13th
In August 2010, a British teenager can attest that Friday and the 13th are the most unlucky days, and it happens to be 13:13. The child was among 170, 000 people watching an air show in eastern England. Suddenly, he was struck by lightning. "It's a bit strange... It happens at 13:13 on Friday the 13th." Medical staff. Fortunately, he suffered only minor burns and expects to make a full recovery.
5. A motorcyclist was struck by lightning in the lower part of his body
Djindjic, 29, from Zagreb, Croatia, was using a roadside toilet when lightning struck his penis and he lost consciousness. Djindjic said: "I don't remember what happened. One minute I was peeing and the next thing I knew I was in a hospital. The doctor said, "The lightning passed through my body, and because I was wearing rubber boots, the electricity was grounded through my urine."
Djindjic escaped the accident with only minor burns on his chest and arms. He said: 'Thankfully, the doctors say there will be no lasting effects and my "little brother" will return to normal in the future.
6.Ipod transfers 300,000 volts, little girl survives lightning
A teenage girl survived a terrifying lightning strike. Her iPod saved her. Schoolgirl Sophie and her boyfriend, both 14, had taken shelter under a tree near their home when the accident happened. Doctors BELIEVE Sophia ESCAPED 300, 000 VOLTS ONLY BECAUSE the CURRENT RAN DOWN THE wire AND AWAY FROM her vital ORGANS. She was taken to hospital with burns to her chest and legs. Her boyfriend suffered an eye injury. Sophie should be grateful. The iPod was a gift from her grandmother four days ago.
7. A woman was struck by lightning
An 11-year-old WESTERN Pennsylvania girl is recovering after a lightning strike. According to Lisa Wehrle, the sun shone brightly when her daughter Britney was struck by lightning, apparently from an unexpected storm a few miles away.
Britney was walking with a friend when the lightning struck at about 2:30 p.m. The lightning struck her left shoulder, leaving a burn mark, and exited from her wrist, leaving another mark. She is being treated at a Pittsburgh hospital. The doctor found that her arm was broken, but otherwise she was fine.
8. Severely burned chrysanthemums
A Croatian woman was badly burned in the ass when lightning struck her mouth and entered her body through her ass. Natasha was reportedly brushing her teeth when lightning struck her home - her mouth was plugged into a tap to send electricity through her body. She was wearing shoes at the time and the lightning bolt couldn't get through her feet, so it found another way out, out of her rectum, and through her damp grounded shower curtain.
9. Lightning strikes oxygen tank, diver dies
A 36-year-old diver died off a Florida beach after lightning struck his oxygen tank. He and three other divers went down to the beach near Deerfield. He was 30 feet from the boat when lightning struck his oxygen tank as he surfaced.
Three other divers fought their way back to the boat and radioed for help. The man was washed up on the beach and rescue crews were standing by. He was given CPR and taken to a nearby hospital, where he was pronounced dead.
10. Lightning strikes twice while the little girl is in the shower
A 12-year-old girl in Gothenburg was struck twice by lightning while taking a bath. After dinner, 12-year-old Alice was showering in the basement when her parents heard her scream. Alice was struck in the arm by lightning, but her parents did not immediately understand what had happened. When she called a second time, Cecilia, the child's mother, immediately came down to wash her hair.