You don't find Love, it finds you! And then?
I found the one for me, only to lose her to the Coronavirus.
That fateful morning, we were on the phone. And while she was relentlessly gasping for every atom of oxygen, she wished she had my hands to hold on to, all I could do was sob at my helplessness only to hear about her demise a few minutes later. 'Our story', lasted for all but twenty days, and then, she stopped breathing. God, I miss her mesmerizing and cheerful voice and the radiant smile on her pale cheeks. I wish I could feel her and kiss her. But Alas! Fate didn't want it. Perhaps it wanted her more than I did...
I live in India. It's one of the best places to be born in with all the diversity and callous yet careful attitude to life. It has been in news a lot lately, not for the best reasons though! After the country was able to successfully see off the initial wave of Covid-19. things had started going back to normal. Experts were putting forth so many ideas about how and why India managed to keep the potential cataclysm at bay. Of them all, the one I found the most interesting was that Indians (and South Asians in general) apparently had some inherent immunity because they grew in environments that were already contaminated. Our self-obsessed Prime Minister didn't hesitate in bragging in front of a grieving assembly of world leaders during the UNGA in September 2020. But all of a sudden in the month of April 2021 things started taking an ugly turn. the graph of cases started climbing scarily, the ill-preparedness was exposed, the health infrastructure collapsed, and people started losing their loved ones forever. While the spread of the second wave has still not abated, the infamous virus has already claimed more than 325,000 lives. My love Raabi was one among them.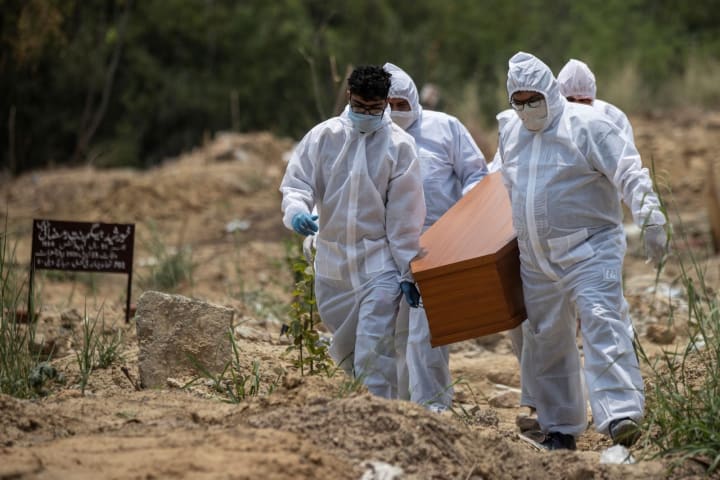 We had met on an app that would let strangers connect to each other randomly over audio calls. I got to connect with Raabi on the night of April 26. She didn't sound alright. She told me that was having this headache and tiredness. After talking for about an hour or so, we had this intuition that this could be a real thing. She came from a city called Hyderabad (famous for its biryani) which was hundreds of kilometers away from my place. Meeting up was not going to happen so long as the lockdown was in place. So we started dating online and things were looking quite rosy.
Days kept passing by but her headache and tiredness did not. After about a week she finally got herself tested and damn it! She was positive. Her family was in utter disbelief and so was I. She has to be hospitalized on May 3. Her pulse rate had dropped significantly and she had also developed breathing complications. She was on a ventilator the very next day. To add to her misery, her family could afford the exorbitant fees at the hospital and she was shifted into home isolation after a couple of days.
I received a call from her on the 7th of May. She was sounding horrible. The pain and the helplessness I was feeling at that moment are ineffable. Even while struggling for her own life what she requested from me that if something were to happen to her I should distribute food and help among the needy. Hearing this I couldn't hold back the lump in my throat and started wailing. She too broke down immediately and in that moment of emotional union, we confessed our love for each other. She promised me that she would fight the disease. She promised that she would do her best and come back for me.
Unfortunately, her pulse rate won't stop deteriorating. It often lingered around 50(while it should be around 80). Meanwhile, to make matters worse, her grandfather also had to be hospitalized due to the same infection. He was old and the coronavirus, as we know, feeds best on older people. On May 10, he died and Raabi went into a mental trauma. She was holding herself responsible for his death while in fact, she was only a link in the chain of infection. She was becoming weaker day by day. After her condition became awful she was rushed to the hospital. Raabi was refused admission in 2 hospitals and was declared DOA (Dead On Arrival) on reaching the third. She had suffered a heart attack. IT ALL ENDED JUST LIKE THAT.
Moral of the story: Cherish every moment while your loved ones are still with you 'cuz sans them this world is gonna be just some planet filled with really mean creatures.
Dating
About the author
Hi, dear readers. Thanks for reading!
I write on Digital Marketing. Lifestyles. Career. Finance. Tech
Let's Talk- linkedin.com/in/aneesthesis | [email protected] | www.facebook.com/aneesthesis
Reader insights
Be the first to share your insights about this piece.
Add your insights