We Reduced Our Living Space from a 1,800 Square Foot House to a 43' RV and Now...
...We are going SMALLER!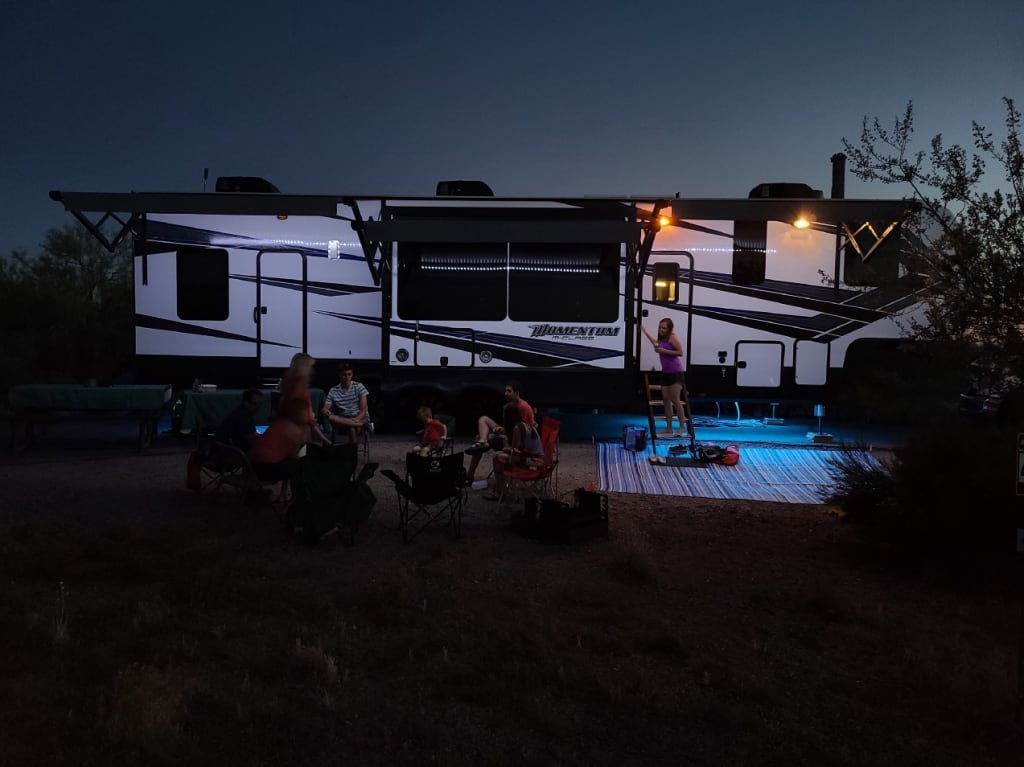 Photo by Matthew Osborn on Unsplash
Almost a year ago, my husband and I decided to massively downsize. In fact, we sold 80%+ of our belongings strategically placed in our 1,800 square foot home and chose to live in a 43' RV.
We have learned a lot over the past year. In fact, I cannot wait to write the post on our 1st RV Anniversary to share what I have learned with you!
Now that we are nearly celebrating our "first year of freedom," we reflect on what we have learned so far. One of the most revealing facts: We want to go smaller.
Yup! You read that correctly, folks! S-M-A-L-L-E-R
As much as I love our RV — affectionately named "Big Perm" — we want to go reduce our size even more.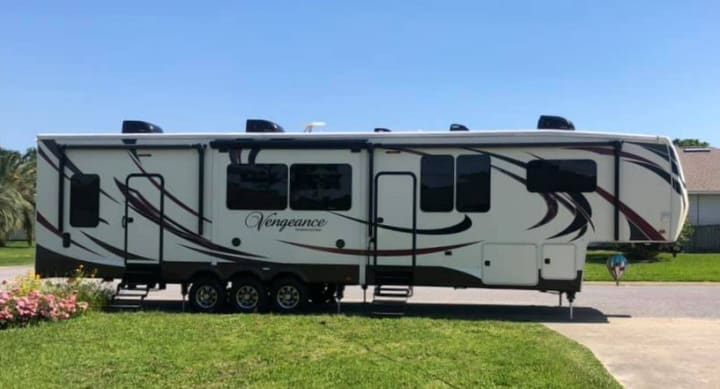 For the past few months, we've been shopping around, and I think we found our next RV, which I have already named "Large Marge."
In no way will Large Marge be as hefty as Big Perm, but I think this will be a far more ideal situation for us inside a 29.5' RV.
Why? Well, for three particular reasons:
Smaller Often Means "Cheaper"
Minimalism has Maximized Our Quality of Life
Living Smaller Provides More Peace-of-Mind
Smaller Often Means "Cheaper"
Big Perm is a bit of an energy hog and is definitely larger than an average RV. As a result, our energy bills are a bit insane. Not to mention the cost for us to move her around can get pricey, especially since the fuel cost is increasing.
In the end, we learned a vital lesson, the bigger the RV, the bigger the truck needed to pull her…which means more cost(s).
We could easily stay in Big Perm. However, I don't want to for the sheer fact that I could be better off. After all, one of the primary motivators of living this lifestyle is to save hard while we are young.
Therefore, going smaller means "better" for us.
Minimalism has Maximized Our Quality of Life
If you follow me, you know that I have depression and anxiety. However, living this lifestyle has done wonders for me. In fact, I'd say my quality of life and mental/emotional/physical health has skyrocketed.
In the beginning, it was difficult to part with some of our items. However, I gained a lot as a result. Living this lifestyle helped me (quickly) save enough money to pay for a 10-day trip to Italy. I am also saving enough money to reach my goal of retiring early. Lastly, I'm not spending all of my energy every weekend to mow the grass, clean a massive house, or do chores. Instead, I finally have time to do what I love: Write.
When we lived in our house, I could tell that I was filling it up with "stuff" to fill a void I felt (happiness). With Big Perm, she lifted a huge weight off of my shoulders. By reducing our footprint even smaller, I expect Large Marge will do the same.
Living Smaller Provides More Peace-of-Mind
I'm going to be upfront with you: My husband is not in the greatest of health, and I live grateful for each day knowing that he could leave this world unexpectedly. As a result, we have to plan for the worst-case scenario. As gloomy as it sounds, we have to face this fact.
We love the RV lifestyle. However, we have learned that she's too much RV for a single person to handle. On the other hand, Large Marge is the perfect middle-ground. If I lose the hubs, I can continue to live independently, or he can if I depart this world before him.
We also live on the Gulf Coast, and we have had to evacuate more than once. Thank goodness we had Big Perm. However, moving her can be an extensive evolution for two people. With Large Marge, moving her will be far easier (and for one person if needed) in case of another evacuation.
I cannot say that this lifestyle is for everyone, but it is ideal for me and the hubs. In fact, I wish that we had made this decision many years ago.
I'm looking forward to bidding farewell to Big Perm and taking you with me on the next part of my RV adventure with Large Marge.
Stay tuned!
If you like this story, consider giving these articles a read! 👇
Hearts ❤️ and tips ️💸 are always welcome and much appreciated as they help support my writing! 🙏
This article was originally published on Medium and CrystalsWritingRoom.
Taboo
About the author
Blogger | Creative Writer | Traveler | Full-Time RVer
You can find all of my articles on my blog as well on Medium where I'm most active in Humor, Lifestyle, and Travel. I've self-published one fantasy fiction with the sequel in the works.
Reader insights
Be the first to share your insights about this piece.
Add your insights