The night the Cubs won the World Series & a traveling Helicopter Pilot earned his wings
Breaking Heels, Hearts & Headboards - Chapter one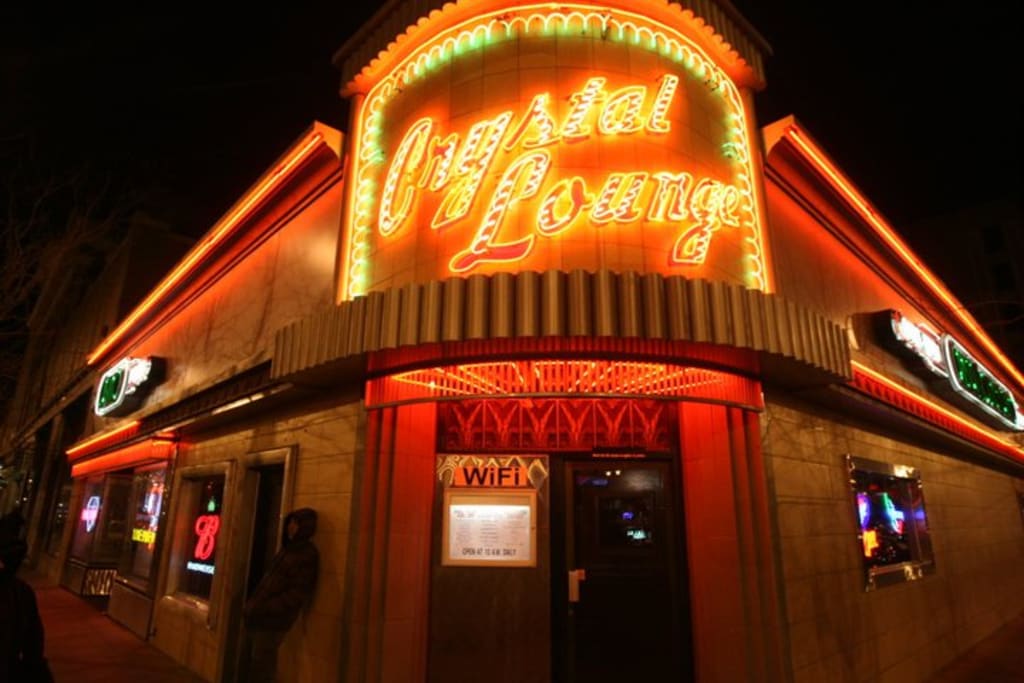 A Picture from The Crystal Bar's Facebook page (Downtown Billings, MT)
I was sitting at my kitchen table when a notification popped up on my phone. It was from a dating/hook-up site I had downloaded a week or so prior. The app lets you specify if you were looking for something in the form of a relationship or just a night of carefree whatever. I had selected something in the form of a relationship. The thought of a one night stand with some random stranger that was pre-planned vs. determined by the number of drinks I had, felt odd and very unlady like.
The message request came from a gentleman that was currently in Wyoming for business. Being an EMT Helicopter Pilot/Fireman was impressive enough as it was. His business meetings had ended early and he wanted to know if he could take me to dinner. I must admit I was a little thrown back that this traveling business man would be willing to drive several hours just to take me out to eat. I was flattered but also very nervous. He must have sensed my reservations as he quickly called me. His voice was very pleasant and calm. He also was very persuasive that he was not a murder. He promised he had no intentions of kidnapping me or keeping me a prisoner chained to the walls in some musty, dark basement.
Well, that's reassuring!
Pretty sure if he really was a murder, he was not going to give me advanced notice. Either way, I gave in to him and agreed to meet him at his hotel he was booking for the night in downtown Billings.
I was so incredibly nervous. He was just stepping out of the elevator as I was entering the large glass doors at the front entrance. He was the true definition of tall, dark and handsome. His appearance was easy on the eyes. Nicely dressed but not overkill. I felt perfectly matched to his style in my skinny jeans, black knee high leather boots and seductive black sweater. As he began walking towards me I instantly felt more comfortable and was glad I had agreed to meet with him. Standing next to him I could feel his warm presence. He also smelled amazing!!!
A personal weakness of mine.
The next task was finding a bar within walking distance from the hotel where we could hold a conversation and a polish off a few drinks. At least enough to calm the nerves. He actually seemed more nervous than I was. We walked across the streets downtown until we arrived at the Crystal Bar. Seemed like an appropriate place to make a lasting impression and it was the only close place with sitting room at a table.
What I was not prepared for was the overcrowded bar. I had no idea it was the last game of the World Series. Baseball was not one of those sports I could ever follow very long. However, I am always a big fan of cheering for an underdog. Finding out the Cubs had not won a world series in 108 years made them an easy choice to root for.
As we watched the TV and did our best to hold a conversation over all of the crowd noise, I felt his hand touching my knee and begin to move up my thigh. His hand was firm and yet gentle. I did not feel like he was crossing any lines. In fact, I liked his hand on my leg. I reached down and pulled his hand closer inward. My bold reaction made him instantly smile. His hand felt cold between the warmth of my thighs. This caused my mind race with thoughts that were not planned for the night's agenda. Not to spoil anything for anyone but the Cubs did win the World Series that night and it turns out it was a pretty big deal.
The ending of the game had us heading back across the streets of downtown Billings to his hotel building. It was a beautiful night. We decided to head to the hotel bar to have a few more drinks now that the atmosphere was much more quiet. The change in the scenery also created a change in the mood. From our happy yelling for the Cub fans all over the world to sitting in silence observing his every move.
He was charming and brilliant. He talked of adventures in the form of security.
It took no time for him to sense the change in my body language and demeanor. He quietly and politely asked me if I would like to finish my drink upstairs. He presented it as an opportunity we could see the stars across the night sky from his window floors up. Without any hesitation, I reached for his hand to let him lead me towards the elevators.
As the elevator doors closed, he wrapped his arms around me and firmly pulled my body towards his. His lips fit perfectly on mine and I could not get enough of his tongue or his taste. The intensity of his body so close to mine had me questioning how many floors we had to pass before the doors would open and we could be wild and free within the privacy of his room. The doors finally opened and he tightly held my hand briskly walking towards his hotel door. He opened the door for me and as I turned around to thank him for being such a gentleman, He was once again pulling my body close and tight against his. If he pulled any tighter we would have been one. He began to kiss my neck as I unbuttoned his shirt. We could not get our clothes off fast enough. It was as if we had done this a million times before and our bodies knew exactly what to do. There was a sense of craving that ached inside my body. Something that could only be cured by him being inside of me. Moving at the same perfect pace. Over and over.
As he sat in an upright position on the bed, I without asking, climbed over the top of him and slowly lowered myself down until I had every inch of him. It was as if his lap was made for me. No awkward hesitations or wasted seconds scrambling to figure out one another's rhythm. The look on his face let me know that he was highly impressed with my piloting skills for being a first time flier. Our passion and desires played out effortlessly into several other positions and went on for hours. I didn't want to leave. My mind raced with thoughts of what an entire day would feel like with him and I wearing nothing but the sheets.
After leaving his hotel room, I went straight to work. Yes, wearing the same outfit from the night before. I was also late rushing through the front doors. I did not feel embarrassed or any emotion close to being a walk of shame. Every muscle on my body was smiling!
What can I say?
The Cubs winning the World Series for the first time in 108 years was history book material! Impressive enough to make me a fan for life!
Flying high above downtown Billings, in a moment of hot, intense ecstasy with a traveling Helicopter Pilot as he earned his wings…
GO CUBS!
About the Creator
My heart bleeds black and white for you to read like an open book... so don't be shy... take a look!
Reader insights
Be the first to share your insights about this piece.
Add your insights