The First Date That Lasts Forever
Why didn't anyone tell me this could happen?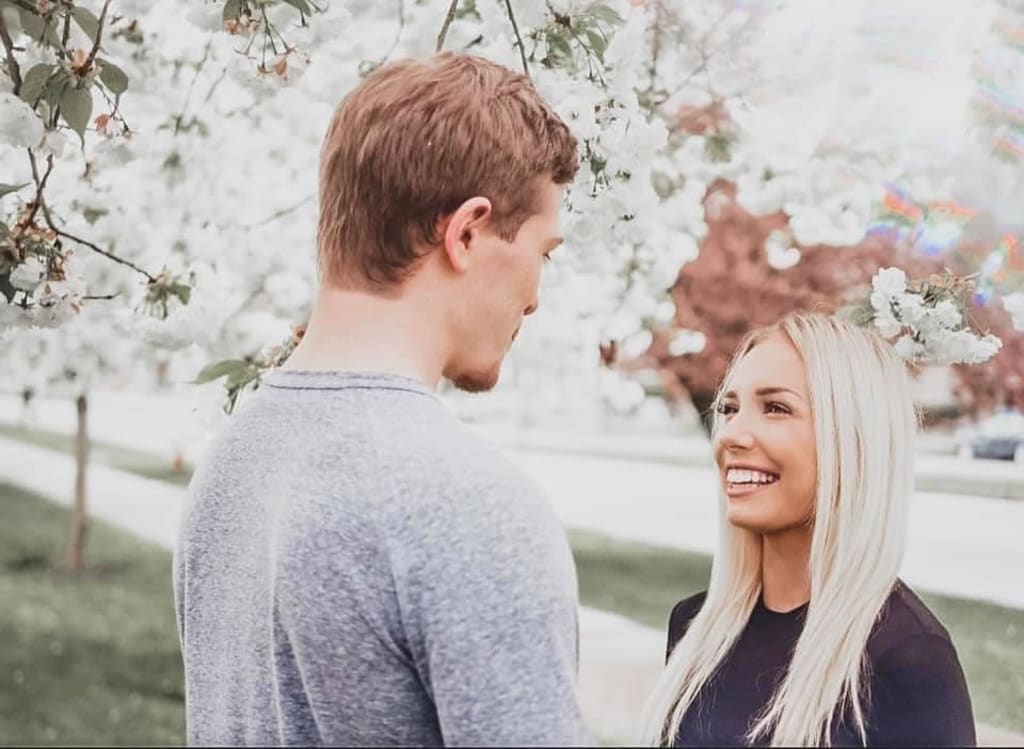 My single friend was telling me awhile back, about how she had gone on a date. She was waiting for him to text her, and she was all nervous and excited wondering how soon she'd hear from him.
For a moment, I found myself feeling jealous.
I missed that feeling.
That nervousness.
That "Is he going to text me back?"
All of those first date jitters.
It made me think back to one of the very first dates my husband and I had gone on years ago.
I thought back to that day, seeing it so clearly.
I remembered how nervous and anxious I felt.
I remember sitting down with him and not being able to fully look him in the eyes.
I remembered how every word I said had his full attention.
How I had his full attention.
I remembered how nothing was around to take from our full attention being on each other.
No kids.
No bills.
No stress of being an adult.
I thought back to when our biggest problem was homework.
Or who's parents would drive us to each others house that night.
I sat there thinking about this for awhile.
Who we used to be.
Who we currently are.
If the old us, those teenagers on that first date at the mall food court, were still here or if we'd changed completely.
The carefree, in love teenagers. Did we still exist?
I drove back home to my kids, who were not listening; to my kitchen, still a mess, and my husband asking "I thought you were going to be back twenty minutes ago?"
I rolled my eyes at him, and walked to our room and sat on the bed. The laundry folded around me, but still making everything feel messy because it wasn't put away yet. I sat there thinking "I miss those first dates, I miss that feeling of nervousness." as I got up and walked back out to the living room.
"Have we really lost who we used to be?" I thought to myself.
I slowly made my way to the kitchen to start cleaning up after our busy household.
After I cleaned up the living room a little and put our kids to bed, I looked around at the messy kitchen that had grown over the day. I grabbed some soap, and started scrubbing. I started to think of my friend, on her first date, and how happy she seemed.
I was jealous.
I was sad.
I started to think that my husband and I had really lost that spark we had years and years ago.
As the hot water hit the pan I was washing, I felt two arms wrap around my stomach, and pull me in.
My husband kissed my neck and said "After the place is clean, I'll go get some snacks, and we'll watch a movie." I cracked a smile and said "Okay". After I finished the dishes, my husband returned home with my favourite snacks.
I sat down on our couch and looked at what he had picked out for me to eat. I looked at him and said "Wow, you know me so well!"
I told him before we started a movie, that I wanted to shower, as I had been busy most of the day, and I didn't smell the greatest. I told him to pick a movie, and that I would be back in fifteen minutes. Without realizing it, I wanted to feel good, to take care of myself before we spent time together, like I had when we first met.
After my shower, I walked out, and saw that he had chosen Friends. I looked at him and said "You don't even watch Friends anymore, why is this on? I thought you wanted a movie?" He looked at me and said "This show makes you laugh, and I can tell you need to laugh tonight."
I sat down beside him, and started eating my favourite junk food that he had picked out. He wrapped his arm around me, as we watched the same show I've made him watch a million times.
As we sat there, with our kids snoring down the hall, and toys laying all over the hardwood floor, I realized I liked this feeling way better than what I'd felt years ago when we'd first fallen in love.
We have known each other for so long that we stopped feeling those butterflies, those first date feelings.
But I realized, that's okay.
Because those feelings get replaced with much stronger feelings.
The first date jitters are replaced with the security of knowing that you're with your best friend, forever.
The butterflies of going out for dinner are replaced with take out and messy kitchens, but also your best friend knowing you so well, that he can pick out all of your favourite snacks without asking. He can pick a movie, based on knowing what you need in that moment, instead of what he wants.
Those hours of intimacy, where it's just you two, are replaced with your kids knocking on the door, yelling to be let in.
Those feelings do go away, or they don't come up as often as the years go on, but sometimes all it takes is your husband knowing your favourite food, and picking out your favourite show for you to realize, that the love is still there.
The butterflies are still there.
I realized I may not feel those first date butterflies as much anymore, but I feel a type of love I have never known. I have something much richer, something no one told me about when they first told me about the butterflies.
And I like this.
About the Creator
Mother | Wife | Mental Health Advocate
Telling my "Reel" truth about marriage & motherhood on Instagram, Facebook, Tiktok & Vocal
Reader insights
Outstanding
Excellent work. Looking forward to reading more!
Top insights
Heartfelt and relatable

The story invoked strong personal emotions

Easy to read and follow

Well-structured & engaging content

Compelling and original writing

Creative use of language & vocab
Eye opening

Niche topic & fresh perspectives

On-point and relevant

Writing reflected the title & theme
Add your insights