Retirement Escapades
We may have to move
It's 3 AM, and I'm sitting in an emergency room with my husband, who is writhing in pain on the hospital bed. I hold his hand and think of the incident that caused such excitement on our quiet street at midnight and wonder how I will ever be able to hold my head up at our little post office in the future.
Hal had retired just three short weeks ago, looking forward to throwing away his alarm clock and enjoying time with the grandkids. After fifty-five years of hard work, he deserved this time for himself.
The first few days of his retirement were spent organizing my life. Now that he was home all day he could see my housekeeping shortcomings more clearly. The kitchen wasn't quite up to standards, so he rearranged things more to his liking, piling plates and glasses in cupboards way over my head, then moving my cooking equipment around so that I spent more time looking than cooking.
"Where's my?
"Where's my?
"Where's my"
You get the picture. Eventually, I gave up trying to figure out the new hiding places for my cooking utensils and simply handed the job of meal preparation to Hal. This was not a sacrifice. After forty years of cooking chicken, pork, beef, and fish I was hoping a new species of meat would be added to our local Wally-world coolers. In short, I hated cooking as much as Hal hated my method of kitchen organization.
Next came my questionable ability to keep up with the laundry. So, I handed that despicable chore over to him as well, seeing that he was much more adept at it than I had been.
Our maid was late again for the tenth year in a row. I complained to Hal about her and he said, "Tina. I don't know how to tell you this, but we don't have a maid. We've never had a maid. You have to stop waiting for her and start doing this stuff yourself."
I decided to hand those chores over to Hal instead so now I really do have a maid.
Not being satisfied with all these new and exciting activities, Hal decided he needed a new hobby. Me. I am now Hal's latest leisure pastime. One morning he left the house bright and early and gave me four blissful hours of alone time to work on my burgeoning writing career.
He arrived home with two large brown paper shopping bags and a carton of different-sized batteries. He proudly plopped the bags on the dining room table and pulled out each item one at a time, giving me a full description of each gadget and what it would do for me. There were pink contraptions, flesh-toned tools, clear devices, and four containers of fruit-flavored jellies that he promised would make this new hobby of his go more smoothly and make it much more enjoyable for me.
I have enjoyed my husband's companionship fully for almost forty years. Let's just say that when we got married I had my pick of men, and he was the best in every way. He really did not need all that equipment to make me happy. However, I was his new diversion and these items were going to make him very happy. If I could pick up a few spare orgasms in the bargain, hey, what the heck?
Besides, I had a few tricks of my own and added silk stockings, heels, and fun panties and bras to the mix for him- at no extra charge. I'm almost seventy, but, being a former dancer, I can still do ballet barre leg extensions. He appreciated my flexibility and the fact that my ankles were still slimmer than my thighs at my ripe, old age. I'm no raving beauty, but I do have great legs. He likes them very much.
In the past two weeks, we have explored our most secret fantasies and experimented with new and exciting positions and proclivities that we were unable to try when the kids were growing up.
"Mommy. Why is Daddy wearing a ballet tutu?"
Or.
"Daddy. Why is Mommy hanging upside down from the ceiling fan?"
All of this unfettered freedom to experiment has brought us closer together as a loving couple. Especially now, as I hold Hal's hand lovingly in the emergency room examining cubicle while he is face down in excruciating pain, with his adorable butt in the air.
The doctor kept impatiently asking me the same question over and over, "So, how did you get it in there, Ma'am."
The doctor wasn't getting any answers from me until the statute of limitations was up on my crime, so an orderly wheeled poor Hal down to the x-ray department.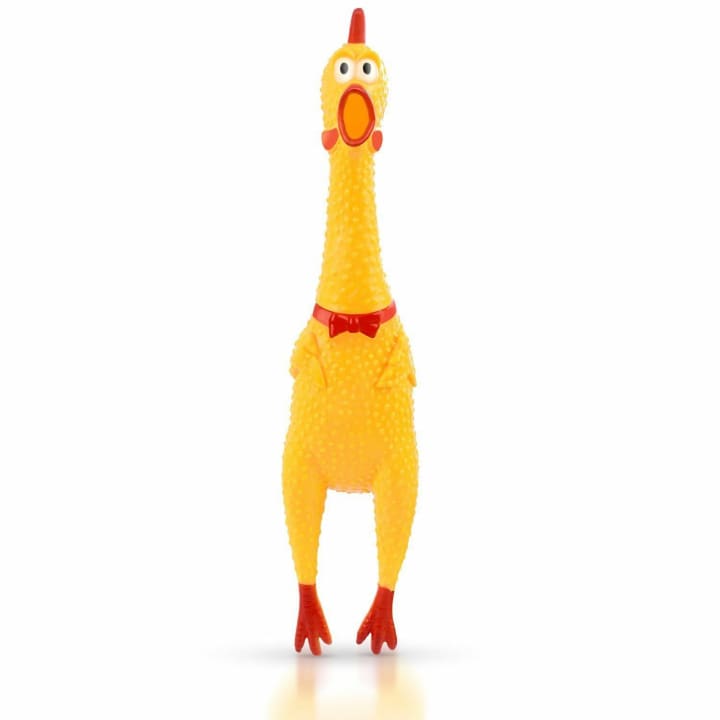 The rubber chicken was far easier to explain to the doctor than our appearance outside the house at midnight to our neighbors. Hal was naked and being wheeled out on a gurney by the ambulance fellows with his favorite rubber chicken, Chucky, sticking out of his butt. I was undressed in a slutty bra, a thong, my black silk stockings, and silver high heels, running alongside poor Hal.
We may have to move.
About the Creator
Coming in 2023, G-Is for String. A memoir about life in the dance lane during the 1970s and 80s. By dancing, I'm talking exotic. Romances, running, and surviving. On the way to the publisher!
Reader insights
Be the first to share your insights about this piece.
Add your insights