One-Of-A-Kind Carolina Coed
Bloody Mary's With Breeland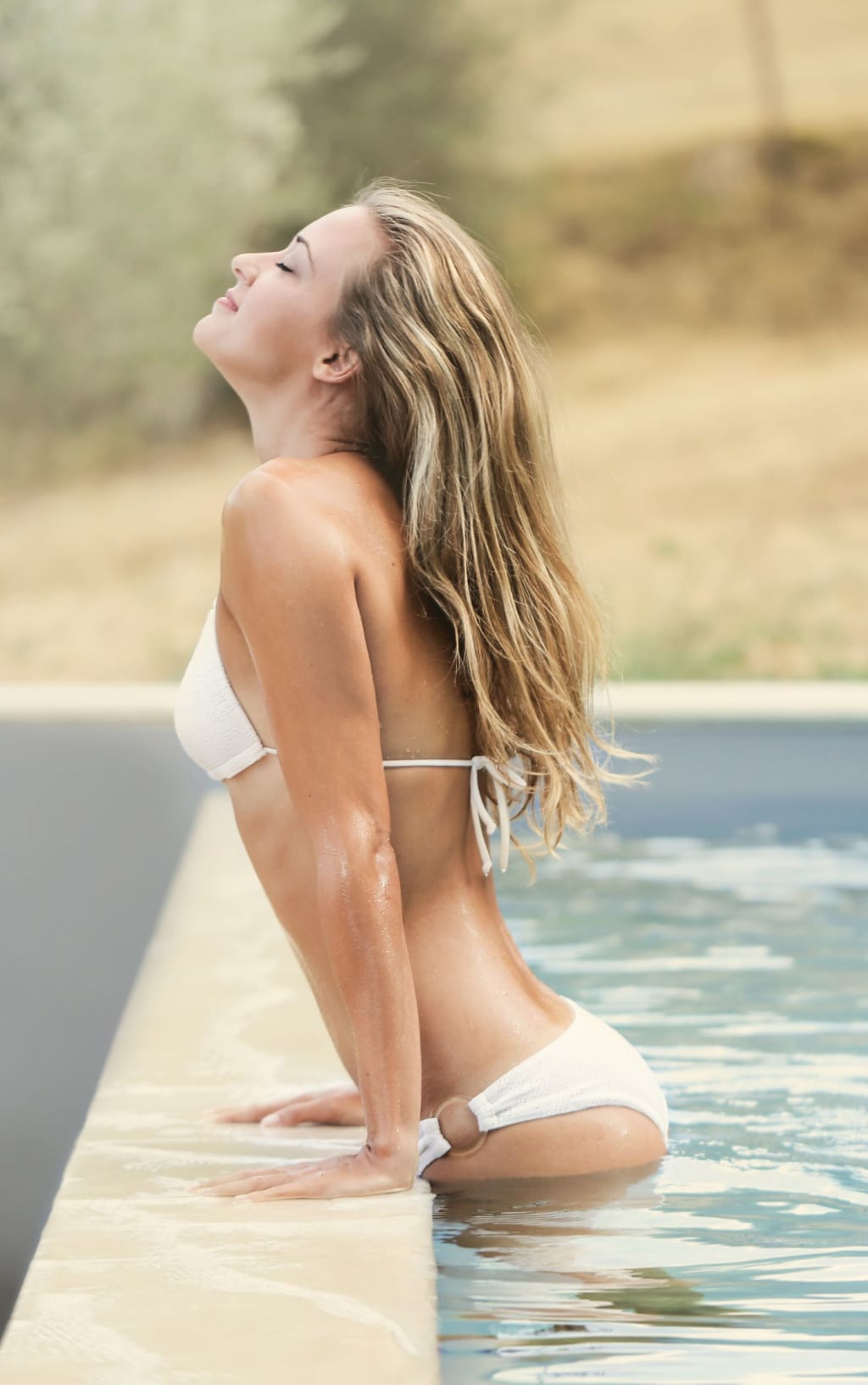 We post up at the pool enjoying a beautiful late Spring afternoon. Bree's parents are at the beach. Her sister is coming in the morning. They plan to make the beach trip together.
Til then Bree Bree and I are playing house. I'm no sunbather. However, I would die a thousand deaths for my Love, doing something she thoroughly enjoys isn't such a chore.
I'm lounging in a lawn chair. She approaches with Bloody Mary's.
"Baby, I don't think I'm going to like a Bloody Mary," I say.
"Sweetie, don't be such a baby. You love me, don't you?"
"Yes, but I don't love blood."
She giggles.
"And why are celery sticks in our blood?"
I must admit, I can be a spoiled brat and I've always been a very finicky eater. My Heart walks right by me and goes towards the steps of the pool.
As she does, it's as if time actually stands still. She is in slow motion. Breeland dons a white silk bikini. Most of the delicate material finds a beautiful resting place inside her tanned Apple Bottom.
Her blonde locks glisten in the high noon sun. My Soul is One-Of-A-Kind Carolina Coed. She is so adorable putting her toes in the cool pool water, being extra careful not to spill our drinks.
She is all settled in. Bree gives me the come hither finger, taking a sip of the beverage through a straw. I shake my head no, offering a cute pout.
"I'm afraid of vampires, y'all drink people's blood."
"I'm your vampire Timmy. I promise to be gentle when I bite your neck and suck your blood."
"You promise."
"Come on, I promise."
I walk over, gently getting into the pool.
"Baby, I'm cold."
Bree comes and gives me a hug. I warm up. She walks me into the shallow end of the pool. The water comes just below my waist.
I bend down to get eye level with her. We kiss. She playfully nibbles my neck. The water and my Breeland feel wonderful against my body.
She takes my hand. I follow her back to the steps. We take a seat on top of the step, which is still in the water. My Air speaks:
"Okay, so a Bloody Mary isn't really blood but tomato juice, Bloody Mary mix and vodka. The celery gives it extra flavor. I think. I'm not sure but here."
She takes the straw out of her drink and puts it in mine. She takes out the celery stalk. Now, like Joanie & Chachi on Happy Days, they put two straws in their milkshake sharing the yummy beverage.
"Ready. Wait, it's not a competition, so don't drink the entire glass in one guzzle. Just take a mouthful and swallow."
We drink a mouth full, her Heart speaks:
"I like the taste of the tomato juice. It was spicier, but I like it."
"See, told ya. You can trust me with your life. Since I'm your vampire, your eternal life."
"Sweetie, if I can spend eternity with you, I would sink to the bottom of this pool kissing you. We would go to heaven together and you can meet my pawpaw."
"I'm enjoying the pool, the Bloody Mary and my Timmy. By the way, I will not be home for your birthday. I wanted to plan something special for you."
"My mom prepared dinner last night and since she's the best cook ever. I want it to reheat the leftovers as your birthday meal. It's spaghetti with a Belize meat sauce, garden salad, and cheesecake for dessert."
"Before you say it, cheesecake tastes nothing like cheese. It's sweet with a graham cracker crust. You will love it. I want you to always remember your first birthday party."
"You have given me so many special firsts and a birthday I will never forget. I just wanted to give you a first. Unfortunately, I will be your only guest." She gives an irresistible pout.
"Sweetie, you are the only guest and the best present I will ever want or need."
We finish the Bloody Mary, lie in the sun, play in the pool, cuddle up on the couch watching The Little Rascals reruns until I fall asleep spooning my Heart.
FINAL THOUGHT
I hope you enjoyed my story. Thank you so much for reading.
About the Creator
A freelance writer who offers ghostwriting ebooks, FaceBook posts, article & blog writing services. He works with B2B & B2C companies providing digital marketing content designed to drive traffic, increase conversion and SEO.
Reader insights
Be the first to share your insights about this piece.
Add your insights