Just the beginning...
Not another love story -_-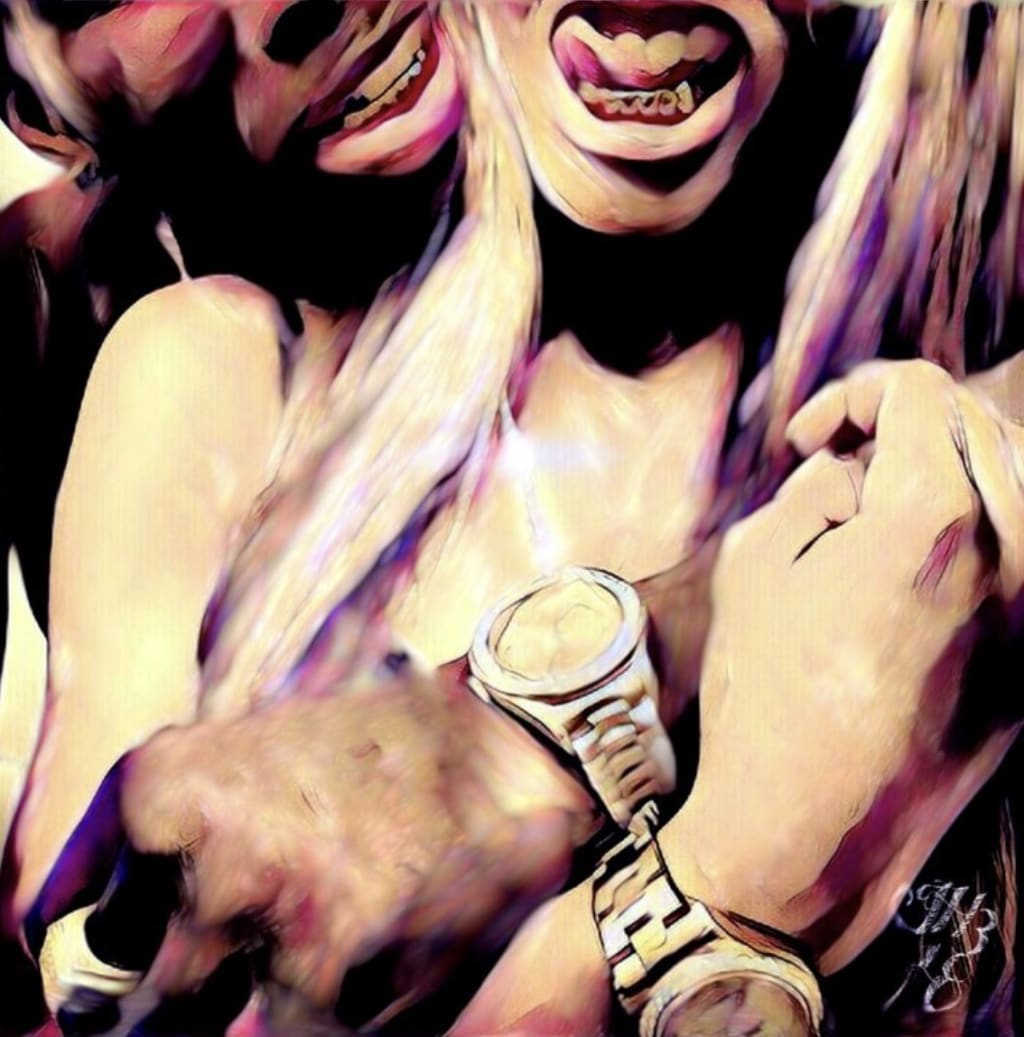 It was a hot day, like any other during a Florida summer. I was outside with my neighbor Mr. R and we were doing what we usually do. Having a good time, listening to music, watching the kids play outside with our cold drinks. . Mr. R. was an older gentlemen and he treated me like a daughter. Hell, he's old enough to be my grandfather. I was getting over a bad breakup with someone I was in a relationship with for four years prior. So being outside the house that we shared together was a normal practice, especially during the summer. On this particular day I wasn't looking my best, it was my off day. I had on a black bonnet, a midi dress, and some Nike slides. Me and my neighbor had just finished smoking, so I had my head down and was lost in my thoughts. My legs were open a bit, about shoulder length apart and I was staring at the ground. I thought I felt someone looking at me and boy was I right. It was someone I've seen before but didn't know and didn't even know his name.
He was handsome and just how I like them, gold teeth and long dreads. He had his hair in that high bun and that made me look even harder J. We traded glares for a moment and he made his way across the street to come and talk to me. We talked for a brief moment and exchanged numbers. Before he went back across the street to his car he smiled at me and that just made my heart melt. But of course I was not going to let him know that or even show it. I still had my resetting B face on, like normal. I didn't expect much from it and thought he was just like the others, only after one thing, and I felt like I just needed that one thing to lift my head a bit. To my surprise he texted me the same day, I honestly thought he would forget about me just from how I was looking that day. We texted all night, talked on the phone, and even face timed each other. It was like a new love song was being written. We met up a few days later and we just sat, smoked, and chilled in my front yard. It was late at night since I didn't want any one in my business and my neighbors are known to run and tell my ex what I'm doing and who I have over at the house. We were there for about two hours and honestly just got to really know each other. I opened up to him and he opened up a little bit to me, you know how men are. And this was a grown man, exactly what I like.
A few days and nights pass with us talking every day, meeting up frequently, and having heart to hearts. Once I opened up and he seen who I really was I could feel his perception of me changing. We would see each other almost every day and when we didn't see each other we were talking on the phone until the sun came up. This man brought things out of me that I didn't know I was capable of sexually. When we did start to get intimate it was life changing. The way he would caress me and make sure I was satisfied before he even got started. With him satisfying me from the gate that just made me want to go the extra mile just to make him feel good and I did. They say after the first few times, the feelings are not as strong but my feeling grew each time we would even have a conversation. I could talk to him free of judgment and he liked me for me.
About a month or so after we started talking he told me about the day he came up to first talk to me. It was the same, he seen me around before but didn't know me as I always kept to myself or inside the house. This slick bastard told me be bent down in front me pretending to tie his shoes so he can look up my dress since my legs were the way they were. And he actually got a sneak peak, his reasoning was to see what he was going to get himself into -_- . The more I thought about, the more I was kind of happy he did. Would he have come up and talked to me if I didn't have on a dress and see something he liked?
Things went to a whole new level about a month into us talking. We were sitting outside smoking and talking like usual and we both just got an urge that had to be catered to. That night changed everything. He brought something out of me that I've never done before but I liked it and he liked it. It just felt natural to do. After that night, we would get intimate almost daily and I loved it. I would even come home on my lunch break just to get a little something something. At that point, I didn't care who seen us together, I wanted to be with him all the time! If I seen him while I was riding by to or from work, or even just to the store he would stop me in the middle of the street in front of everybody and just kiss me and tell me he missed me. That would melt my heart every time and I looked forward to riding by.
Reader insights
Be the first to share your insights about this piece.
Add your insights