How to Create an Online Dating Profile
Dating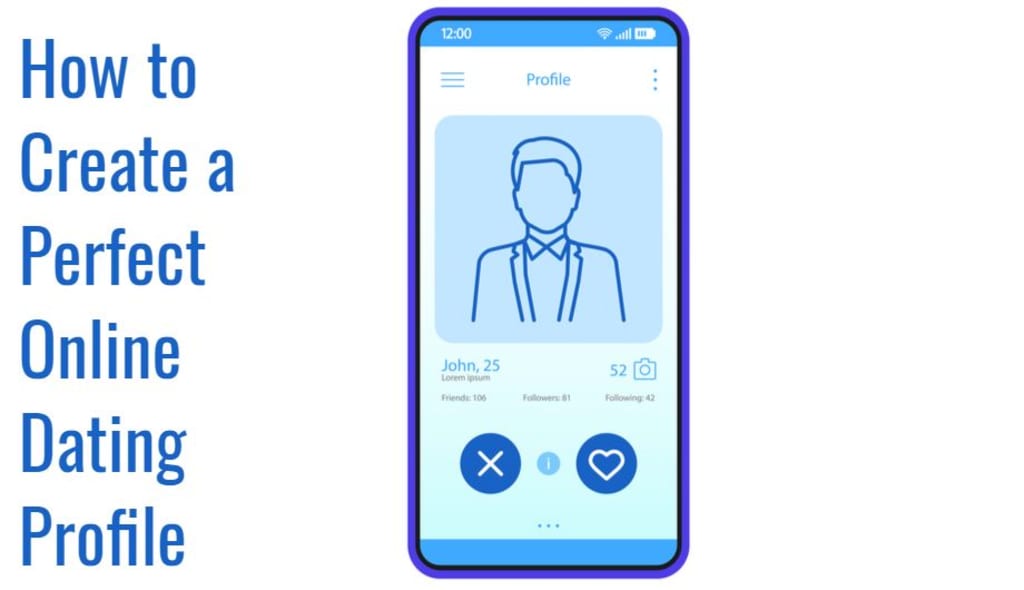 If you're single and want to find someone with marriage potential, keep in mind that internet dating is only one of your alternatives. But proceed with care, since not everyone who uses dating websites does it with the best of intentions.
Your internet presence is one item that might be really important to your ability to draw in great partners. Here are some pointers to assist you:
Create an attention-grabbing title and summary.
There are two basic guidelines:
*Be authentic (this means staying true to your personality and temperament).
**Be sincere when describing your preferences, pastimes, and interests.
There are many various sorts of singles out there, so I think it's best to maintain an open mind about the people you could attract or be drawn to.
However, naming oneself "a simple, nice gal" or "an athletic, outdoorsy man" won't pique the curiosity of anybody looking through your profile.
Now consider the following:
"a software developer with compassion for animals. volunteers during the weekends at a shelter. won three straight blue medals at the Quezon Memorial Circle Dog Show."
"Creative cutie looking for a friend that likes going to museums and seeing art exhibitions. She knits and crochets scarves and sweaters."
See how significantly those phrases were able to enliven otherwise uninteresting, unfunny character descriptions? You might also experiment with terms that highlight your admirable character traits, such as —
"In my leisure time, as a copywriter and photographer, I blog. I have a wicked sense of humor and am skilled at using one-liners that are always sure to make my pals laugh. will give you a latté as a gift."
"I'm an expert in math and a capable algebra and calculus instructor. I also make killer pesto and fettuccine alfredo. I'm learning Italian in preparation for a future trip to Milan or Venice. Could you be a sojourner with me?"
Emphasize your advantages.
Although an online dating profile is not a resume, I have found that both men and women often lie to seem more impressive. You don't have to behave like a high schooler who does in order to "get the lady" (or guy). Without artificially "inflating" your professional accomplishments, there is a better approach to market yourself. How? Without ignoring your flaws, minimize them while highlighting your other strong points.
For instance, if you're not renowned for being the finest chef among your family or friends, briefly discuss the block party you helped plan or the potluck meal you hosted. This would highlight your event planning and public speaking abilities and make up for your lack of culinary knowledge.
Mention any future intentions to include further education among your ambitions if you're one of many men or women who hold down employment but haven't finished a degree and you're curious how you'll do among prospective partners who graduated from university.
Separate your non-negotiables from your negotiating position.
Be aware of anybody who has only given hazy information regarding his or her profession or career if you'd want to date with the intention of developing a serious relationship that might eventually result in marriage. This might be a "red signal" about the financial security of a possible mate.
Your readiness to move to a new location—probably a different town or city, or perhaps an altogether other nation if you hook up with someone of a different race or ethnicity—could also be a negotiable or non-negotiable consideration.
Be honest about your history, but just briefly bring it up.
For single men and women who had kids from prior relationships or who have a history of drug or alcohol misuse but are now abstinent and want to get their lives back on track, this might be useful.
You don't have to go into great depth about your previous relationship. One benefit of internet dating is that you may be very open about being a single parent and yet meet possible partners who will be understanding of your background.
Keep your offline life going.
Don't spend a lot of time doing nothing but monitoring your profile to see whether anybody is looking at it. It's simple to get fixated on everyone who messages you. Manage your time both online and offline by striking a balance.
The Penn Foster Career School awarded Ronali Dela Cruz a Career Diploma in Short Story Writing and Freelance Journalism. She covers a wide variety of subjects in her writing, such as parenthood, careers, entrepreneurship, goal-setting, and difficulties affecting single people.
Reader insights
Be the first to share your insights about this piece.
Add your insights