How I Raised Rs 15,000 Within Three Hours, Being A Student!
It's an interesting story.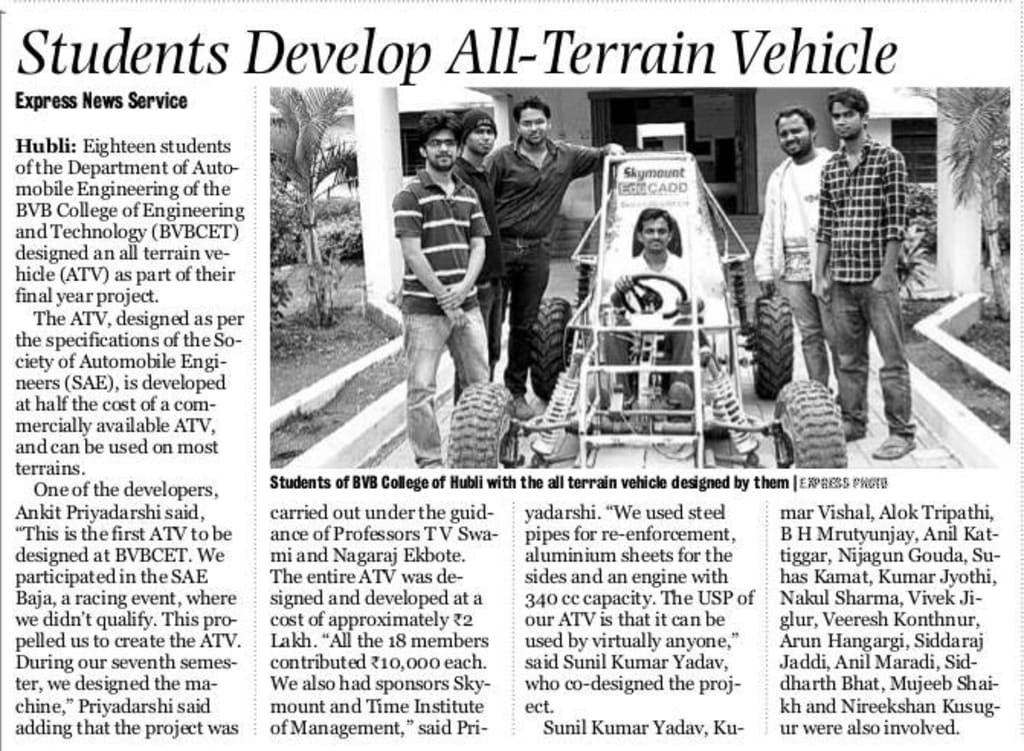 Recklessness is an attribute most of us could easily associate with our student lives. But, putting it in a better way, maturity has not yet arrived, as we are still young. So, I will share a story from my student life, a tale about phases of developing maturity!
I was in the second year of my bachelor's course in automobile engineering at the B.V.B College of Engineering and Technology. One fine day, my friend and I were going to our college canteen. On our way, we met a few seniors who were discussing something about ATVs.
ATVs are all-terrain vehicles that can operate on off-road terrains like mountains and forests.
They were talking about designing such a vehicle, and this intrigued us. It captured our imagination. We joined in the conversation and got to know that they were planning to participate in SAE-BAJA.
SAE stands for Society of Automobile Engineers, and BAJA is the name of a competition for college students to design and build an all-terrain vehicle. BAJA is also a place in California.
They had put together a team of 15 students (max. per team) and would finish their registration process the next day. We finished our lunch and headed back to our hostel. On the way, we were discussing how cool it would be to participate in such a competition! We were thrilled even to think that we get to design and build our own vehicle.
I knew I had to do it one day!
The rest of the day went by as usual. It was a Friday, so we had no plans of sleeping early as we had no class on Saturday. After our dinner, my friend Marut and I were discussing the design competition. Then I decided to google it.
I opened the website and looked at the details about the competition. The last day for online registration was the day after, which was Saturday. The registration fee was Fifteen Thousand Indian Rupees. (Rs 15,000)
To give you a comparison, my monthly expenses were Rs 4,000 only.
But the exciting part was, the second-year students could also participate. I felt elated! We looked at each other and understood that both of us were ready!
Marut asked me, "How will we get the money?"
I said, "We will see!"
The math was simple, to convince 15 people to participate and ask them to contribute Rs 1000 each. But the obstacle was, it was the end of the month, most of our friends would not have the necessary amount!
It was a race against time. Our only option was to borrow from parents, friends, or anyone willing to give! We waited for the night to be over by oversleeping! :)
We woke up around 9:00 am, which meant we were about to miss our breakfast. Luckily others like us woke up late, and we were able to grab some food.
Now our mission began!
We went to one of our friend's rooms and called almost every other student of the Department of Automobile Engineering who we could reach.
But of course, we had the advantage that all the students in our batch were friendly. We were the most chill bunch in the whole college. We also had a motto- 'AUTO ROCKS!' So anything we did this would be our cry! It was entertaining!
When everyone gathered, It was time for my speech!
I said, "Guys, there is a competition called SAE-BAJA where we get to design and build our own ATV and race it too with other teams from all over India. Our seniors are participating in it; they also have got a few from our batch in their team…."
I was interrupted by one of the guys, "They will only make them carry stuff from here to there!" All of us laughed!
So I resumed, "I see no reason why we should leave this opportunity!
What do you guys have to say?"
"I'm in!" said one of my friends.
Others joined us in.
In 15 minutes, we had all 15 members.
I said, "There is a difficulty, though! We need Rs15,000 to participate. That too before noon! We have to make a demand draft of the same amount and enter its number as a part of the online registration. The bank which is on our campus would close by 12:30pm."
One of the guys said, "It's month end, bro! Who has the money?"
I said, "Exactly! That's also why we are here. So I request all of you to ask your parents if possible or borrow from our friends! Let's see if we can arrange the sum? If not, nothing to worry we will be ready for next time!"
Then all of us started to arrange whatever money we could. It was, indeed, a significant amount for us. I called up my dad; he said that he could transfer only Rs3000. He further suggested asking the HOD or the college principal. I thought it was a good idea, along with my friend I went to see the HOD of our department. When we explained our scenario, he said, "You guys should have come earlier because the allocation of money needs approvals! It can't happen in 3 hours!"
We then requested if he could give us a loan? He said it was her daughter's marriage in a few days and couldn't provide us with anything!
So we were just left with our first option, borrow from our friends and family! Well, our guys were already trying their best. By 11:00 am, we had arranged for Rs10,000. However, a significant amount, but we were still Rs 5000 short!
For the next half an hour, we had no luck! Then suddenly one of our friends called and said he could get Rs 4000 from his mom!
That was exciting news because Rs 1000 could be arranged easily given so many people were involved. By 12'o clock, we had the 15,000 and left for the bank! I was familiar with the procedure of applying for a demand draft. Therefore, as soon as I reached the bank, I took out the form and filed it up in no time. I knew the banks would close for the general public at 12:30 pm, but the staff used to stay some more time.
I went to an official and presented him with the application for the demand draft. He said it was already late, but I persisted and requested him to prepare it that day itself! I explained everything, and he agreed. He said to come in half an hour and instructed the security guard to allow me in when I come.
We got the demand draft by 1:00 pm. It was a big win!
After this, only the online registration process remained. Unfortunately, that was also an exhausting task. I made the mistake of thinking it was easy, but it required entering too many details for all the 15 members. Further, the internet connection was not that great in my hostel!
But to cut a long story short, we were able to register just a few minutes before the deadline, in James Bond style!
I took a printout and posted it the next day, along with the demand draft.
We were so happy, and the momentum was with us now! It was five months to go for the preliminary round in Bangalore! We were unstoppable, If one wanted to see a team with high morals, you had to just glance at us!
What happened after that is also interesting…
So what do you feel? How did we fare up in that round?
Let me know in the comments. Just one thing, If you look at the paper cutting, it was about the final year project…