Guilt Condemned Me to Sleeplessness
My terrific battle with Insomnia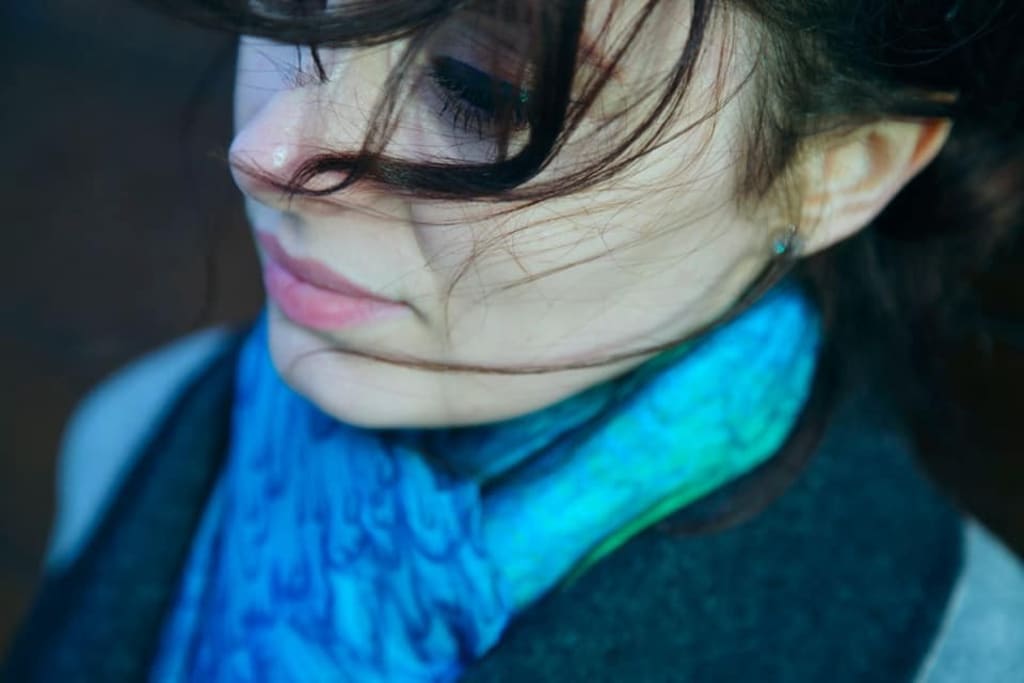 Photo from the author
Here is the mind, suffering from insomnia, not dead, and yet not alive.
I suffered from sleeplessness and profound distress. My life hung limply over my shoulders, my eyes were red with reading and exhaustion, my face was wet with tears of desperation.
I decided to consult a specialist. This man was not a doctor, but he was an expert in insomnia. Not a person who got a degree on this subject, but a victim of seven sleepless nights. He found a way to cure himself and offered advice to those who cared to ask for it.
My life had been a series of mysterious tribulations and the biggest one was the acquaintance with this magnificent man. Many lessons hid in his wrinkles. Wise thoughts dinged in the oldness of his eyes. He accepted everyone without distinction - the stupid, the wily, the vain, the cautious, the desperate, the hopeless. And now the intensely unhappy, the certainly suffering - the little doll-me.
We had only one hour to work on my case.
I spoke wearily,
"I tried to exercise. It only added muscular fatigue to the mental." I rubbed my forehead and resumed my speech, "The inertia of my dull body, the heavy inconvenience - I can't take drugs anymore. It takes too much of my time, my mind, and my life."
"I live in patches. I eat and digest - then comes irritation. I take the air in and out - with irritation. My thoughts grow sluggish, stupid - irritation stitches them all together. I seem to live for sleep and it never comes to me. How little I need for happiness. A long slumber without dreams."
He understood perfectly. I felt that there was no need for any explanation. This person read everything in my eyes. He somehow knew about my loneliness and grief. Those days I felt that death was worth living, rather than life was worth dying. My father was terminally sick. My mother was grieving. My boyfriend was painstakingly unjust, demanding my full attention during the most strenuous exams in my life.
I suffered from continuous nightmares and prayed to stop the torturing cycle. I got into the habit of killing my sleep with coffee and reading. I became too good at it and didn't know how to stop the process of self-destructing insomnia I'd triggered. He knew all that.
For a little while, we remained silent.
Then he said,
"I can imagine the craving for rest that you feel. Your mind is a whirlpool, swift, unprogressive, and incessant. Your thoughts are spinning round and round, they lead nowhere." He paused. "You must sleep."
He drew his chair closer to the couch I was half sitting, half laying on. His deep voice had a coarse richness. Winking gravely at me, he put his hot palm on my forehead and continued, "Guilt, my girl, robbed you of your sleep. Imagine: you are sentenced to death and have only three days left. What would you do? Who would you spend those days with? What would you say to those people?"
He stroked my hair gently, waiting for me to contemplate the meaning of his words fully. I suddenly felt dead tired and, at the same time, inexorably and colossally young, absolutely and fearlessly alive. I smiled, then laughed loudly, with energy and a certain rough power.
Then I woke up.
I was sitting at my desk with half a dozen books opened and staring at me with their soulless small-print pages. I'd fallen into a tired slumber while studying.
I leaped to my feet and made for the wardrobe. I packed a few necessities and called a cab. In three and a half hours I was standing at the bedside of my father, holding hands with him and my mother.
I was granted academic leave and spent the rest of the year with my family.
Insomnia surrendered
Let us carry on a brilliant conversation about insomnia with an air of a remedy discovered.
When I couldn't sleep, I was sitting by my father's bedside. I was listening to his breathing when he was asleep and to his talking when he was awake. I left my phone in my flat in the city, forgetting it in my flight. That was the best thing I'd ever done. It left more space for quality time with my family.
I made my bed comfortably on our wood-lined, vast windowed veranda. I had full access to the beauty of the night sky. It was dark, quiet, and warm. The sounds of night lullabied me to sleep.
A dreadful hullabaloo of nightmares subsided when I found peace with my conscience. My tired-looking eyes on my tired-looking face stopped crying. I knew long before that awakening dream, about the need to be beside my dying father and my suffering mother. I erroneously thought if I put myself in a position of complete, indescribable mental suffering, it would be easier to accept the inevitable truth, the approaching death.
That dream was a benevolent intrusion upon my despair. It was the best cure for my self-inflicted insomnia. I fell into the arms of Morpheus when I recognized that even suffering could enhance personality. I felt my self-pity slip away and unspeakable ease came in its place. I still looked and felt poignantly sad, but now this feeling was rejuvenating. It nourished my longing for life and for love.
Secrets
About the author
My pen is the finest instrument of amazement, entertainment, motivation and enjoyment, chasing each other across pages.
Reader insights
Be the first to share your insights about this piece.
Add your insights