Who Will Win the Premier League Next Season? Place Your Bets
Which of the top 6 teams will win the premier league next season?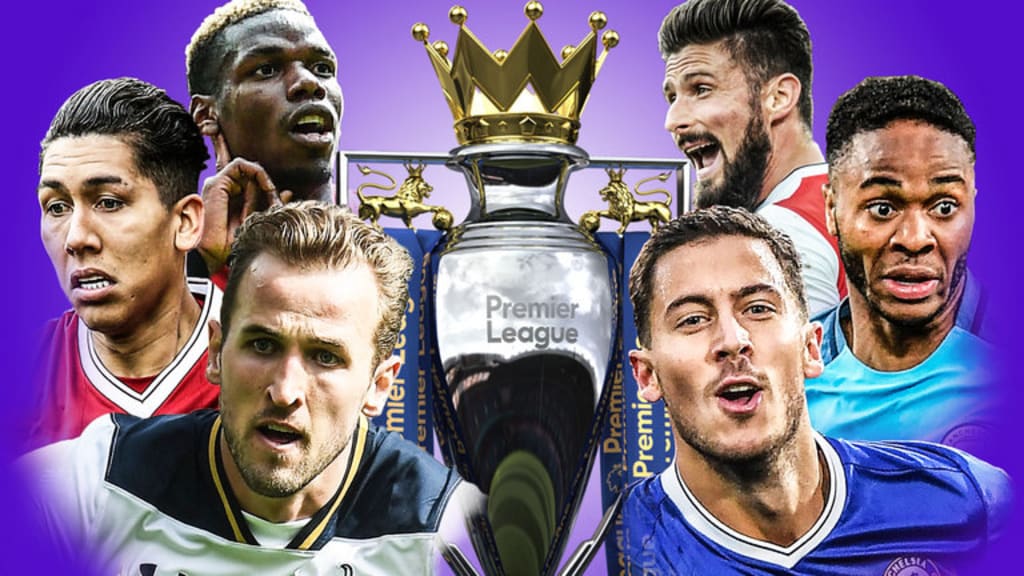 So, you want to know who is going to win the premier league next season. Firstly I am going to cancel out all teams apart from the top 6. It's pretty much impossible that we'll get another season where a team like Leicester will win it again. I am going to go by who has the best pros and the most cons and also who has the best chance of winning the premier league from 1–10, 10 being the highest.
Arsenal
I think out of the top 6 teams, Arsenal are either going to be the team who finishes the lowest or who are going to surprise everyone and prove them wrong. My reason for this is that Arsenal have recently brought in new additions to their squad. With the additions of Aubameyang and Mkhitaryan along with other players Arsenal will bring in in the summer, Arsenal could be a very dangerous team if they add depth to the squad as they always lose form near Christmas because they get tired. Also if they do not finish in the top it will be better for them as they will have less games to play. Defensively is where Arsenal's problems lay. They need at least 1 defender and a new goalkeeper as Cech is dropping in form.
Chance of finishing top: 7.5
Tottenham
Tottenham is a team who in recent years has surprised everyone with their consistent form season after season. They have a good squad with arguably the best striker in the league. If Tottenham use the summer transfer window and bring in 2-3 good players, I feel they will have an even higher chance of winning the league; however they did not use this transfer window as well as they should have as so if they make the same mistake next season it will be an error for them. Other teams are bringing in world class players every season to improve their squad but Tottenham may get left behind if they don't do the same.
Chance of finishing top: 7.5
Manchester United
Manchester United have one of the best squads in the league at the moment with the addition of Alexis Sanchez. I feel as if they have dropped in form lately but are still capable of winning the league next season. They are certainly going to spend in the transfer window and are going to spend big like they do every season. If they bring in a quality midfielder and another defender they will be dangerous and certain contenders next season. However they have been struggling with consistency this season after dropping form, causing the gap to Manchester City to widen even more. Lukaku also has not hit the ground running so it will be a challenge for him to also improve his form next season. Manchester United may even look to replace him or bring him an attacking partner as they have done in the past.
Chance of finishing top: 9.5
Liverpool
Liverpool is a team that on their day can beat any team in the world. They have a good squad and are near impossible to beat when facing the good teams in the league, however they fall in form against the smaller teams when you'd expect them to win. This is because of defensive errors the defenders keep making game after game. I feel with the addition of Van Djik they will be a stronger team but it will take time so the rest of this season is more of a trail so he can get used to Liverpool's style of play. I feel he will need a suitable partner in centre back but Matip or Joe Gomez will be that suitable partner. As for attacking, I think Liverpool are joint best in the league with Manchester City but with the loss of Coutinho, an addition of a world class replacement is needed. If Salah can keep his form and carry it on next season they will be serious contenders.
Chance of finishing top: 9.5
Chelsea
Chelsea have struggled with some of the smaller teams this season and it will cost them hugely as the fight for top 4 is tight. They will finish within the top 4 with Tottenham and arsenal just missing out, however they should aim to finish on a high to build confidence to go into next season with. They have an all round good team but with rumours of Eden Hazard wanting to leave, it will cost them hugely. Also Morata looks like he is not good enough of a striker to play in this Chelsea team so they will need to be very active in this transfer window. A suitable replacement for Morata should be brought in as well as a replacement if Hazard leaves.
Chance of finishing top: 8.5
Manchester City
Manchester City have basically already won the league this season (17/18) so congratulations to them, but this is about next season. Will Manchester City win the season next season as well? They are capable of doing it but will they be able to? Manchester City is a team who have a fiery attack and midfield but their defence I feel is not at its best. They have one of the best teams in the league in both attacking and defensive areas but I feel that it can and should be improved with better players in the defensive areas. With other top 6 already adding to their defence like Liverpool and other teams looking to add in the summer, Man City may trail behind if they do not add in the defensive areas at the end of this season. Man City always have money to spend so I feel they will bring in even more attacking players even though they do not look as if they need it but the downfall in this is that the new players will need to click with the different style of play straight away and that is a huge risk to take.
Chance of finishing top: 9
This is the outcome and chances of the top 6 teams in the premier league to win the league next season. This analysis is based on the performance of the teams in the the current 17/18 season.