There is more in common besides both countries calling it Soccer!
A look at why The Matildas won their Equal Pay Claim where as why the judge dismissed the U.S. Women's Soccer Team's Equal Pay Claim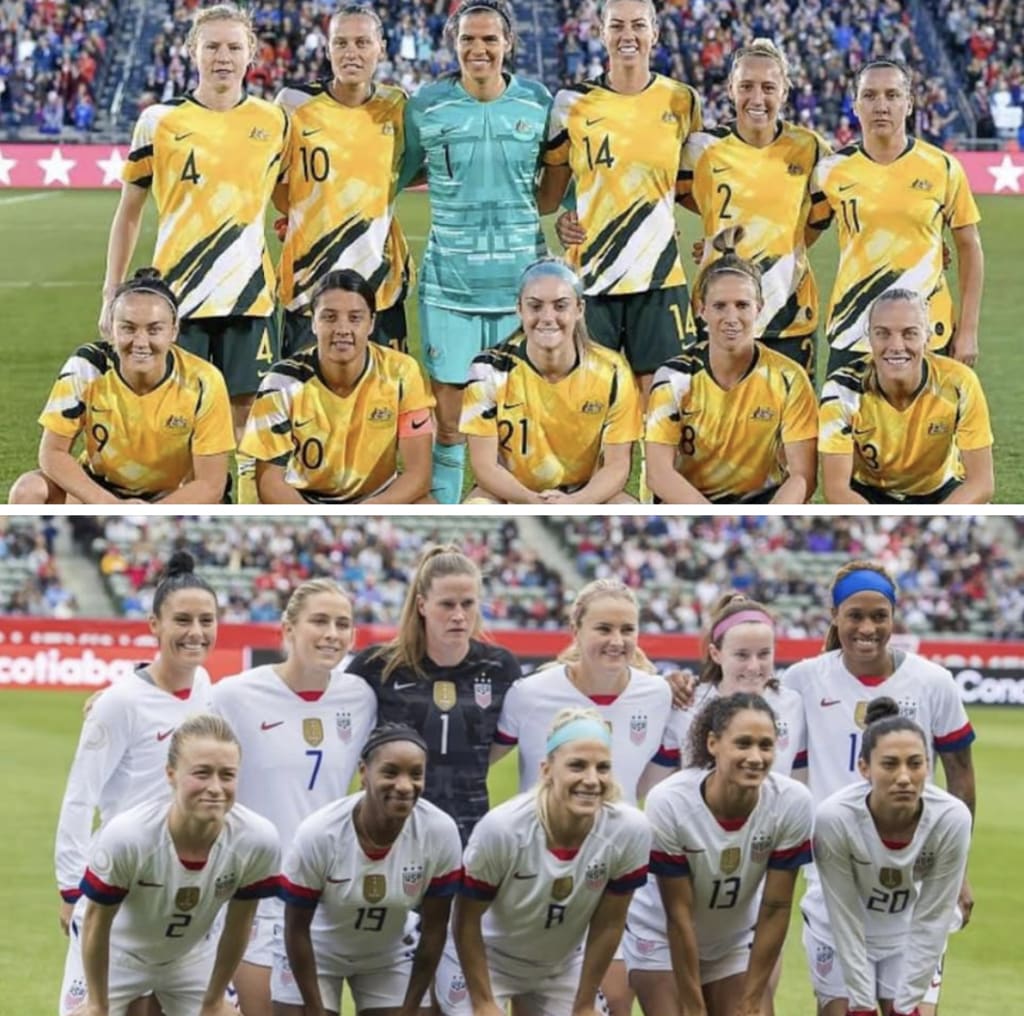 There is more in common besides both countries calling it Soccer!
Close on the heels of a US judge dismissing the U.S. Women's Soccer Team's Equal Pay Claim, I wanted to take look at why the Australian Women's Soccer Team a.k.a The Matildas, were able to win their Equal Pay Claim not so long ago.
To begin with, both countries call it soccer, even though this is the sport where you would use your feet more. It goes to show where the popularity of this sport lies in these countries. For neither country, it's in the top echelon. Strangely enough, in both countries, the women are far more successful, than their male counterparts at the international level and they are more marketable locally. This is a unique dynamic that you don't see in other famous football countries. So why is there a pay disparity. If anything, don't you think the women should be paid more because they are way better 😉
To begin with, the U.S. Women's Soccer Team were paid $4 million for winning the 2019 World Cup. The France National Football team were paid $38 million for winning the 2018 World Cup. But this isn't an apples to apples comparison. The 2019 Women's World Cup netted a total revenue of $30 million, the winners were paid $4 million, that's 13.33%. In contrast, the 2018 World Cup netted a revenue of $400 million, the winners were paid $38 million, that's only 9.5%. For the men, the prize pool is divided among 32 teams, as opposed to 24 teams for the women. Men's Football World Cup is far more popular. I myself traveled to Russia and bought a ticket for one of the Semi-Final games.
So how did the Matildas win their case? The new deal has guaranteed the Matildas a tiered payment system with minimum wages set at $40,000 and going up to $83,000 for top tier players – in line with what the Socceroos players will receive. Both teams will also have access to 24% of national team-generated revenue, which rises by 1% each year to 2023; 5% of this will be put back into youth and development programs. Both teams will also receive 40% of the prize money paid to Football Federation Australia for World Cup performances. Currently this is where the major disparity sits, as this money is set by Fifa and more money is provided for men's teams than women's; for example, the Socceroos received an $8m bonus for exiting the World Cup in the group stages, while the Matildas received $1m after progressing to the knockout stage. In other words, with this new deal and with all things being equal, the Matildas stand to be far more lucrative than the Socceroos and rightfully so. Individually, things are still going to differ. The contracted hours for the women's teams in the local W-League are much shorter. The minimum wage for the W-League is $16,344 while the A-League sits at $64,100. Sam Kerr who is the most popular Matilda, gets paid around $1 Million, thanks to her sponsorship deal and Chelsea contract. It's still less than the $3.75 Million Tim Cahill used to earn back in his Everton days.
So what happened with U.S. Women's Soccer Team's Equal Pay Claim? To begin with, the judge hasn't dismissed all parts of it. The judge pointed to differences in the structure of the men's and women's contracts — contracts to which they agreed in collective bargaining. "The WNT [Women's National Team] rejected an offer to be paid under the same pay-to-play structure as the MNT [Men's National Team] and ... the WNT was willing to forgo higher bonuses for other benefits, such as greater base compensation and the guarantee of a higher number of contracted players. Accordingly, Plaintiffs cannot now retroactively deem their CBA worse than the MNT CBA by reference to what they would have made had they been paid under the MNT's pay-to-play structure when they themselves rejected such a structure." A trial for the remaining portions of the lawsuit, which include allegations of differences in men's and women's travel and hotel accommodations, is set to begin in June.
If the US Women's Soccer Team renegotiate a CBA on par with what the Matildas did, travel and hotel accommodations, I'm sure there is merit to their case. With all things being equal, they would get to earn more and be far more lucrative, but individually, for their contributions on the field, they may still earn less than what Christian Pulisic makes with Chelsea
fifa
Have varied interests with a taste for the finer things in life. My anglicized name and my unique background serve as an instant ice breaker. Experienced living in 4 continents. I write based on my experiences and my exposure.