The Top Sports Events of Fall/Winter 2022 | Wayne Emerson Gregory Jr, SC
Sports calendar for the rest of 2022.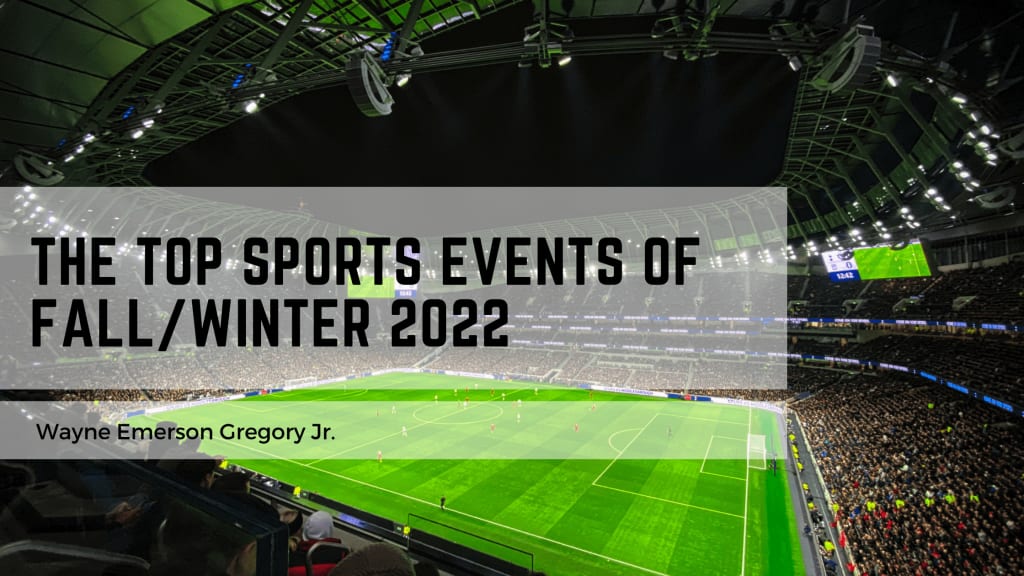 https://wayneemersongregoryjr.net/the-top-sports-events-of-fall-winter-2022/
In 2021, sports leagues faced various challenges, such as the ongoing COVID-19 pandemic and the decisions they had to make regarding the presence of fans at events. The new year is expected to be a bit more normal, but the pandemic is still likely to impact athletes' playing statuses.
To help plan your coverage for the rest of 2022, here is a sports calendar that includes some of the significant events that will be happening in the world of professional sports.
U.S. Open
The U.S. Open is a prestigious tournament held in New York City. The event is set to premiere August 29th and end on September 11th. It's the fourth Grand Slam event of the year and the last major tournament of the year. Many of the world's top players have been struggling with injuries this year. According to Kurt Streeter of the New York Times, there's a silver lining in the sport's newfound uncertainty. It's easier to get excited about a broader range of players now that the stars are no longer the main attractions.
U.S. Grand Prix (Formula 1)
During the pandemic, viewers could catch up with Formula 1 through Netflix's Drive to Survive. This year, the racing series will hold its usual US Grand Prix in Austin, Texas from October 21-23, but it will also feature the inaugural Miami Grand Prix from May 6-8.
World Series
The 2022 Major League Baseball season is off to a rocky start following the announcement of a lockout by commissioner Rob Manfred in December 2021. There's been no progress in the negotiations since January, and it's not expected that the first substantive talks will lead to positive results. Despite the uncertainty, sports outlets will likely make their predictions for the World Series and aim for October.
FIFA World Cup
The 2022 FIFA World Cup in Qatar from November 21-December 17 is expected to be the first major sporting event that's been opened to the public since the pandemic began. Tickets for the event went on sale last week, and residents of the country will receive special pricing. However, it's also expected to be a controversial event due to various human rights issues. A report released by Amnesty International last year criticized the country's anti-gay laws and migrant worker exploitation.
NCAA Football Bowl Games
Although many college football fans are still celebrating the victory of Georgia over Alabama in the national championship game, it's already time to start preparing for the upcoming season. Some teams expected to be in the running for the title include Oklahoma, Texas A&M, and Ohio State. The NCAA Football Bowl Games championship game will be held in Los Angeles on January 9, 2023.
About Wayne Emerson Gregory Jr.
Wayne Emerson Gregory Jr., SC is a registered nurse in Georgia specializing in advanced cardiovascular life support, basic life support, and CPR and AED. Wayne also holds a certification in Stroke Scale from NIHSS. Wayne Emerson Gregory Jr. began his education career at Piedmont Technical College, where he earned a degree in Nursing in December 2019. He is currently completing his BSN with The University of Alabama and will graduate in August 2021. Wayne Emerson Gregory Jr. also holds a Bachelor of Arts in Government and Political Science from Furman University and a Master in Public Administration from Clemson University.
Wayne Emerson Gregory Jr. knows that when he is working in healthcare, each patient is unique and deserves to be treated as such. Not only is he dedicated to their physical health, but Wayne also prides himself on caring for the whole individual. Wayne specifically works in the ICU and medical-surgical departments, where he typically sees patients who have experienced trauma or recently had invasive surgery. That's the time you would want a caring professional, and Gregory Jr. is just that!
Today, Wayne Emerson Gregory Jr. works as the owner of Gregory Equipment Sales in Spartanburg, South Carolina, a role he's held since 2014.Wayne Emerson Gregory Jr., SC is a compassionate and committed healthcare professional. He cares deeply about each and every patient and strives to make their experience as enjoyable as possible.
About the Creator
Wayne Emerson Gregory Jr. is a professional with years of experience in the public health field.
Reader insights
Be the first to share your insights about this piece.
Add your insights