The 10 Best Built-In Shin Guards
The best built-in shin guards will protect your legs as they propel you downfield to kick the game-winning goal.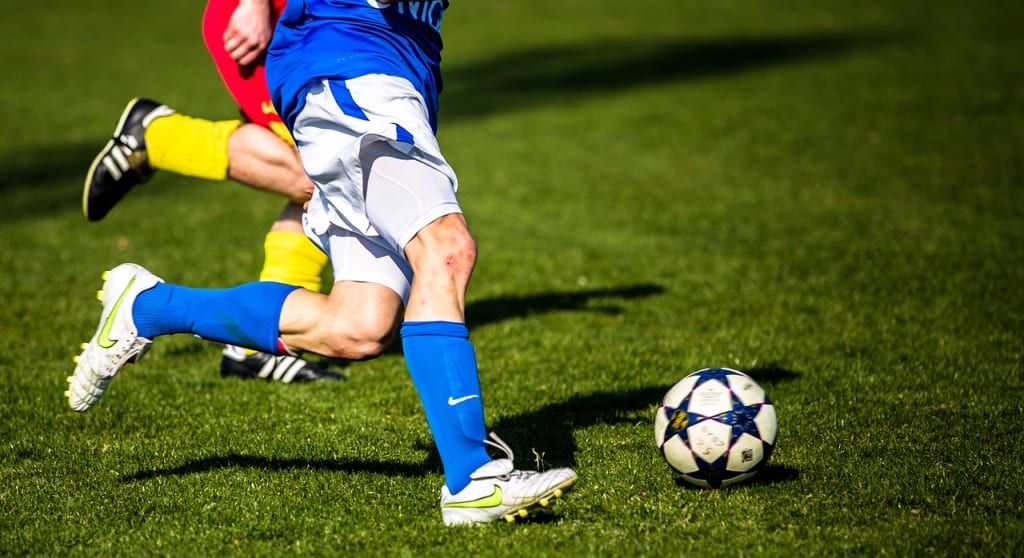 Shin guards are an essential part of many athletes' uniforms. Whether you're playing soccer, field hockey, lacrosse, or any number of other sports, you'll need to choose a set of shin guards that will be best for you and your game. Shin guards are especially important in soccer, as you'll likely be kicked, the ball will fly wildly into your legs, and you could find yourself battling opponents for control of the ball at any given moment. Not only do you need shin guards, but you also need your shin guards to fit you properly (and avoid moving during gameplay), so that you can avoid worrying about anything other than getting that ball into the net.
There are many different kinds of shin guards for you to choose from when considering what best fits your needs, but none are more convenient than built-in shin guards. Unlike with the best slip-in shin guards or having something rubbing against your ankle all game, these can just be slipped on so that you don't have to worry about your protective measures moving around on you during your game. Below are the best built-in shin guards you can find in store and online, ensuring maximum comfort and the highest level of protection as you lead the soccer ball down the field. So, unfortunately, that means that if you're interested in finding slip-ins or ankle shin guards, you'll have to do some research on your own.
This pair of socks with built-in shin guards are ideal for younger soccer stars. These shin guards provide maximum protection and ease of use because the guards are built into the socks, making them convenient to slip on and off. Younger kids are, also, a lot less coordinated than the pros (some would argue), so when kicking at the ball or running around the field, they may end up inadvertently colliding with other players. This is why the extra added padding around the ankles in these shin guards is crucial to making sure your little star wants to keep on playing through the pain.
These socks with built-in shin guards are also ideal for younger soccer players because they are all-in-one. These shin pads have hard shells with EVA foam padding, and ankle guards just like the pair above. Remember: Protecting the wearer's legs from impact and ensuring shock dispersion for those moments when a player is kicked or the ball comes at them at speeds they don't expect is of the utmost importance!
This pair of shin guards by Vizari Malaga are the best built-in shin guards you could buy if your primary concern is weight. These are incredibly lightweight, but they still provide a great deal of protection with their hard shell and an added layer of protective foam beneath it. These also have a strap that goes around the front of the pads, which provides extra security and support to ensure that the shin guards will stay firmly in place, regardless of what the wearer happens to be doing on the field.
The Storelli BodyShield LegGuards are a high-quality option that are perfect for any of us who are a bit more accident prone since they cover your legs from cleats to knees completely. These are lightweight, with protective foam padding around the ankles as well as along the shins. This allows the built-in shin guards to provide you with the greatest level of protection while you maintain high levels of mobility and flexibility. These also fit like a shin guard sleeve, meaning they're easy to slip on, and there's less chance that they'll move around during your game or practice.
The Performance Ghost Shin Guards by Adidas are another great option for younger players, as they strap to the player's legs and provide a phenomenal level of protection thanks to its hard shell. The straps are highly adjustable, ensuring that you can manipulate the shin pads to cover the exact places you need them to, and your younger soccer player can grow with these shin guards for a few years as well. The EVA foam ensures that the shin guards are comfortable throughout the years.
The Nike Performance Shin Sleeves are another high-quality option, great for those who are concerned with mobility as the protective pads in these are 40 percent thinner than most other brands. The pads are built into the compression sleeves, which have become more popular in recent years, and wearing compression sleeves has proven to support an athlete's muscles during competitions. The pressure provided by a compression sleeve can help speed up injury recovery time by increasing circulation and loosening muscles, getting you back on the field faster and staying there longer.
The Duotone Shinguards by Umbro are the best built-in shin guards if your looking for shin guards with a hard outer shell, which makes the EVO foam interior an added, protective bonus. It has removable ankle guards, so you can choose whether or not to make use of that extra ankle protection, too. The straps are adjustable, so they should provide the perfect fit for anyone who decides to try them out.
The HiRui Calf Compression Sleeves are another awesome alternative that utilize compression technology. If you're interested in the benefits of compression sleeves, but you'd also like shin protection, these are an excellent choice. The compression ensures that these will be the perfect fit, and they'll support a variety of concerns, including fatigue, shin splints, achilles tendonitis, and more. The built-in shin guards cover most of the shin as well, which is harder to find when looking for compression sleeve shin guards.
These shin guards, like many others, have a hard outer shell with a layer of EVA foam padding on its inside for comfort and protection. These shin guards also have extra straps that go around the front of the shin guards to ensure they'll stay in place, and they have extra padding in the ankle guards to protect the wearer's ankles and tendons during lateral movements or collisions. These were specifically designed with younger soccer players in mind, and perfect for any game or practice situation.
The Charge 2.0 Soccer Shin Guard by Nike is one of the best built-in shin guards if your primarily concerned with how they fit around your legs. These shin guards were made with anatomy in mind, and the goal was to ensure that these would fit the shape of your lower leg perfectly. Its hard shell provides protection against low levels of impact, and the EVA foam back ensures that your entire lower leg has some layer of coverage over it.
Making the Decision
It's best, when picking which shin guards will work best for you, to consider what positions you play in your sport. If you're a defender or goalie, you'll need to find the best shin guards for defenders, which will be more sturdy and full-coverage oriented since you'll come into contact with the ball more often than a forward or offensive player. That contact may likely be more forceful than what an offensive player will see, too, assuming they're not the one initiating it.
In terms of sizing, shin guards should cover as much of the space between the ankle and the knee as possible, and the tops of your shin guards should rest two inches below your kneecap. It's best to either try on a pair, or at least check the sizing chart for the shin guards you plan on buying, before you make a purchase. The size charts will just need you to refer to your, or your player's, height in order to judge how long or short the shin guards should be. There are a lot of factors to consider when you're beginning to investigate how to choose your soccer shin guards though, so be sure you've read up on any brands and styles that interest you before you order, or try on, those shin guards.
Choosing your equipment is always an exciting signal that the start of your soccer season is approaching, and by choosing the best built-in shin guards (and the best cleats), you'll set yourself up for the best season of your soccer career yet!