Smile Time
Preston 0 - 3 Tottenham Hotspur: A Happy Lilywhite's Assessment From the Action at Deepdale.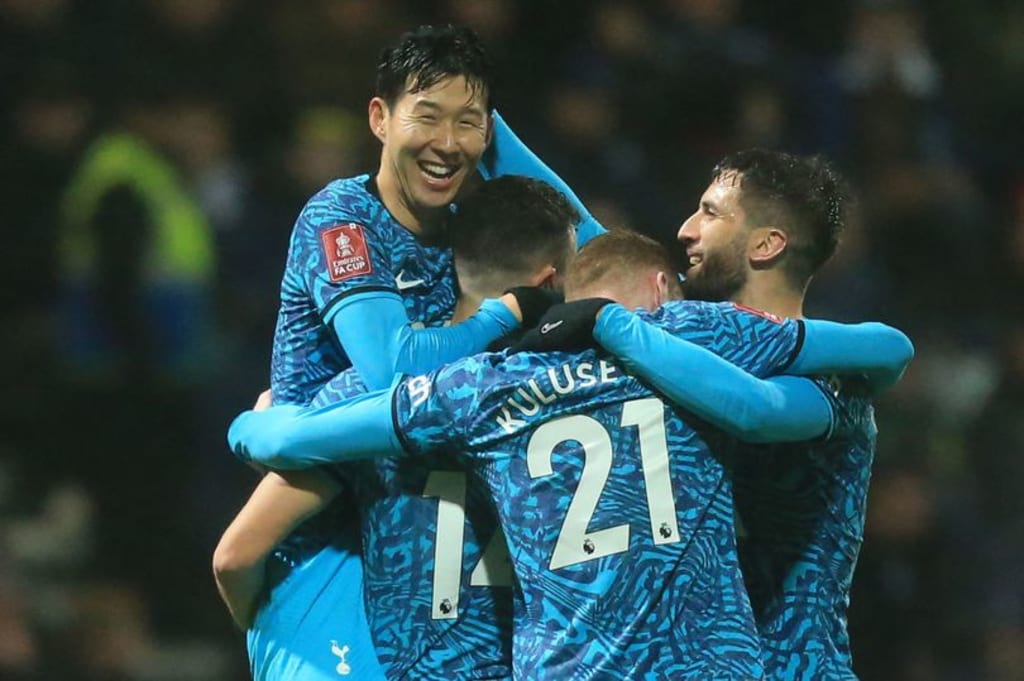 (Image: LINDSEY PARNABY/AFP via Getty Images)
This was the most important of our matches post-NLD. As is the case for whomever we will play in the next round, and so on and so on, at least we hope. In truth, I never contemplated defeat. Not because we're so much better than Preston, but because it could not be allowed. Top 4 is no prize if we are willing to show commitment to Conte and his demands for patience. The Champions League is not a winnable competition. All our eggs were in tonight's basket. Defeat would have been apocalypse now. Thankfully, the eggs and this particular cockerel march on.
It was a comfortable first-half made possible predominantly through the inferiority complex running through Preston's approach to the game. They're mid-table Championship and we're the visiting, scalp-able giants. They were always going to keep it tight, give nothing away and look for opportunities on the counter - those famous bites of the cherry. Their only sight at goal in the opening 45 minutes came from a moment of nervousness from the man with the armband - Davinson Sanchez with a swing and a miss running back to goal. There was a gasp/roar from the crowd, a second of panic that lowered my drink from my lips and then it was over and Forster had booted the ball back into Preston's Maginot Line. It was evident from minute one; if the home side were to provide any danger to our goal, it would come from a combination of a blue-shirted mishap and a plucky grafter from Preston.
Not that things at the other end were looking all that different. Kulusevski had a front-post stab ushered out for a corner, Son had a shot from range comfortably denied by Woodman in goal, but that was all we could muster. We enjoyed a lot of possession; something we're not used to. We had a wall of white-shirts between us and the goal; something we're not used to nor equipped to break down. Bentancur and Son pushed the most, but their bright and determined performances were not yielding the fruit we desired. Perisic had been started much higher up the pitch, but was frustratingly much less involved.
Regardless of the level of opposition, or even the competitions we compete in, one major weakness persists. Our football relies on the strength of our wide players and our fullbacks fall jarringly short in their inadequacies. The Tottenham starting 11 was heavily rotated from the team that beat Fulham, but the wing-back pairing of Sessegnon and Doherty are no strangers to the field. Indeed, they have started many games at Premier League level throughout Conte's reign thus far. Until they are replaced, they will continue to do so. The two do not struggle because they are shepherded out of the game by streetwise defenders, nor do they struggle because they are markedly weak or exposable in defense. They struggle because they cannot provide with the ball at their feet. Sess finds the positions, beats a man with a burst of pace, but sends 9 of every 10 balls into dead space or out of play. Doherty rarely makes a pass longer than 6 yards.
In the second half, the scene changed dramatically. Son, after months of searching, finally found his quality. What a strike it was to find the breakthrough on the 50 minute mark. It deserves more than a description in black and white. Look up the goal. It should be viewed and enjoyed. I'll be sipping on that one like an alcoholic for the rest of the weekend. Its a goal that we've all come to associate with the Korean, one oozing with quality and thunder.
Strangely enough, it was also a goal that both teams seemed to need to wake up. Preston attempted their own response when forward Whiteman tried his hand at a remixed version of Kane's match-winner versus Fulham on the hour mark, but sorely lacked the accuracy. That was Preston's whole evening summed up in an action; plenty of effort and ideas, but none of the quality Tottenham had found at the other end. Then came the second goal 10 minutes later and it had arrived via a source some Spurs fans might have believed not to be possible; a Perisic-Son link-up. Another monumental piece of input from the Croat who seems to hoover up assist stats and another terrific strike from a Son recovering his clinical nature. Returning too was his smile.
By that point the confidence was flowing through the whole team. Skipp, when entering the fray, showed a number of nice touches, clever movements and something we have not been treated to since the late-Summer of 2021 - a clean and acute ball recovery. Perisic was dropped deeper and looked far more comfortable. The whole back line remained largely untroubled and even managed to avoid any blunders. Bissouma and Kulusevski were arguably the most improved and most affected by the team's winning position, contributing to a delicious third goal and a debut strike for Arnaut Danjuma. Our latest loanee made a modestly dazzling start to life at Spurs. The team, and the Dutchman in particular, were playing with more zip, more intent and more intricacy. Though, as a word of warning, both Ndombele and Bergwijn managed a debut goal too. Lets hope the comparisons end there.
So its a 3-0 win for Tottenham on a comfortable night at Deepdale and Spurs advance to the 5th round of the cup. In the away end the travelling supporters celebrated as the goals struck the net with songs of a possible trip to Wembley. With Arsenal, Newcastle and Chelsea already out, one dares to believe. There's not much better you can take from a game than that - hope. That, and a night-off for Harry Kane. Ask yourself, when the last time Spurs navigated a fixture without a match-fit Harry Kane?
About the Creator
Queen Margaret University graduate (Theatre and Film studies).
Currently trying to write a book.
Lilywhite, Pokemon master, time-lord, vampire with a soul, Virgo.
Likes space and dinosaurs. And Binturongs. I'm very cool.
Reader insights
Be the first to share your insights about this piece.
Add your insights