Ronaldo, Lingard and a helpful de Gea, extend Manchester United's Away Record
Penalty appeals here, there and everywhere as Manchester United claim victory over West Ham United on Sunday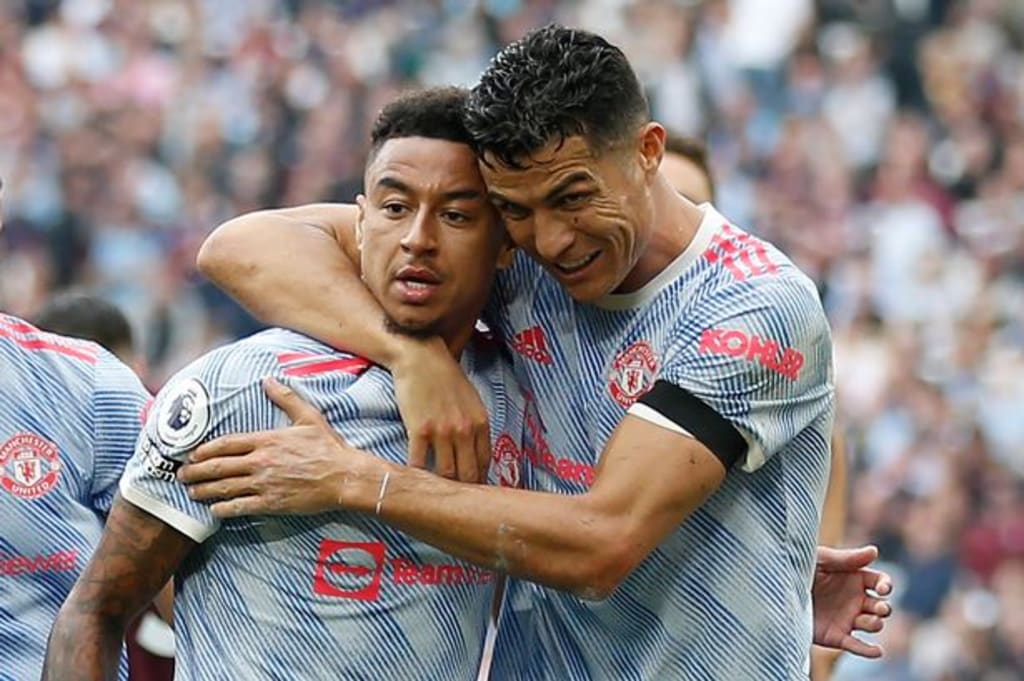 Lingard scored late to set up a tense finish at the London Stadium on Sunday
- West Ham's Initial Dominance
David Moyes had not beaten Manchester United since he was sacked by the Red Devils in 2014. Having lost his last two league matches against United prior to this encounter, his side would face a stark challenge from Ole Gunnar Solskjaer's charges. West Ham had gone undefeated in the Premier League before hosting the Cristiano Ronaldo inspired Manchester United, who had just come off a humiliating away loss to Young Boys in the UEFA Champions League.
It was Moyes' side who dominated the opening exchanges, Jarrod Bowden striking the ball straight into the arms of David de Gea. Manchester United, this season, look good going forward and Bruno Fernandes came very close when he struck the post in the 27th minute. Fabianski looked to have gotten a touch to it and deflected it away from his own net.
Just minutes after United came close to taking the lead, Moyes thought his winless curse against the Red Devils had been broken. The bubbles were flying high after a fortunate Said Benrahma effort deflected off Raphael Varane, to beat David de Gea. That's a defenders life, isn't it? However, a bit more defensive intensity was needed by the Manchester United back four, giving Benrahma far too much space to take the shot.
- You guessed it, CR7 again
Manchester United went behind for the second time in the league this season and it seemed as though it was just the wake up call that was required. Who else but Cristiano Ronaldo, to score his third league goal in only his second appearance of the season. It was the second goal in which he pounced on the goalkeeper's mistake, scoring a tap-in after Lukasz Fabianksi spilled a Bruno Fernandes attempt. It merely illustrated his incredible ability to read the game, as Cristiano made it four goals in three appearances in all competitions for Manchester United.
It had taken him eight attempts to score his first three goals against Newcastle United and Young Boys - four of those attempts were on target. Against West Ham, Ronaldo consistently tested the back four, racking up attempt after attempt until he eventually found the back of the net. A saving grace for Ole and his team, as they went into half-time level.
"We are kind of watching the best and the worst from Man United, but it makes for a great watch", is how Roy Keane described the first half after being critical of Manchester United's defence.
- It Couldn't Be Lingard, Could It?
I'm forever blowing bubbles was blasting on the loudspeaker as the second half got under way. A tune that Jesse Lingard had grown accustomed to after reinventing himself at the London club last season. He would sit on the Manchester United bench though, while a tentative beginning to the second half found neither side really take control. That is, until the 73rd minute, when Ole Gunnar Solskjaer brought on Jadon Sancho and Jesse Lingard. At that stage West Ham were looking to take advantage of their best period in the second half but Ole's inspired substitutions seemed to liven up proceedings.
This time it was the West Ham defenders who gave their former teammate far too much space and Lingard, who had scored against Newcastle United with his only shot on target this season, would make it two out of two. Two shots on target, two goals and no celebration, showing respect to West Ham. The same West Ham fans who had applauded Lingard as he came on, were in disbelief after the 28 year-old put Manchester United in the lead for the first time in the game.
- Not A Noble Effort
A frantic final period saw Cristiano Ronaldo appeal for two penalties. The second of which was most certainly a penalty, however VAR would not give it. Kurt Zouma had missed the ball completely and made contact with CR7's legs instead. The only thing that might have made VAR not give Manchester United the decision, was the fact that Cristiano had gone down easy a few too many times in the game already. That should not have deterred them from the fact that it was a definite penalty.
While everyone was still scratching their head about why the penalty decision had not gone the way of Manchester United, VAR were in the foreground again. This time it was a Luke Shaw handball that was a clear penalty again, however VAR would ask Martin Atkinson to make up his own mind on the monitor. Yarmolenko had attempted a cross and Luke Shaw clearly stopped it with an outstretched arm.
David Moyes would ask 34 year-old Mark Noble to come off the bench and score a penalty in his first action of the encounter. Noble looked confident, however delivered a tame and poorly directed attempt on de Gea's goal. The Spanish goalkeeper would make no mistake in saving Noble's effort, which was to be one of the last actions of the game. An incredible spectacle would end in heartbreak for West Ham fans.
Manchester United, who had now gone 29 league matches unbeaten away from home, thus joined Liverpool at the top of the table with 13 points. However, the Tottenham versus Chelsea game could change that if Tuchel and his team were to be victorious. United had put their midweek disappointment behind them. What an incredible game we witnessed at the London Stadium.