Piqué – We Are What We Are
Bayern Munich comprehensively beat FC Barcelona 3-0 in the Champions League on Tuesday evening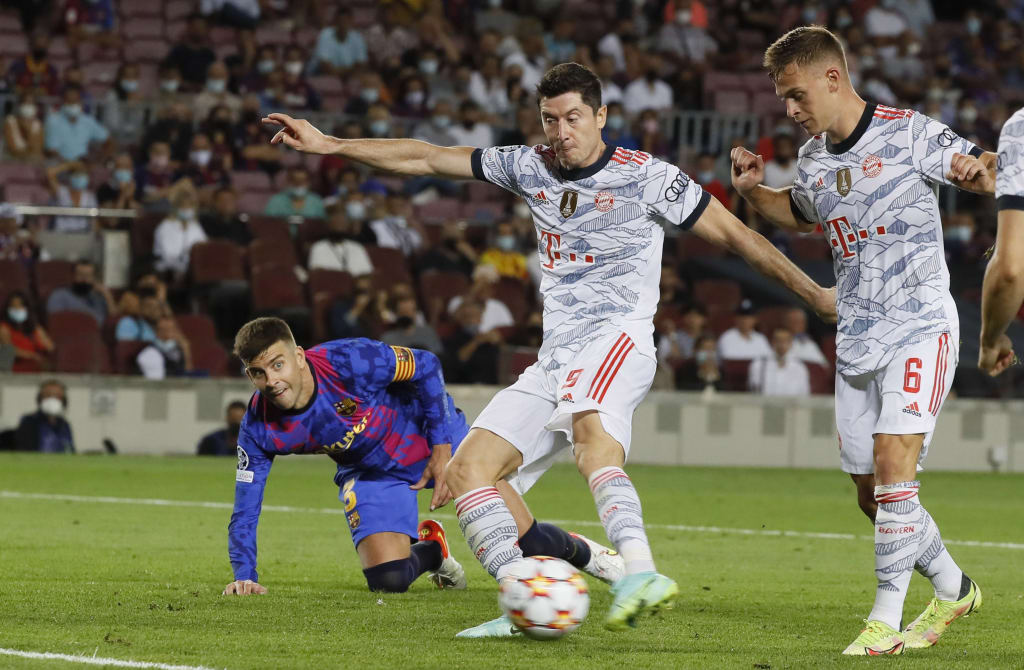 Piqué watches on as Lewandowski scores his second goal of the evening
It was nowhere near the evening that Barcelona fans had dreamt of as they made their way to the Camp Nou on Tuesday evening for their first game of the new Champions League season. Their last meeting with the German giants had ended 8-2 and there were some that were optimistic that Ronald Koeman and his side could turn things around. A fortunate goal from Thomas Müller in the first half, was followed up by two goals from Robert Lewandowski, as Bayern Munich dominated a one-sided affair. The revenge that Barcelona fans had been hoping for would not come to fruition, if anything it evoked more questions.
After the game Gerard Piqué had very little to say about his sides performance. "We competed in the first half, Bayern took the lead with a deflected goal. In the end, I don't know how many kids we had on. It is what it is, we are what we are …"
His statement would draw criticism from former Chelsea midfielder Craig Burley, who had this to say about the matter: "I think it's a little disingenuous from Piqué to be talking about kids because, yes the kids came on, but the game was dead and buried by that point. You look at that frontline that's not kids. That's experienced players from midfield forward. They signed Eric García at the back … from Man City, that's one of their choices. He's saying they are what they are but they were what they were, even with Messi. They didn't win the league with Messi the years before. So they were what they were and they are what they are. When you have a 32-year-old misfit upfront (referencing Luuk de Jong who is 31-years-old), who quite frankly wasn't getting a game at other clubs in La Liga, then what do you expect. I have no sympathy for them, I mean it's just bad man-management from top to bottom … the bottom line is Bayern Munich never got out of first or second gear. They're not in that class anymore in this moment in time."
While Barcelona are rebuilding from a horrendous transfer period, former Bayern Munich player Jürgen Klinsmann showed a little more sympathy for the Spanish team and Piqué. "The goal from Thomas Müller, deflected, was a bit lucky … came out of nothing. It was pretty even in the first 20, 25 minutes, half an hour. So I can feel with Piqué a little bit but what we saw in the second half was just a lesson. A lesson from Bayern Munich to a post-Messi Barcelona that is trying now to find its new identity … It's kind of a bit sad to see because we all are in a certain way Barcelona fans, especially because of Messi and he's not there anymore …"
"It seems there is no leadership anymore, it seems that there is nobody on the field that kind of guides everyone else. If you see Depay upfront, Memphis, he was left by himself and he didn't see a ball against Upamecano at all in the 90 minutes. It's going to be a tough year for Barcelona … The standard is Bayern Munich, they are just so in sink. They are just kind of a machine almost, how they play their games and win their games. But it will be interesting to see how Ronald Koeman is able to fix things for this very different Barcelona team now. How many young players he can really throw in there in order to grow. There's no growth without pain."
With almost a week to ponder what went wrong before FC Barcelona take on Granada on Monday evening, there are some in the club that are considering sacking Ronald Koeman. A meeting was held and some of the Barcelona board members were in favour of paying the €12 million compensation to start the rebuilding with a new head coach. Whatever the decision, it looks like Piqué will have to make sure that he nurtures the young players, a task he doesn't seem to enthusiastic about.